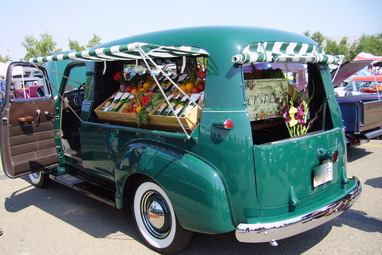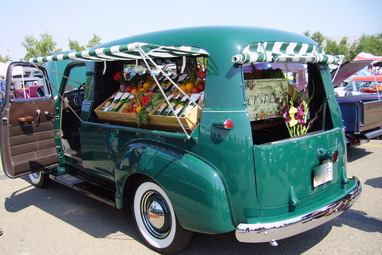 We first saw this beautiful 1949 Chevrolet Canopy Express on TV.
'It was featured on 'My Classic Car' after it drew the interest of Dennis Gage at a summer car show.'
We can understand why Dennis was so taken with this rare southern classic.
We were lucky enough to attend a show where the personable owners were answering any and all questions about their eye-catching ride.
Patsy Kachanoski was the friendly and informative spokesperson for her Chevrolet Canopy Express Vegetable Wagon. These trucks were special-built for a southern market where produce can be grown year round or thereabouts.
This one was built in 1949 during a short production run of only 570 built by Chevrolet.
Patsy said that the number one reaction about the truck is summed up in one word: "Cute". That is the expression used by most people when they see this unusual vehicle from over sixty years ago. The truck lives much further west and north of its original West Virginia home, but it lives a great life in retirement.
It took two men nine months to restore the Canopy Express back to its original condition. The truck has its original 216 6-cylinder power-train, radio and right-side passenger jump seat. Nothing was spared to bring this Chevy truck back to its original look and purpose.
But these days the truck gets driven less and shown more at many car shows because its owners are happy to share their very rare classic with the world. The only drawback is that some people think that the authentic produce display on the Canopy Express means that Patsy and her truck are also in the market garden business.
'It's clear that the working days for this beautiful truck are over and, given the rarity and age of the Canopy Express, that's a good thing.'
Jim Sutherland