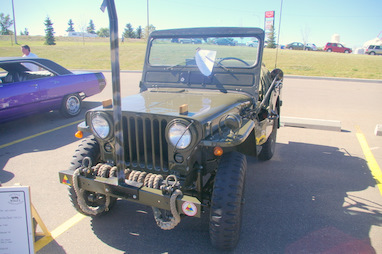 Most people are well aware of the Jeep-it's become a very familiar brand that has somehow become "warm puppyish" in the public perception.
 

Younger generations are becoming less and less aware that this little workhorse was the backbone of most military operations including something called World War Two.



Trent Evenson is a guy who is dedicated to the preservation of the history of the military Jeep.
He knows that these sure-footed machines could also be set up for some serious firepower-not the kind of toy you'd take to a Jeep Jamboree.
Unless the Jamboree was held in Afghanistan.
This model is unique for two reasons:one, it was built for the Canadian military and two, it was set up for amphibious assault. This Jeep is designed to wade in and take over a beach. It is capable of fording in water up to 74 inches deep when outfitted with a snorkel and waterproof ignition.
And when it gets to the beach it can cut through the razor wire found in those inhospitable venues.
This particular model was built during the Korean conflict and Trent has made it look authentic with the correct markings and equipment. Oddly enough one of his biggest stumbling blocks was the olive drab green paint-it's still classified so he needed the magic of a local paint guy to make this Jeep military green.
Trent is well aware that this Jeep has to meet the standards of war historians consequently this vehicle is a 4-wheeled museum piece.
One that he can take to car shows and patiently explain that not all Jeeps came in Barbie Pink.
Trent enjoys this military machine-he doesn't break speed records on any level but the tough little Jeep has can cruise 220 miles on one tank of fuel.
'You can display a lot of tough Jeep history to the public with that kind of range.'
Jerry Sutherland