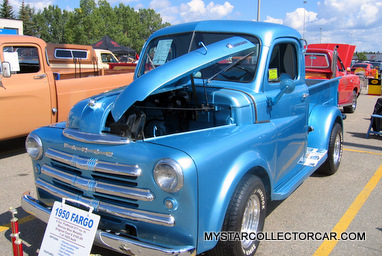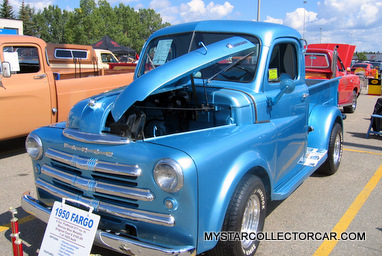 The basic philosophy for 61-year-old farm trucks is just that…extremely basic.
They were bought to work themselves into an early junkyard grave.
That is what makes this 1950 Canadian-made Dodge truck first cousin so exceptional-it looks like it was pampered on the farm.
Mark Trautman spotted the Fargo on a farm that was in the midst of an estate sale.
The truck was retired by the original owner before it served out its time on the farm. The original owner wanted a newer and more modern truck, so he took the Fargo out of service, despite an engine overhaul six months prior to its retirement.
Mark bought the truck because it was in good shape and had its original power train. He felt no urge to rewrite the truck's history and throw a monster engine into the mix. He just wanted to preserve its history as an original farm vehicle.
The truck has a simple flathead six that even has a factory hand crank for the occasional dead battery emergency start. The original jack is also still with the truck, plus it has a rare set of factory grab handles for ease of cab entry.
It is obvious that trucks served a basic work purpose when this Fargo was new, so the grab handles probably seemed like a high end luxury item on the old pick up.
Mark also liked the lack of war wounds on the Fargo when he first spotted it. The truck was clearly an unusual vehicle because it showed few signs of heavy farm work wear and tear.
After years of hard work, most old trucks look like a four-wheeled version of Rocky Balboa after his first fight with Apollo Creed . Mark's truck looked more like Rocky before he was dumb enough to choose a boxing career.
It is always a pleasant surprise to encounter owners like Mark Trautman who want to preserve a vehicle in its original form.
The amount of attention that his truck gets indicates that it was a good decision.
Jim Sutherland @mystarcollectorcar.com  
For more great truck stories click here-https://www.mystarcollectorcar.com/3-the-stars/star-truckin.html