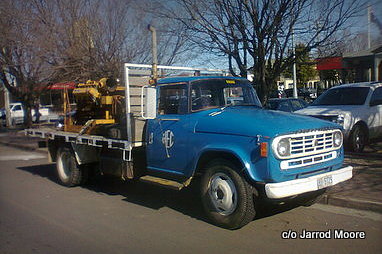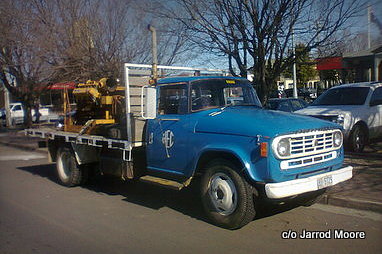 Most large work trucks have a bleak future because their sole purpose is to deliver a full day of work.
Once they can't deliver a full day of work, these old trucks get treated like a dull saw or a broken wrench so the ending looks a lot like the plot to the movie 'Old Yeller'.
There are some collectors who save these large trucks but most end up as soup cans.
Jarrod Moore saw some life in his '79 International Harvester so despite its advanced years this truck still had a future in his hands. He explained some of the history behind his vintage IHC: "The Hydro Electric Commission brought it new and sold it in 1986 to my uncle who worked for them. He onsold it to a guy named Hobden in Cambridge, who did about 10 loads of wood on it, before parking it out in the open for more than a decade. I have owned it for a bit over 3 years".
There are always reasons to buy an old ride and Jarrod was clear on his reasons: "I bought it for 2 reasons: 1: to use in my business as a firewood truck. 2: Because it belonged to the Hydro Electric Commission here in Tasmania and it still had the Fuel book with matching numbers in the glove box to prove it".
Older vehicles come with built-in problems and Jarrod had a few: "Repairs…where do I start? Ok, when I brought it, it was fitted with 7.50 x 17 inch rims and tyres and a single speed differential. I did 4 loads of Firewood on it, only to blow out 4 different tyres, so I brought a 2 speed axle out of an AB160 which was fitted with 8.25 x 20 wheels and tyres and rolled it straight under, though I did have to lift the tray by 4 inches to clear the tyres. I lucked out with the front axle, as the bigger rims bolted straight onto the axle with no modification needed".
There were a few other departures from stock: "She has had an AB series bonnet fitted at some stage. The factory fitted 6.354 Perkins Diesel had a rattle in it ever since I had it and not too far away, it let go a valve seat on number 2 Cylinder and drove it through a piston…..at the time, it was loaded with 5 tons of firewood and she did make it home, albeit a lot slower. I fitted a later series 6.354 Perkins a week later out of a Dodge D3F and we were away again".
Vintage vehicles are really judged by their performance on the road and this IHC is exceptional as Jarrod explained: "It is a really nice truck to drive, as it has not done much work. The longest trip…well, I regularly travel from my house in Pawleena, up to Butlers Gorge to collect firewood, it is 164KM one way, but the longest trip would be from Sorell to Burnie via Launceston and return of about 700 odd Km in one day. A really long day!!".
These old trucks are always magic for people when they see them on the road: "Everyone loves my old truck, especially when they see the HEC stickers still on it. You can see in some of the pictures there is the original HEC number on the windscreen and the HEC stickers on the doors. The Hydro Electric Commission employed over 30000 people here between 1914 and 1994 and they owned SO much equipment".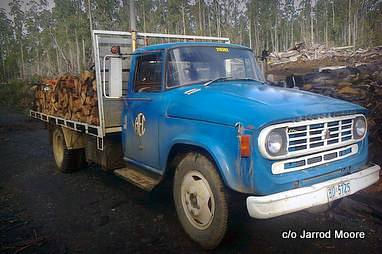 This nostalgia factor can affect productivity as Jarrod admitted: "I collect firewood close to one of the Hydro lakes and Power Stations and I can guarantee that on any given day, I can lose an hour or 2. The HEC is now called Hydro Tasmania and one of their utes passed me late last year, only to turn around, flag me down and get a picture (I lost over 2 hours that day!!)".
Jarrod is realistic about the future of his old ride:
"I don't think these old trucks are ever finished, but for now, she is doing what I need".
Jerry Sutherland
CLICK HERE to Like us on Facebook
CLICK HERE to Follow us on Twitter
CLICK HERE to Follow us on Pinterest
*Re-post if you like this MSCC article…thanks.