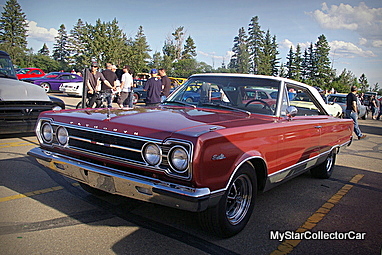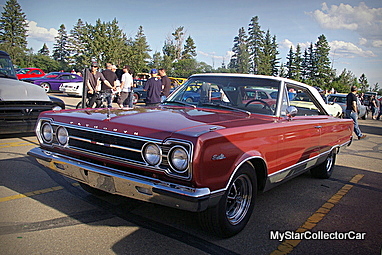 Plymouth's first foray into the muscle car world began in 1956 with the Fury although many observers see the '67 GTX as the official entry into the game.
The GTX told the world "we're in the game" even though we've been in the game for years.
The '67 Satellite basked in the reflected glory of the GTX.
Roy O' Hara spotted his '67 Plymouth Satellite back in 1970 and he was in the market for a car as he recalled, "He was the original owner and the only reason the guy sold it was because he had a family so he needed to upgrade to four doors".
The Satellite was purely functional, "This car had only 22,000 miles when I bought it and it was a driver for 15-18 years so it saw lot of daily use. In fact my wife was going down to the hospital and she crunched the passenger side fender. I told her things happen-don't worry, but she was pretty upset".
This model was a step up on the Belvederes as Roy explained, "It had things like the bumperettes, wheel covers and a painted black roof and a few other things".
Roy drove the car for years as-is but his inner "more-power" car guy kicked in when the car became less of a driver and more of a recreational adventure, " The 318 got a little tired so I put in a '68 Chrysler 440. I wanted a little more power because it became a fun car, not a family car".
The uptick in performance was incredible as a Roy admitted, " The 440 was rebuilt a few years ago so it's got new bearings and it's 10 over now plus it's a six pack now with a little bit of cam and it's got a line-lok on it now".
The difference is remarkable, "It's got a 3:55 rear end and it's on street tires but it's still good for a 1/4 mile at 14.6 and 96 miles per hour".
Roy added a few other features to the Satellite ,"I added a vinyl roof and I upgraded from 14 to 15-inch wheels plus the rear antenna is an add-on".
He kept the stock look of the Satellite intact, " It's Turbine Bronze, it was repainted 10 years ago and I was able to match the paint plus the interior was redone-there was a leather insert but they had to wait until enough orders came in to do it.There's even a Centennial (1967) license plate on it and it's registered".
This '67 Satellite may not be a daily driver at this point but the car does see a lot of open road in retirement, "It's gone over 100,000 miles now because we take lot of trips in it. I like to take it shows in the area and I've taken it a few hundred miles to one show so it's not a trailer queen".
The key to this Satellite's longevity in the O'Hara family is the huge connection to the family as Roy explained, "My daughter was four or five when I bought it and now she's 50 so it's been around for awhile. It's been on a lot of family vacations and it's been a wedding car so it has been around for sure".
There's little doubt why this Plymouth is a family member.
Jerry Sutherland