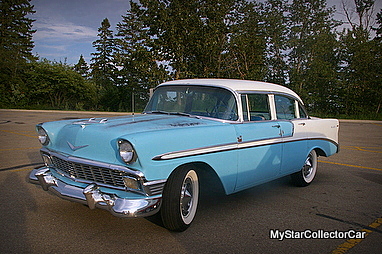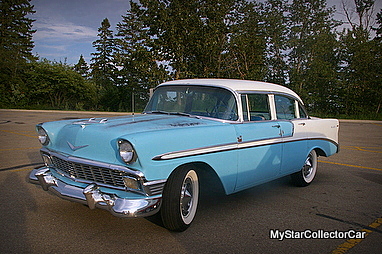 The tri-five Chevy cult is based on the glamorous rides like the convertibles, two-door hardtops and Nomads but the reality behind the 55-56-57 era is pretty simple.
They sold a lot more 4-door sedans over those three production years.
Despite that more-door reality, sedans with two extra doors had a bleak future that could be summed up in two words…"car crusher".
This '56 Chevy 4-door is one of the survivors. Ron Bamber spotted this car and he knew this was a car for the ages, "It was an Oklahoma car originally and it was going to be his wife's car. It came to Canada in 1977 and that's when I first knew about it because I knew the family who owned it". The car went into a long hibernation after its big relocation in the 1970s.
Ron explained how the car became a survivor, "It was put in a Quonset and kind of left there for a long time. It was actually never registered in Canada until 2012″. The break in daily driver status clearly saved this car from the ravages that the next three decades would have inflicted on this '56 Chevy sedan.
The vacation from the work load clearly kept the miles down as Ron added, "It's only got 66,000 miles on it now, and those are real miles. This car is so original it still has T-3 headlights ".
The out of country status meant the '56 Chevy had to undergo a very thorough inspection, "This car was amazing, it only needed two rubber hoses, that's how nice this car really was after all those years. This car had never been in an accident so the frame is still black ".
The road to the actual road in any car project is almost always filled with major obstacles but this '56 Chevy was definitely the exception as Ron recalled, "The first voyage in it I took it down 2A ran it about 60-65 miles per hour".
The car performed flawlessly so Ron took it up a notch, "It purred like a kitten at 70 miles per hour-it's very solid on the road".
Car guys are used to long, expensive, time-consuming projects so this '56 Chevy may be one of the easiest restorations in the history of the hobby.
The restoration is essentially over for this car as Ron explained, "I probably won't ever paint this car. It's got some oxidation in the paint but they're only survivors once".
The biggest key to the world of survivor cars is original paint and this car will retain the same paint it had when it went into hibernation back in 1977. That philosophy has already paid off, "The first show I took it to was Didsbury and it won the survivor class".
There are two reasons why this '56 Chevy means so much to Ron. One reason is pretty basic, "It's a cool little car, I really like 4 doors".
The other is more personal.
"The previous owners were friends of mine so it means a lot to have the car now".
Jerry Sutherland