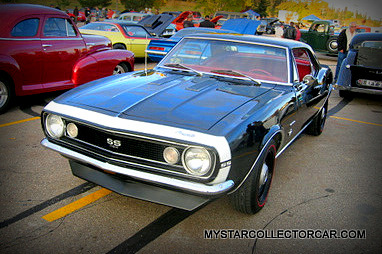 Jim Heinzlmeir had a Bowtie connection with his good friend Kelly Anderson.
They both loved the first generation Camaros from the General.
They loved them when they were kids and they loved them as adults.
Jim and Kelly finally acquired their dream cars as older adults in a time of their lives when they could buy a Camaro. In Jim's case, it was his second Camaro, but this one was the perfect Camaro for him.
It was the right mix of year, model and powertrain the second time around for Jim.
Jim and Kelly were talented enough to make things happen for the cars as they tackled their Camaro projects. Sure their own trades were in the electrical field, but these guys were blessed with enough mechanical and body skills to tackle the job. Plus the cars would meet their meticulous standards upon completion.
Unfortunately Kelly was unable to witness the process to its completion. Kelly passed away before his and Jim's cars were completed to their standards. So Jim faced the prospect of losing a good friend and fellow car guy who was willing to help him achieve his goal: to restore his 1967 Camaro SS.
But Jim was not willing to abandon his dream- if anything he wanted to honor the memory and wishes of his good friend (and fellow car guy Kelly) and complete the project. It took four years.
Jim had chosen a numbers-matching 350 four-speed car. It was well worth his restoration efforts even if he continued the project in honor of his friend. It is a stunning black beauty done to meticulous standards by Jim and a few friends who picked up the slack after Kelly's untimely departure.
Four years of intense work have made this car into a show quality instant center of attention whenever Jim takes it on the street. There is not a flaw or blemish in the black paint, and we all know how unforgiving black can be as a car color.
The frame-off rotisserie bodywork is obvious when the car is at a show. It is done to the nines and it is an amazing tribute to a very good friend and fellow car guy who would give Jim's car a solid thumbs up.
One Camaro brother to another…
Jim Sutherland