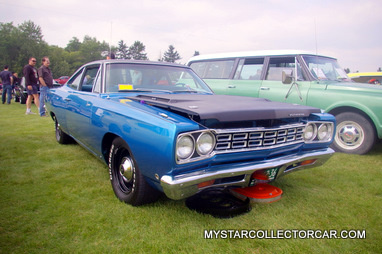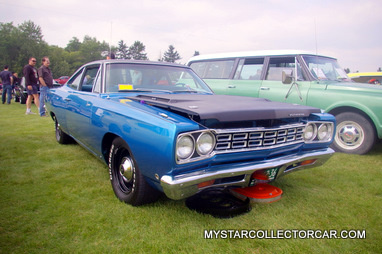 The 1968 Road Runner set the bar for affordable 1960s muscle cars.
Before the 'runners hit the Plymouth showrooms a 19-year-old kid had a better chance of dating Raquel Welch than owning a late 1960s monster ride.
These 2-door sedans with attitude changed the game so a kid working at Safeway had a great opportunity to buy one on approved credit and die in a high-speed crash before his first payment.
That was then-now they make great 25th wedding anniversary presents.
Just ask Gord.
Gord has always been a huge fan of the classic Road Runner era. He was thrilled when this car came up for auction last year. In a gesture that has to be rated as a front-runner "Wife of the Century" maneuver, Gord's wife bought this car to celebrate their 25th anniversary.
She has had health problems. These issues underscored how short life really is, consequently this car and the happiness that it brought to their marriage was far more significant than the standard silver spoon collection.
Gord takes that concept seriously-this is a milestone car bought to celebrate a milestone occasion and he gets the car out to as many shows as possible because the car showcases a bigger point. A happy marriage.
The car itself is rare-it has a vinyl roof- not an option that budget minded Road Runner buyers ticked off in 1968.
The car does retain its bare bones taxicab look with the poverty dog dish hubcaps, bench seat and 4-speed but it does have one major departure from factory stock-a 440 6-pack has replaced the original 335 horsepower 383 motor.
As Gord said, "That's the way I'd build it". But the biggest factor with this Roadrunner isn't how rare or how fast it is because…many times the story behind the car far outweighs the car itself.
This is clearly one of those times…
Jerry Sutherland
For more insights into other stories behind other cars please follow this link-https://www.mystarcollectorcar.com/2-features/stories.html