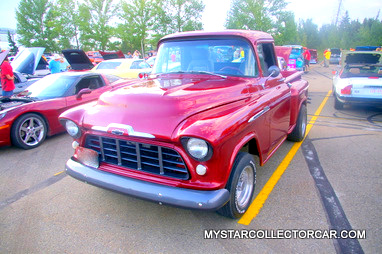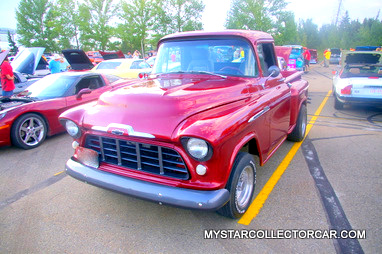 GM tended to lead the styling pack in the mid-50s and nowhere was that more evident than the 1955 Chevrolet pickup. This truck pointed the direction for the rest of the 1950s.
The small block V-8  launched GM into the 2nd half of the 20th Century and the 1955 styling cues propelled Chevy for years. On the way, the trucks became classics.



That's why a confirmed tri-five Chevy car guy like Sean Barnes had to own a tri-five Chevy truck.
As he explains, "I've always loved tri-five Chevys but I wanted a truck". Clearly there was no other answer than this great looking 1957 Chevy truck.
This was a typical 'love at first sight' scenario. Sean literally bought it on the spot "when I saw a guy backing the 57 out on the street in a small town. He was heading out with his stepson when I stopped him and told him I'll buy your truck. He had no clue that he'd be selling his truck to me that day".
Sean is a very astute buyer-even if he had buck fever because this is a very well done '57 Chevy. It has the legendary small block 350 based on the same block as the one that was an option back in 1955. It's mated up to a Hurst shifter and the truck has the posi-12 bolt rear end. That's an indestructible combination.
Most of the work on the truck was done in the mid-1980s but the paint looks like it was done last week. The wooden truck bed looks just as immaculate even though it was refinished over ten years ago. For an impulse buy based strictly on emotion Sean is extremely happy with the '57 Chevy.
Sean hasn't had any long trips in the truck and admits that, "he's still getting a feel for it" but he says "that the truck drives awesome on the highway".
There are going to be a few more tweaks on the truck but right now Sean is focused on driving it-with his 6-year-old daughter in the passenger seat.  Sean says "that she wants it when she gets older because she loves the old '57 Chevy truck".
Could there be any more proof that tri-five Chevy DNA is a fact of nature?
Jerry Sutherland
For more happy ending truck stories please follow this link-https://www.mystarcollectorcar.com/3-the-stars/star-truckin.html