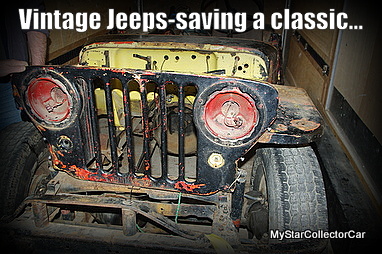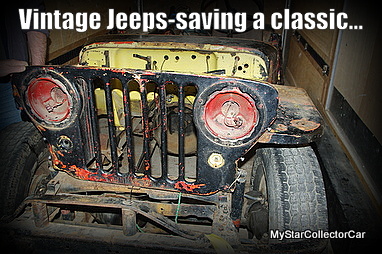 One of my nephews called me the other night with tidings of great joy: he was the proud owner of a 1947 Jeep.
The first thing I asked him was whether he was still married after his latest purchase and indeed he was still in the matrimonial game because his wife liked the idea.
My nephew is in the final stages of a Charger project and next he will tackle a 1969 Dodge half ton before the Jeep hits the table.
Typically he likes to research things before he takes on a project and he was only at the kicking- tires stage when he found the Jeep in the want ads.
The price had dropped considerably from the seller's asking price and he was an even more motivated seller because he was moving and his storage place for the Jeep will end with his departure.
The Reader's Digest version is my nephew hit him with a stink bid and the kid bit on the price.Now my nephew is the new owner of an old classic.
Those of us who "came from somewhere back in the long ago"- to paraphrase a Doobie Brothers song from the Michael McDonald years- fell in love with first-gen Jeeps during our childhoods.
We watched Roy Roger's sidekick Pat Brady use a Jeep named Nellybelle to help Roy and his horse Trigger chase bad guys and it left a lasting impression.
Later we Baby Boomers saw Jeeps star in 'Rat Patrol' where they chased Nazis through the desert and inflicted an incredible amount of damage on German military equipment.
The opening credits when the two Jeeps get air time over a sand dune may well have been the greatest TV show opener in the history of television.
Now my nephew has a classic Jeep and I believe he saved the vehicle from a fate worse than death, although many car guys might disagree with me.
The previous owner had planned to shoehorn in a small block, jack the Jeep into the sky, and throw on a set of obscenely large tires. In other words, he wanted to wreck the Jeep and turn it into a soulless 4-wheeled Frankenstein, with all the grace and style of the "Walking Dead" zombies.
Fortunately the kid ran out of time and storage space before he built an abomination from an original Jeep. I understand the custom culture, the resto-mod culture and every point in between wild and mild when it comes to the old iron.
Sometimes a car guy can only save something if it is a basket case by using modern replacement parts to breathe life into the nearly dead ride. I get that concept and I am in awe when I see the end result in many cases.
But an original first-gen Jeep is something special to me, probably because of its legendary role in WWII and the aforementioned TV shows.
I am extremely happy my nephew intends to restore his Jeep back to its original glory, complete with its rebuilt original four-banger flattie.
There is a lot to be said for originality in car guy world and this first-gen Jeep leads that parade in my opinion.
Jim Sutherland