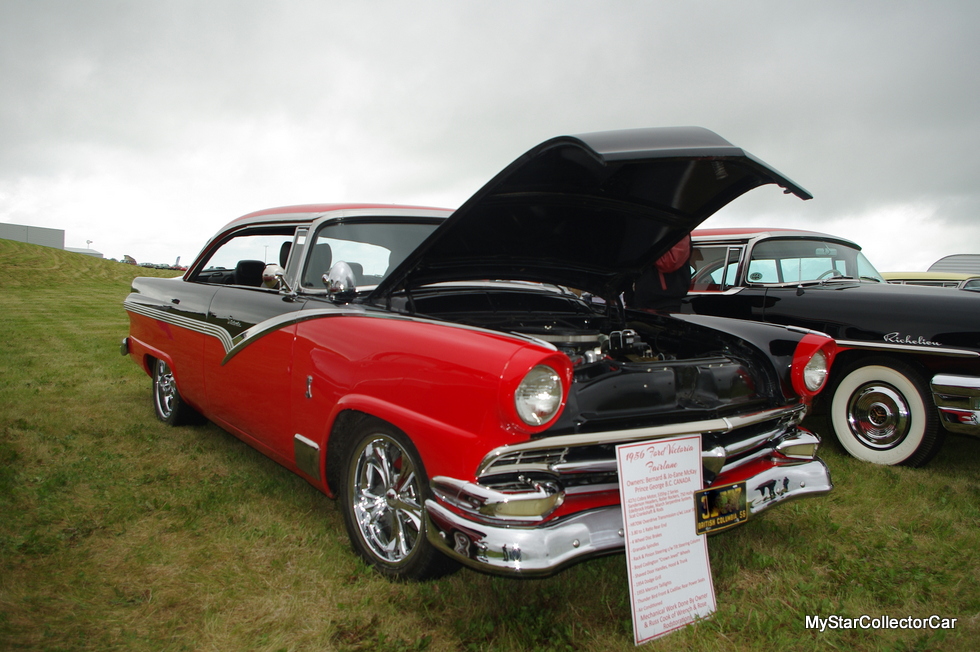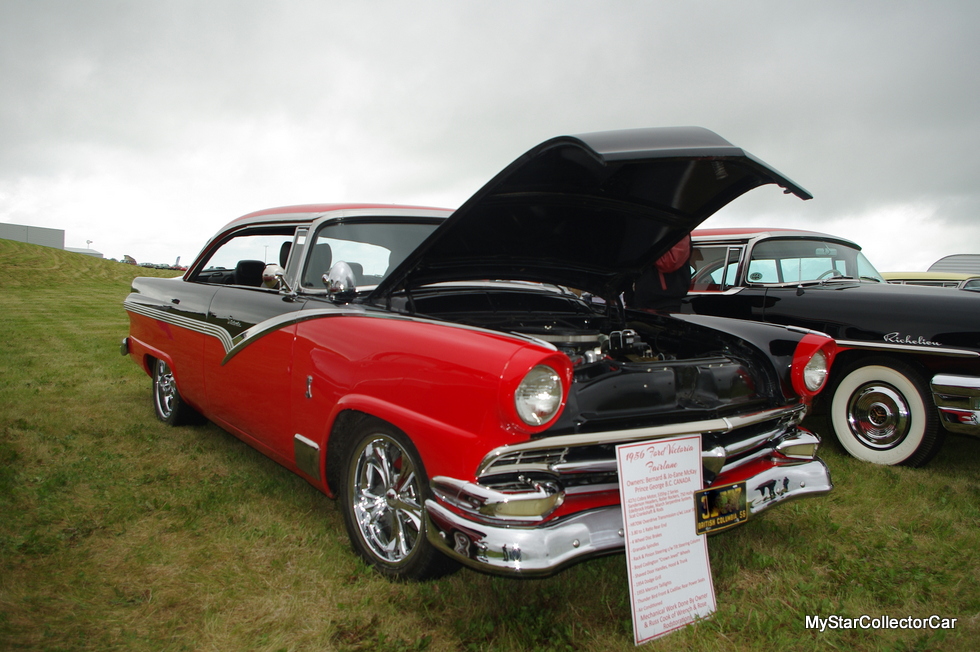 The mid-50s Fords don't match the sheer numbers of mid-50s Chevys at car shows but that doesn't make them less cool.
'In fact, the 1955-56 Fords can match any 50s ride for style because these were extremely clean-looking cars that really made the transition from modest post-war upgrades to welcome to the new age of the 1950s.'
The '55-56 Crown Vickys got all the press but the Victorias were a serious force in the Ford lineup.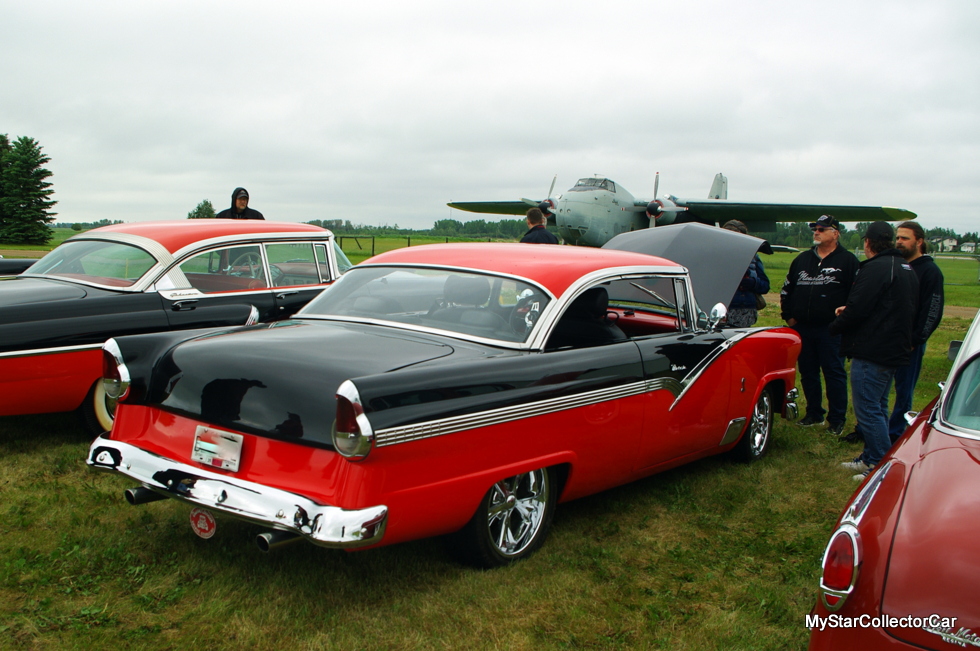 Bernie McKay is a huge fan of the '56 Ford Victoria because, as he said, "The designers got it right in 1956". This is not a sudden conversion to the religion of the '56 Ford because Bernie has quite a history with this iconic car. He's "owned seven of them" since he was 17 so his commitment is beyond question.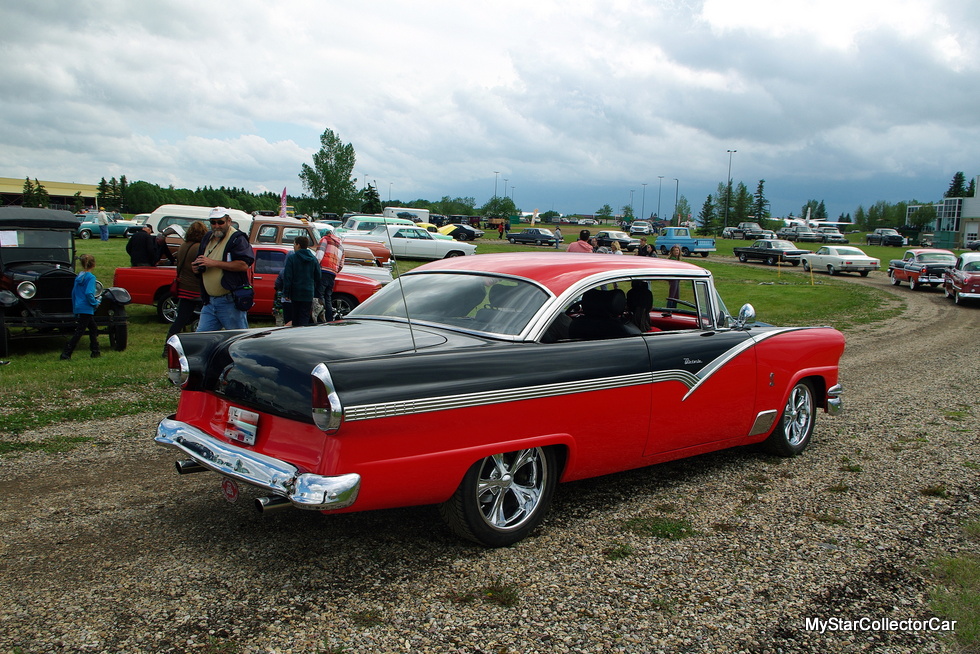 Bernie found this car in Arkansas and he said the "body was like this" but the engine was a 302. He rebuilt the car "from stem to stern" but Bernie has a racing history in his background so the small block Ford became a casualty.
He explained how he "always wanted a 427 Cobra" so he yanked the 302 and added some serious Blue Oval muscle to his '56 Ford Victoria. This is a 535-horse monster so Bernie reached out and found his inner 'more-power' guy in a big way. Bernie said it's "a crate engine form Ford and it meets all the criteria for drag racing". He explained how it'll "fry the tires when you punch it and it'll set off car alarms in a parking lot" so the Bernie has the show and go factor covered in a big way.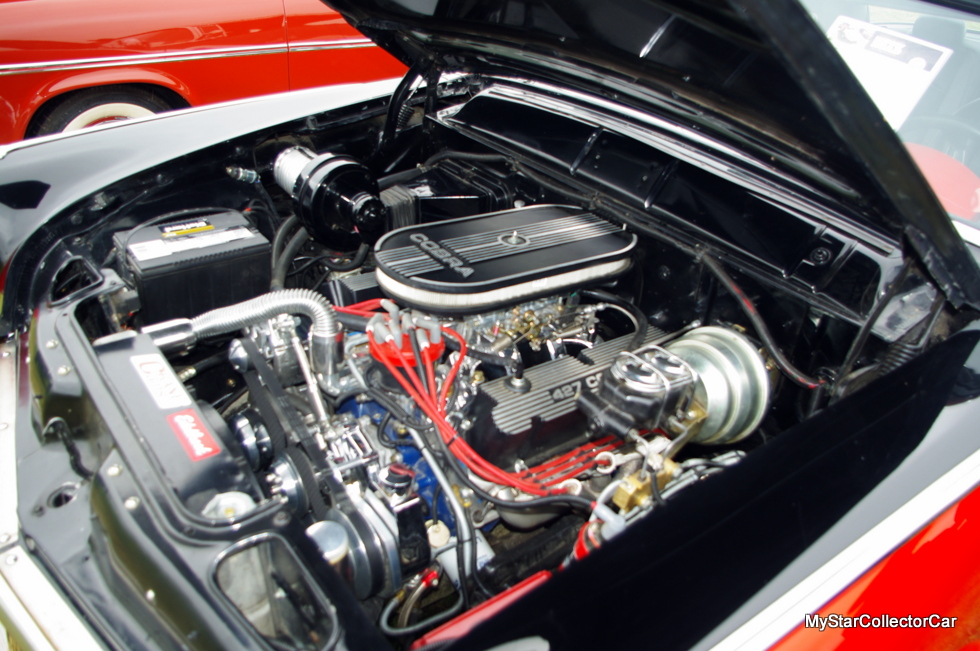 You don't add that kind of brute force to a mid-50s ride because it has to have the equivalent technical stopping and turning power in 2016—the streets are full of drivers who don't know how long it takes to haul down a 1956 Ford so they'll cut one off with little or no thought.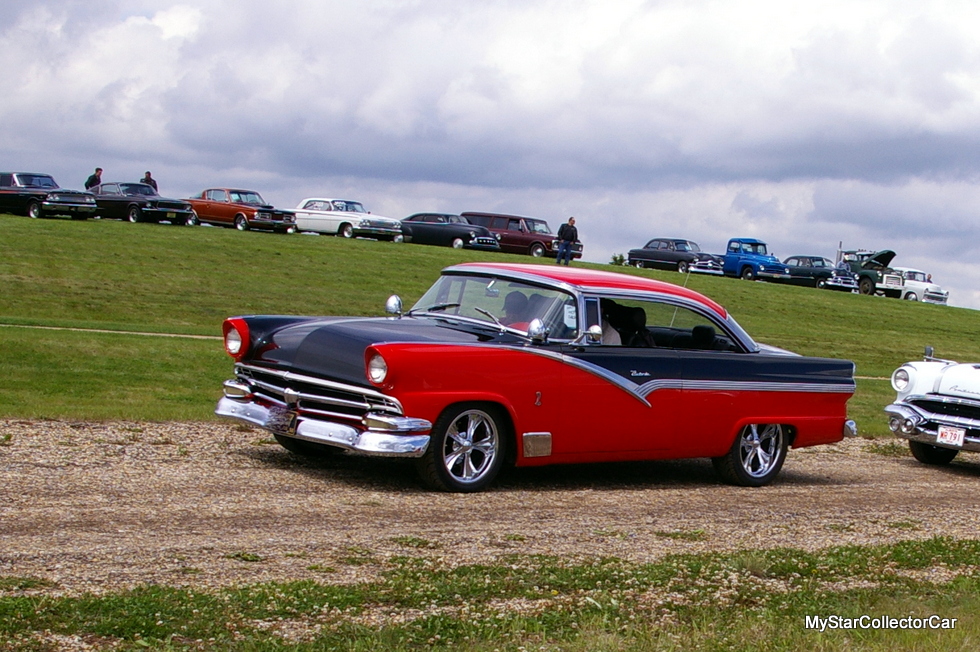 Bernie answered the call on the brakes because his Ford has discs all around so an errant Kia poses no threat when it cuts off his '56 Vicky. The steering is state of the art rack and pinion so he can steer around the offending Kia at the same time—this old Ford is ready for any emergency in traffic.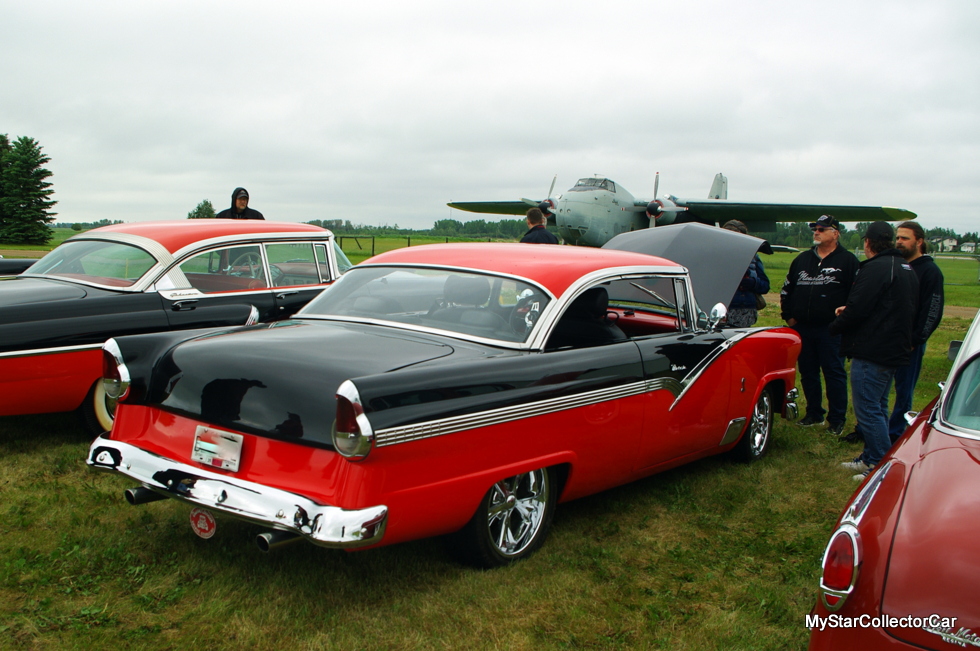 Bernie's car is a champ on the road because it runs between 180 and 185 degrees no matter what the conditions are so there are no overheating issues. Bernie likes to run with the A/C on when it's hot and that has no effect on the gauge.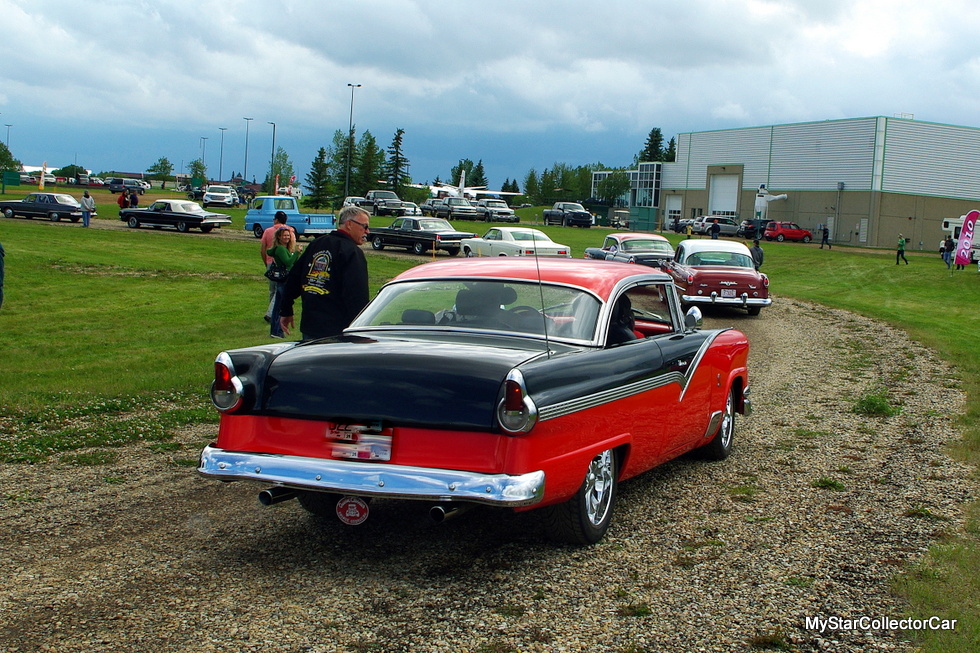 He's built a number of comfort issues into the car besides the air conditioning. The car has power 2006 Thunderbird seats up front and power Cadillac seats in the back so the long haul is more civilized.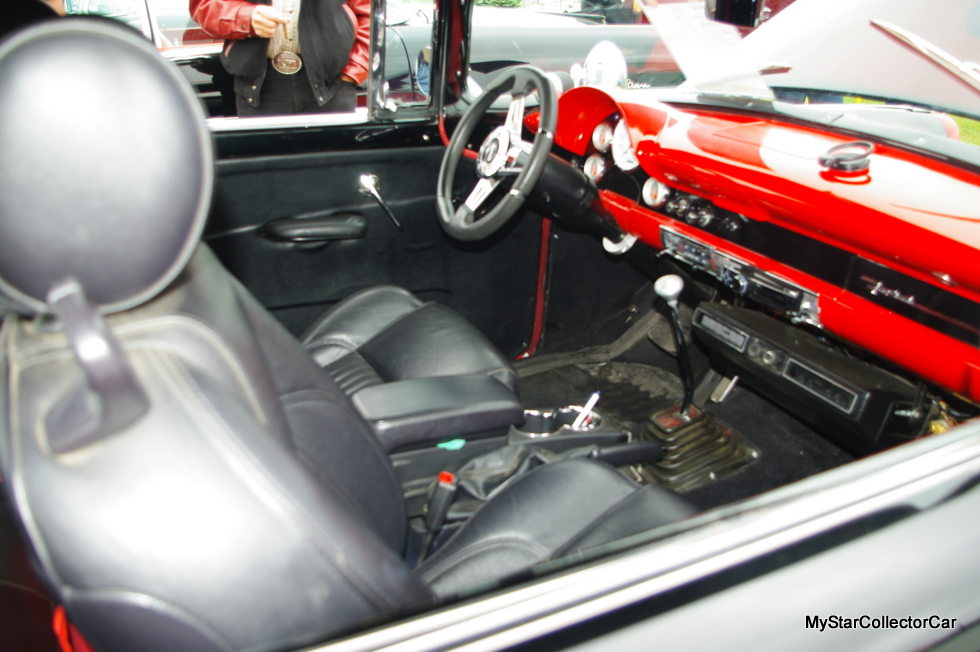 There are some interesting custom touches to the '56 Vicky like the '55 Mercury wagon tail lights and the '54 Dodge grille piece. They blend seamlessly into the look of this classic Ford.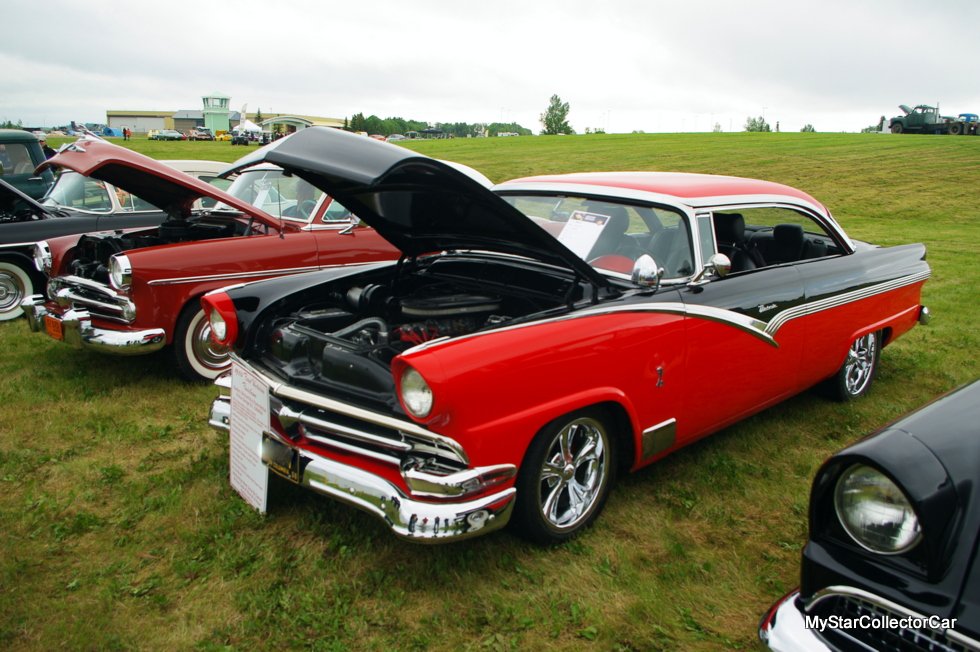 Bernie is 68 years old and he'll drive this car anywhere so he averages about 3000 miles per year. It's been trouble-free for all of those miles thanks to a solid game plan and execution on this '56 Ford.
Bernie only made one questionable statement about his 427 Cobra-powered '56 Ford when he described his philosophy behind the car.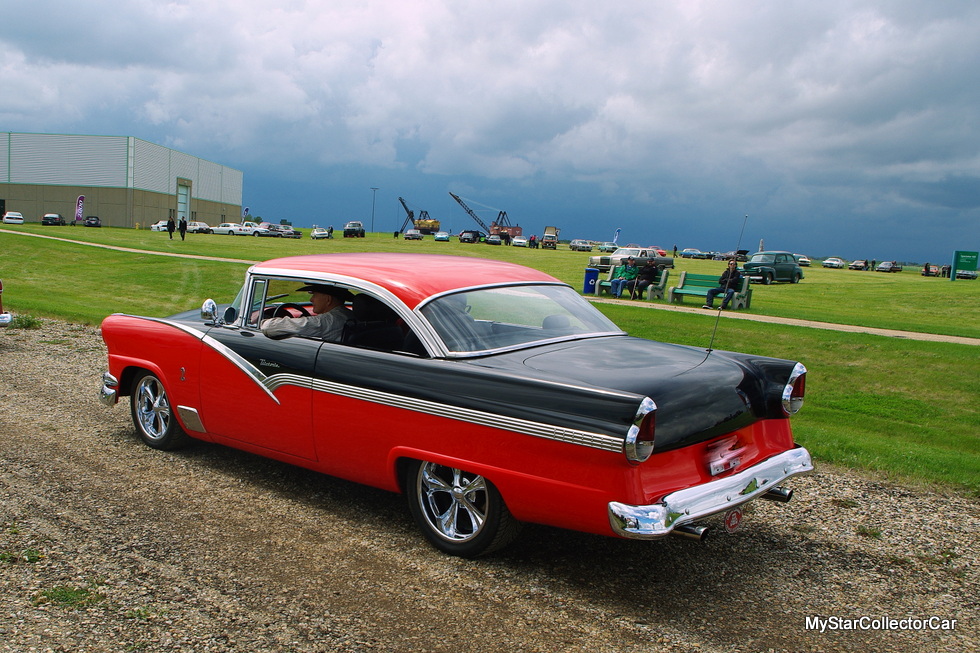 "I got drag racing out of my system".
Jerry Sutherland
CLICK HERE to Like us on Facebook
CLICK HERE to Follow us on Twitter
CLICK HERE to Follow us on Pinterest
Please re-post this if you like this article.