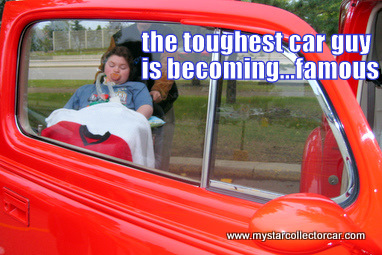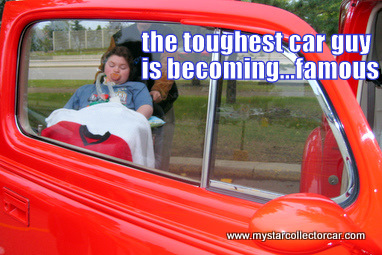 Earlier this year, I met a nineteen-year-old car guy who has been confined to the hospital for a long time.
Aidan Fitzgerald is just a typical kid, except that he is limited by the onset of muscular dystrophy.
The big difference is that Aidan refuses to let his illness push him around.
This past summer I wrote a story about a car show that took place in the Red Deer, Alberta Hospital parking lot, largely because of the efforts of the Red Deer car clubs and some dedicated hospital staff.
That was the first time I met Aidan, and I really didn't get to spend much time with him. He was the center of attention and he wanted to absorb the atmosphere outside of the hospital.
His world was largely inside the hospital-and had been for a long time.
So my brother Jerry and I visited with him later that week and got to know what makes this guy tick. He communicates with a keyboard, but he also communicates more effectively with his facial expressions. It doesn't take long to figure out what Aidan wants to say about his life.
Now obviously Aidan can't set up a garage in his room and start twisting wrenches, but he can design some of the coolest custom rides that I have ever seen on his computer. One of my favorites was an old school VW microbus that he stretched and added an extra set of wheels to give it a tandem look.
Another one was a hybrid 50s/60s custom job that had elements of early to mid 50s Buick features with modest early 50s Caddy tailfins. Aidan added an early 60s hardtop roofline to it.His final concept would have made George Barris or Chip Foose very envious.
I guess  Aidan's obvious flair for car design just proves the old adage: you can't keep a good man down. Muscular dystrophy is an evil illness that will test people to the very edge of their limitations. The trouble is that guys like Aidan are a little too tough to handle. These are John Wayne type guys.
The one thing that seems to give Aidan real trouble is weather and bad timing. Aidan got an opportunity to go to a Thursday night show at the Parkland Mall. The week before was blazing hot and the turnout was huge. Aidan got a week where the weather got cold and nasty. However he had also planned a visit to the mall, so things worked out for him.
Aidan has become famous in car circles that extend well beyond our area. Celebrities like Paul Le Mat (John Milner in 'American Graffiti'), George Barris and Dennis (My Classic Car) Gage have passed along their best wishes to fellow car guy Aidan.
Legendary NHRA Champ and former Red Deer boy 240 Gordy Bonin has visited with Aidan and is now an email buddy along with Fudd Fjallman (world class single A dragster builder 1969).
The Calgary Herald and Edmonton Journal ran features on Aidan, so the guy is definitely getting around the car guy circles. It may even get easier for Aidan in the future as he will benefit from a local hospital charity that provided a portable respirator for Aidan and others.
So next summer the car show season will have one more fan when the toughest guy that I know hits the circuit.
Jim Sutherland @ mystarcollectorcar.com