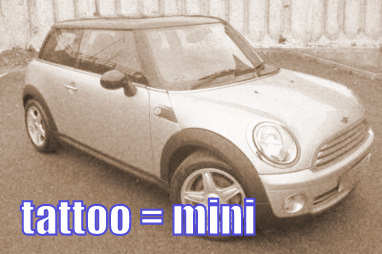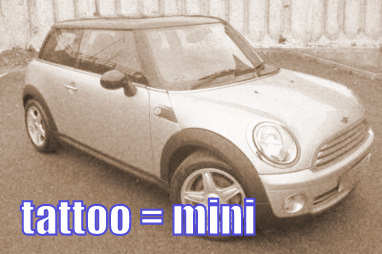 A German radio contest awarded a new Mini to a participant who pulled the craziest stunt.
A guy named Andreas Muller won the contest hands-down, although his hands had little to do with his anatomical choice.
The man proposed that he would get MINI tattooed on an important (make that highly important) part of his male anatomy.
The contestant agreed to have the tattoo artwork done on-air so listeners could hear the screams of a man that likely regretted he was even born when the tattoo was finished.
One would suppose that he was grateful that the radio station chose a car with a short name. Rolls Royce Silver Shadow likely would have killed the guy.
Radio listeners were just grateful that the event wasn't on TV, while other male contestants were grateful that their schemes were well down the dial on the incredibly stupid meter.
So now the "winner" of the contest has a car with a limited lifespan and a tattoo with a lifetime warranty that says MINI in an area where that is not an advantageous advertising message.
Most car guys have their dream cars that may be out of their grasp due to financial considerations.
But we wonder whether there is any car on earth that is worth the agony and lifelong memory of the event now tattooed on Muller's private anatomy.
Jim Sutherland  

Many more less painful car stories at https://www.mystarcollectorcar.com/
COMMENTS
ROBERT:"I'd get a 63 FUEL INJECTED SPLIT WINDOW CORVETTE tattoo on my body if someone would give me one. Might run out of printing room tho".