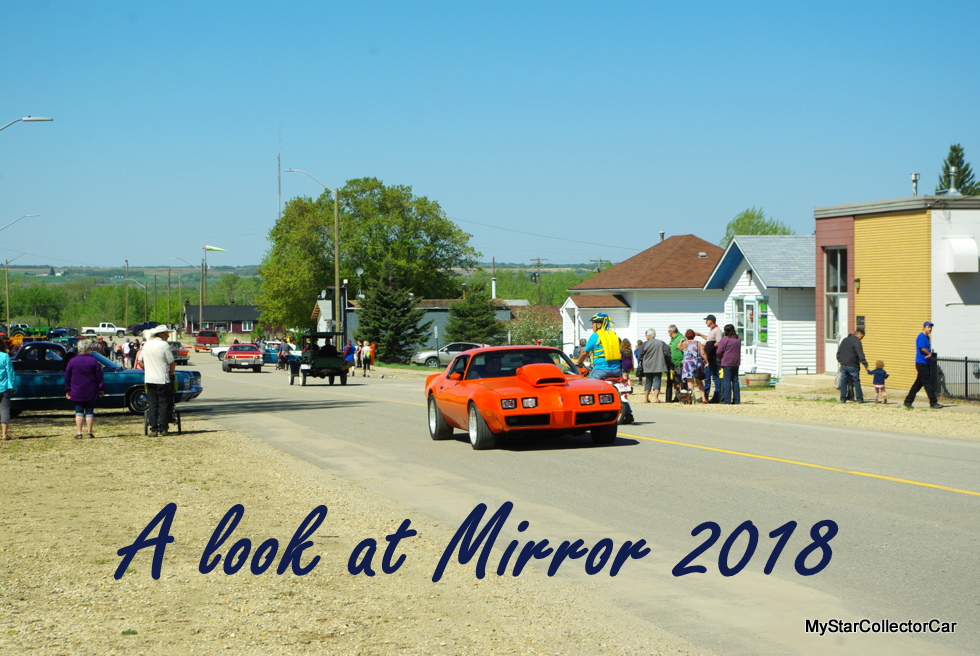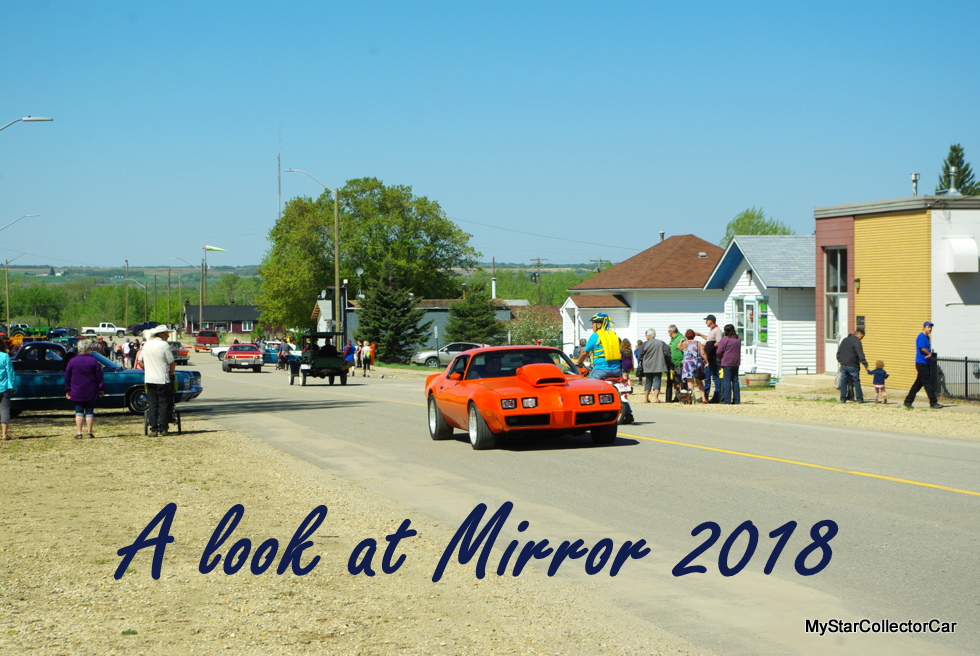 We at MyStarCollectorCar make no secret of our love for small town car shows.
We attend plenty of them during the car show season because small town car events are like a pleasant step back in time for us.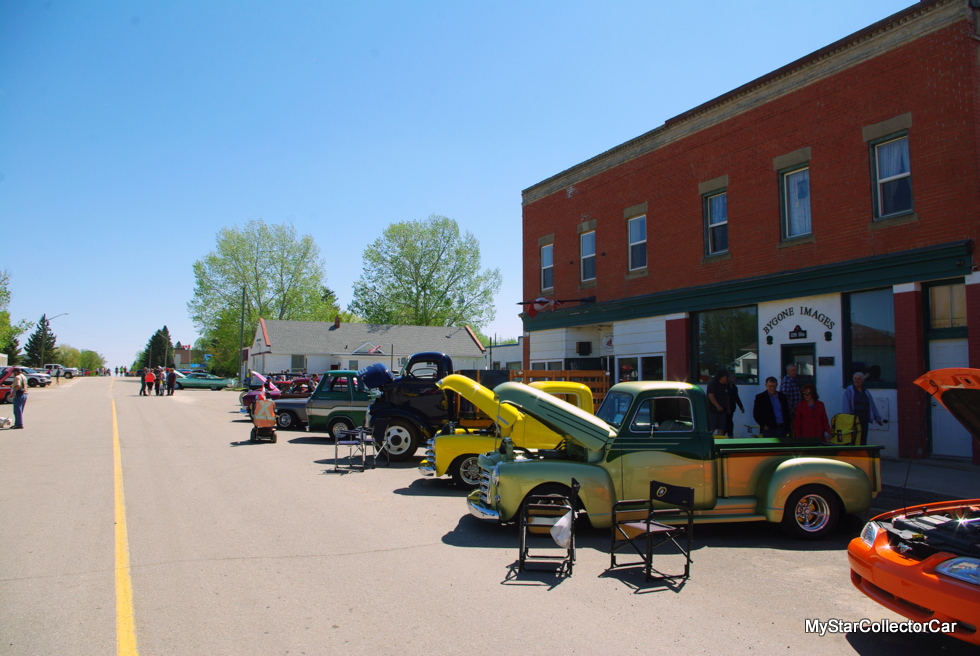 The car show vehicles and plenty of the buildings in small towns come from a bygone era- so does the friendly nature of a small town and its people. We enjoy the way small town people know everybody in their community and are willing to help us track down absent owners.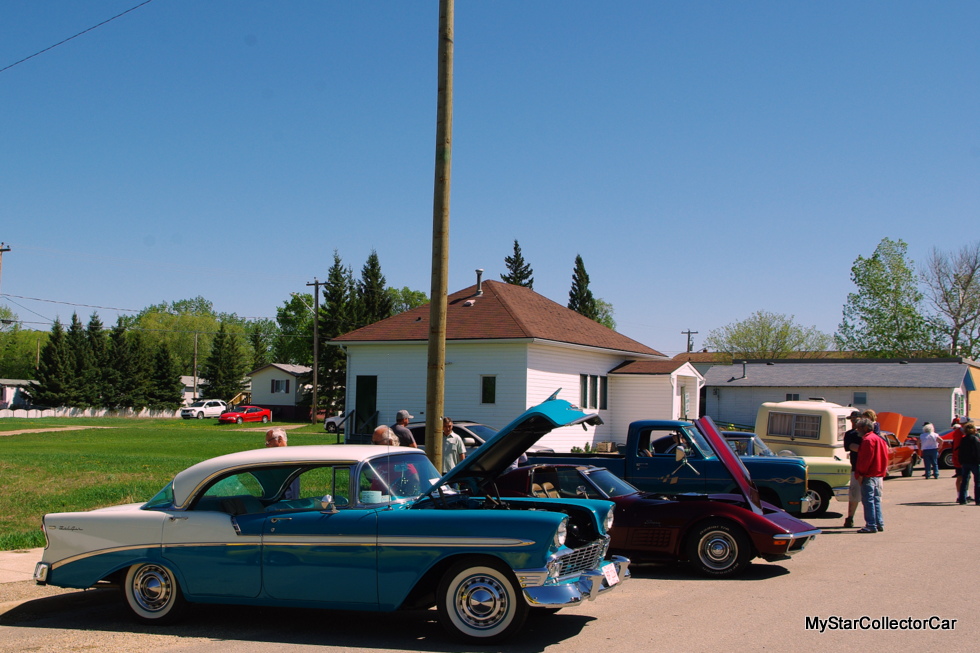 Mirror, Alberta is one of those small towns and we have attended their last three annual car shows held on the Victoria Day weekend (the Canadian version of the famous Memorial Day weekend held a week later in the United States).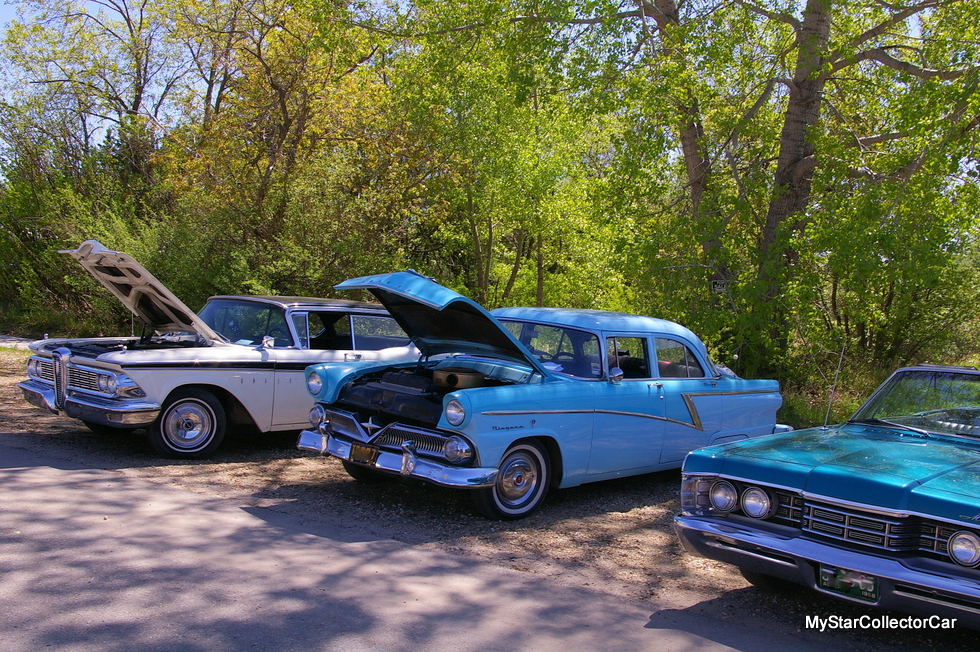 The Mirror show has grown substantially over the past three years and MyStarCollectorCar firmly believes their success can be attributed to their volunteers and Mirror's small town charm.
The first vehicle that caught our eye was a pink Cadillac because it looked like something Elvis himself would have driven during his years as a Caddy car guy.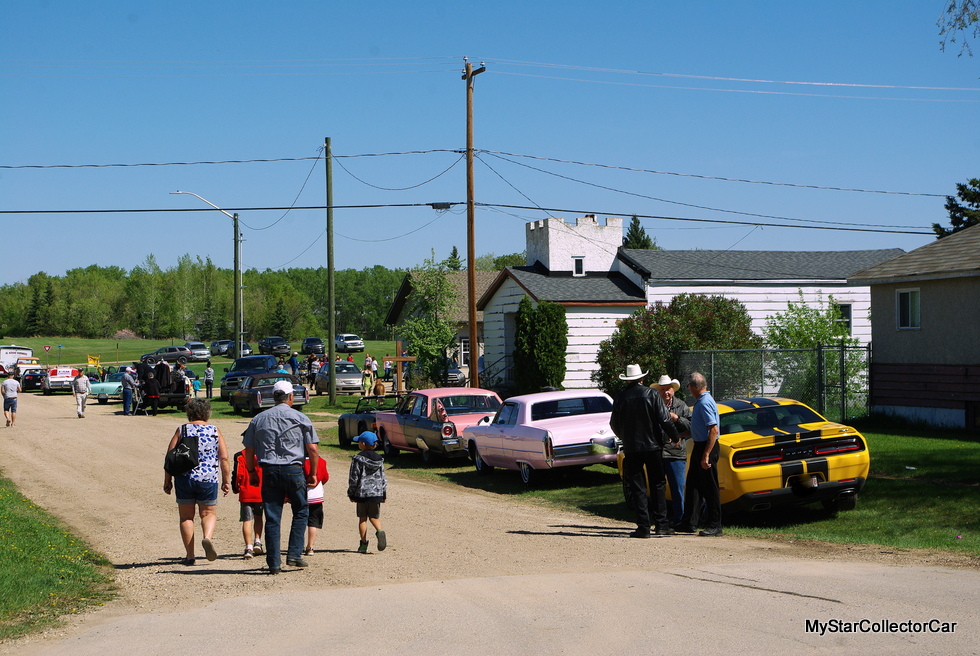 However, a 1951 GMC COE (Cab over engine) with a 1946 John Deere tractor riding high and proud behind the cab of the big GM truck got our attention in a huge way. In fact, we needed to get its story before we left Mirror.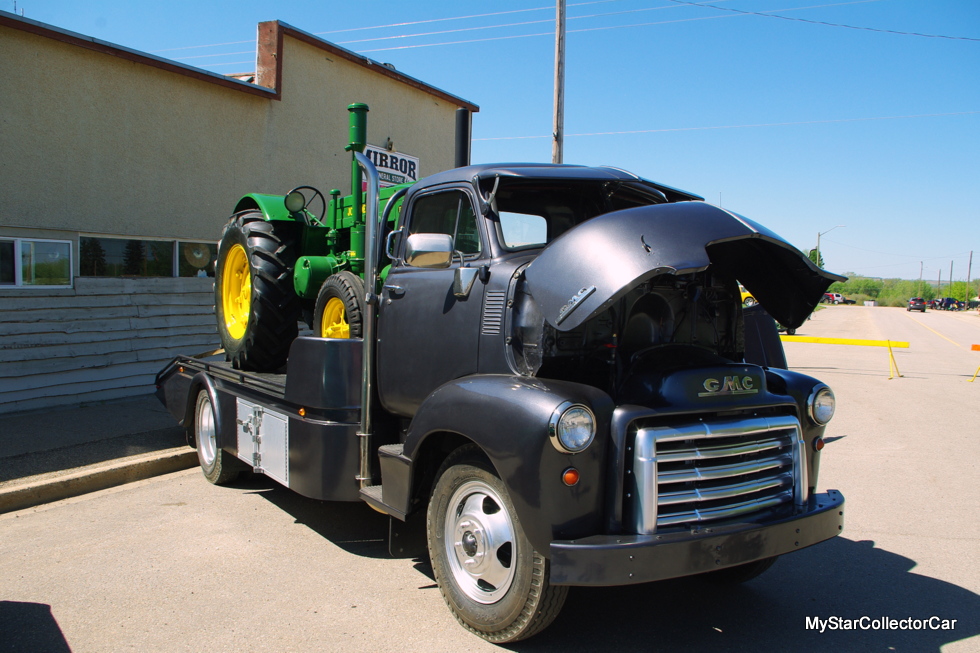 The Mirror show organizers helped us find the owner of the very cool truck and MyStarCollectorCar was indeed able to gather the story behind the remarkable '51 GMC heavy truck. We are not afraid to admit there are some incredibly talented people in the vintage vehicle hobby and the owner of the truck with the John Deere tractor was part of this elite group.

Look for a complete story about how and why he wanted to restore a big truck from the General in a future MyStarCollectorCar article.
There are always a number of unique vehicles at every show and the Mirror show was a good example of this basic rule of thumb. MSCC spotted a stylish 1926 Model T roadster pickup that was driven to the show by its colorful owner.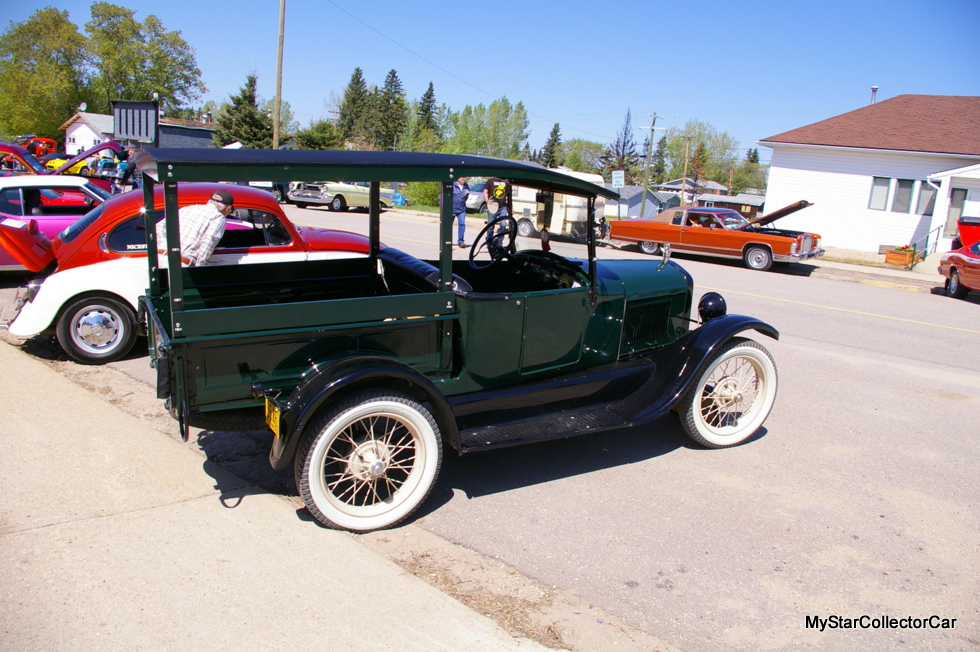 A roadster pickup is an interesting vehicle in its own right because it's essentially a convertible pickup truck, although the owner had the roof up on his Model T.
We mentioned this Model T was driven to the show-but we didn't mention the T still had a T engine and transmission in it. The owner drove the Model T into strong wind and was still able to maintain about 40 mph in the truck.
Our photo will show this Model T has been given some finer touches over the years and MyStarCollectorCar will reveal them in a future piece.
The final addition to our trip down Memory Lane on Main Street was another rare vehicle that came in the form of a 1959 Dodge Custom Royal two-door hardtop. These Forward Look beauties are very uncommon cars so MyStar took full advantage of a golden opportunity to get the full story behind this 59-year-old finned car.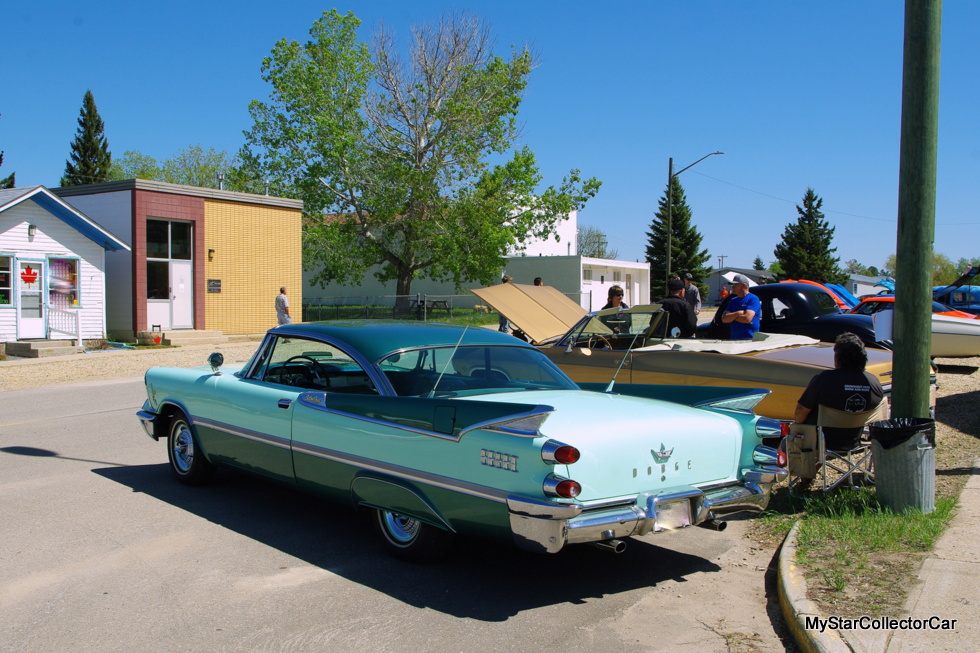 The car show season is still pretty young and the Mirror show makes us pretty excited about the summer here at MyStarCollectorCar. Stay tuned-and don't forget to visit our car show page if you want to spend a day at one of life's truly great experiences: a car show.   

BY: Jim Sutherland

Jim Sutherland is a veteran automotive writer whose work has been published by many major print and online publications. The list includes Calgary Herald, The Truth About Cars, Red Deer Advocate, RPM Magazine, Edmonton Journal, Montreal Gazette, Windsor Star, Vancouver Province, and Post Media Wheels Section.