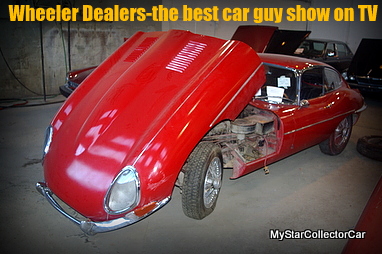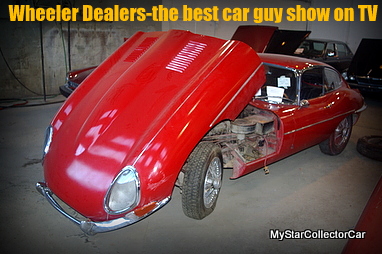 The basic philosophy behind the car hobby is pretty simple: most car guys are attached to their rides and unlikely to sell them.
However, there are temporary owners who buy and sell old iron for fun and profit-mostly profit.
These guys are primarily investment opportunists who follow the buy-low-sell-high mantra and use vintage rides as their commodity of choice.
Television seems to have found every guy on the planet who dabbles in the collector vehicle market and given them a TV show.
Most car guys are not particularly fond of the bad comedy and contrived deadlines on most of these shows.
Viewers learn little about the nuances of a build and too much about the tradespeople in the shop, most of whom are painfully unfunny and should really stick to their day jobs.
There is an exception to the rule when it comes to TV car shows: Wheeler Dealers and its two congenial stars.
Wheeler Dealers is unabashedly based upon the buy/sell concept when it comes to old cars; but it educates viewers during the course of each program.
Wheelers Dealers is a British TV show that is available on cable TV in North America. The two principals in the show are Mike Brewer and Edd China. Mike is an upbeat guy who buys the vehicles and Edd is the mechanical god who works on them.
Mike scours internet car ads on both sides of the Atlantic Ocean, but most of his cars are bought in his local British market. He likes to buy vehicles in need of repairs, whether cosmetic and/or mechanical, and turn the car over to Edd for the actual work.
Edd is one of those car guys with a boatload of talent when it comes to automotive skills. Without Edd, Mike would take a big haircut every week on the show, although there are variations on the program where Mike dabbles in restoration while buying cars in foreign countries without Edd's intervention.
The most important element of Wheeler Dealers is Edd's instruction about the repairs on the vehicles. He shows and tells viewers about the procedure behind the build with a descriptive flair that is easily digestible for viewers.
The camera work is solid and viewers get access to the tight quarters encountered by Edd each week when he applies his sizable skills to the project at hand.
Most of the work involved worn-out mechanical parts and dodgy (British word for crappy) electrical systems that made the cars less saleable for its former owners. Edd finds the problem and fixes it-if the issues fit comfortably within his skill set.
Edd is not afraid to ship out parts like cylinder heads and electrical components for rebuild or replacement when he sees the need for a specialist. He educates his viewers because he acknowledges the difficulty behind the solutions to each of his projects' problems.
Edd does not disguise the sizable number of repair hours and frequent inaccessibility to mechanical parts on the vehicles.
Viewers learn quickly whether they have enough ability to tackle the issues or should defer to a skilled tradesmen in some situations.
That is what Wheeler Dealers does best as a car show: educates its viewers.
It is a concept that is completely lost on most of the other TV car shows.
Jim Sutherland
CLICK HERE to Like us on Facebook
CLICK HERE to Follow us on Twitter
CLICK HERE to Follow us on Pinterest
If you like this MSCC article please re-post it. Thanks