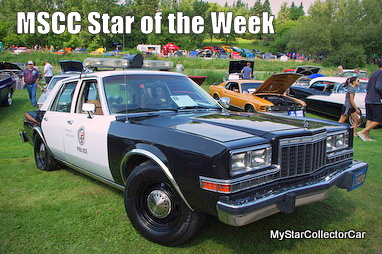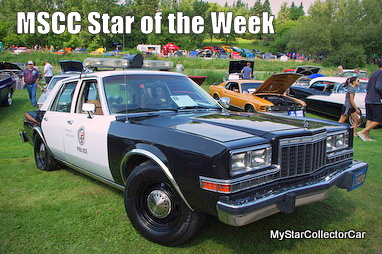 MSCC MARCH 1 STAR OF THE WEEK: DODGE DIPLOMAT-WHEN GETTING THERE IS REALLY IMPORTANT
Chrysler introduced the M-body in the 70s to little fanfare but these Mopars made big waves.
They were the ultimate fleet cars–particularly in police use.
M-bodies had bulletproof drivetrains so they could take a pounding on the street under heavy use.
This MSCC Star of the Week Dodge Diplomat police car is a good example of what you drove when it was really important to get there.
MSCC FEB 28 STAR OF THE DAY: '59 FORD CONVERTIBLE—A TOP DOWN DOG DAY AUGUST NIGHT
August is part of the dog days of summer (generally regarded as July 3-Aug 11 by the Old Farmer's Almanac).
The 40 dog days of summer represent the peak of the season and they're based on the appearance of the Dog Star (Sirius) and the time of least rain in the Northern Hemisphere.
This all means one thing to car guys—great weather for old iron.
The MSCC Star of the Day is a '59 Ford convertible and this picture was taken on Aug 3, 2012.
It was a top down dog day August night.
MSCC FEB 27 STAR OF THE DAY: '73 COMET GT—SMOG ERA PERFORMANCE IS STILL PERFORMANCE
You have to hold post '71 era cars to different performance standard because they were literally put in a chokehold by overzealous bureaucrats.
Smog laws that called for lower compression and crude smog era exhaust systems turned Detroit iron into street slugs.
Despite their handcuffed engines, the smog era rides were still in competition for some version of performance in the 70s and they came up with some pretty cool cars.
This MSCC Star of the Day '73 Comet GT at a 2013 show was an example of smog era car that could run with the best of its class and look cool as an added bonus.
MSCC FEB 26 STAR OF THE DAY: THE DEFINITION OF A PERFECT SEPTEMBER DAY
There have been many songs written about September because it's a transitional month from summer to fall.
Songs like 'See You in September', 'September Morning' and 'September' all celebrate a month that doesn't get a lot of credit like its more popular summer cousins like June, July and August.
September can be actually be an incredible month for old iron because the days are warm, not hot and traffic flow doesn't have a high summer idiot driver factor.
This MSCC Star of the Day picture was taken in late September and if you want the definition of a perfect September day, study this picture.

MSCC FEB 25 STAR OF THE DAY: '54 CHEVY TRUCK—A STRONG CASE FOR THE CLASSIC ERA
There are many opinions on what is the classic era for Chevy pickups.
Some guys call it the tri-five ('55-'57) era, others prefer the '71-72 era and a number of Chevy guys name the '47-54 trucks as the true classic era.
This MSCC Star of the Day '54 Chevy was on the street back in 2013.
It made a pretty strong case for what was the true classic era in Chevy trucks.
MSCC FEB 24 STAR OF THE DAY: FORD THUNDERBIRD—AN ALL SEASON CLASSIC RIDE
One of life's best moments is the sight of an old ride in an unusual situation.
Unusual situations can be when you see classic iron on a back road in the middle of nowhere or on the road during a season where old rides fear to tread.
This MSCC Star of the Day Thunderbird was on the road in winter on a road where there was literally no other examples of old iron within a 40 mile radius.
That makes this T-bird an all season classic ride.
MSCC FEB 23 STAR OF THE DAY: '68 DODGE RT CONVERTIBLE—DOOR NUMBER THREE
Mopar guys look back at 1968 with a fair amount of awe thanks to two muscle car legends—the Charger and the Road Runner.
The Charger was turned into an automotive legend in '68 thanks to an incredible design and the Road Runner made muscle cars dangerously affordable for 19 year old kids.
Those two B-body Mopars put Chrysler at the top of the heap in '68 but there was another lesser known cousin of these two icons.
This MSCC Star of the Day '68 Dodge Coronet RT convertible is a good representative of the other B-body Mopar.
It may have been Door Number Three in Mopar world but this RT was equally cool back in '68.
For past MSCC Stars of the Day please follow this link.
CLICK HERE to Like us on Facebook
CLICK HERE to Follow us on Twitter
CLICK HERE to Follow us on Pinterest
Please re-post this if you like this article.
Star of the Day page sponsored by Southside Dodge