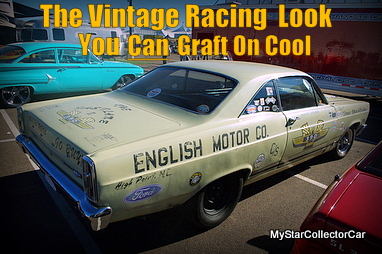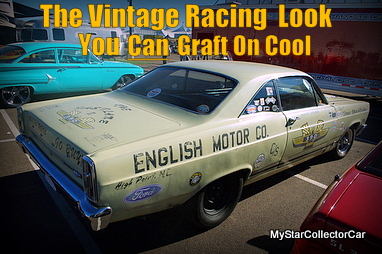 There's another trend sweeping the car hobby and it may be one of the most interesting visual sights you'll see at a car show.
Put a number on a car and it's like an instant injection of steroids for the meekest-looking old car.
They go from coat-holder to street brawler in seconds.
History is a great way to take a car from a blank piece of paper to work of art.
'57 Chevys don't really need any help in the PR department because they are part of 50s culture in a huge way, but put some racing history in the mix and a '57 Chevy becomes a monster.
This '57 Chevy was a tribute to the legendary Smokey Yunick's ride and one thing was clear about this extremely cool tri-five Chevy. This beauty is going to suck all the spectators away from every other car at any 5-6-7 Chevy car show on the planet.
Smokey would be proud.
Black Widow '57 Chevys were another force on the track back in the day because they dominated NASCAR back in 1957. This Black Widow tribute was a classic example of how cool these cars look in racing colors.
Ford was well represented at the track back in the day and this '66 Fairlane GTA is a great example of an NHRA track car recreation. The slightly weathered look really worked for this blue oval because it looked like a former race car that sat for a long time after a decade on the track.
In reality, this was a 390 cubic inch street legal driver and any day a car like this GTA shows up on the street (or at a show) is a good day.
Who says you can't graft on cool? This '66 Ford suggests otherwise.
This '63 Ford F-100 XL truck is another tribute to a legendary racing vehicle. The original version campaigned in the B/FX class and did really well. This brute has a 532 cubic inch monster under the hood and you can bet it's going to win People's Choice at a lot of shows.
This '69 Daytona was the real deal racer back in the 70s. "Big Willie" Robinson was a force on the streets of Los Angeles in this big, bad Mopar and he spearheaded sanctioned racing at a time when people were dying in high speed crashes on city roads.
The Daytona was his signature ride and it's truly a piece of cultural and racing history-the cool factor is infinite.
Corvettes have always been a factor at the track but this '53 Vette may be one of the earliest examples. It was called a NASCAR unit and it was built to save the Corvette from extinction because the car was on the bubble for weak sales. Vette guys owe a large debt of gratitude to this historic car for giving it a racing pedigree.
This '68 Corvette was a later version of the same concept-win at the track and in the showroom. This was one the first new for '68 Vettes and it had the mammoth L-88.
This car had it all—it was a COPO and it was owned by the legendary James Garner under his American International Racing team. If this Vette doesn't attract fans like moths to a light at every car show, there's something wrong with the natural order of things.
The racing look (real or tribute) can muscle out the most vanilla ride and make it a rock star overnight because more car guys relate to cars built for a purpose over a car built for show and no go.
Jerry Sutherland
CLICK HERE to Like us on Facebook
CLICK HERE to Follow us on Twitter
CLICK HERE to Follow us on Pinterest
If you like this MSCC article please re-post it. Thanks