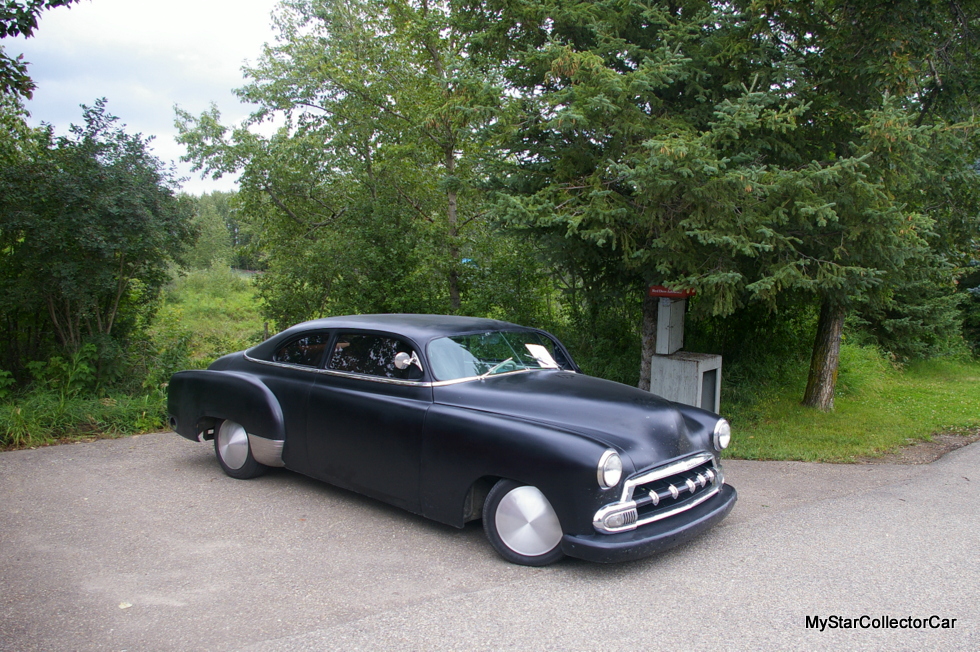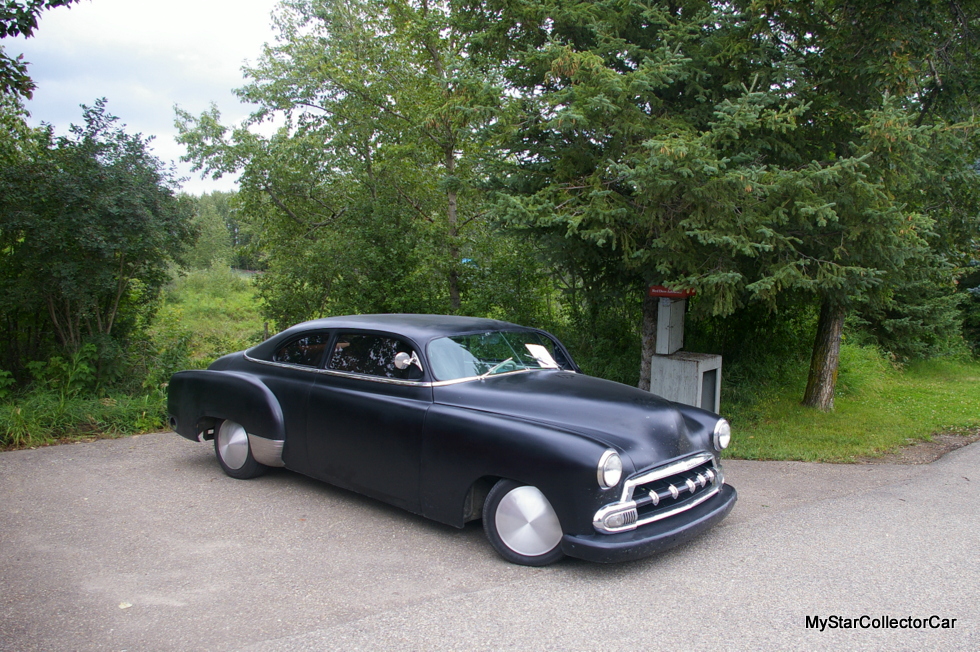 A wild-looking 1952 Chevy with plenty of bug splats on it is a story waiting to happen for us at MSCC.
'We asked owner Frank Puszti to give some background about how and why his Chevy got a big facelift under his watch and he gave us quite a story.'
Frank has owned the Chevy for about 13 years and he has applied his own custom touches to his car.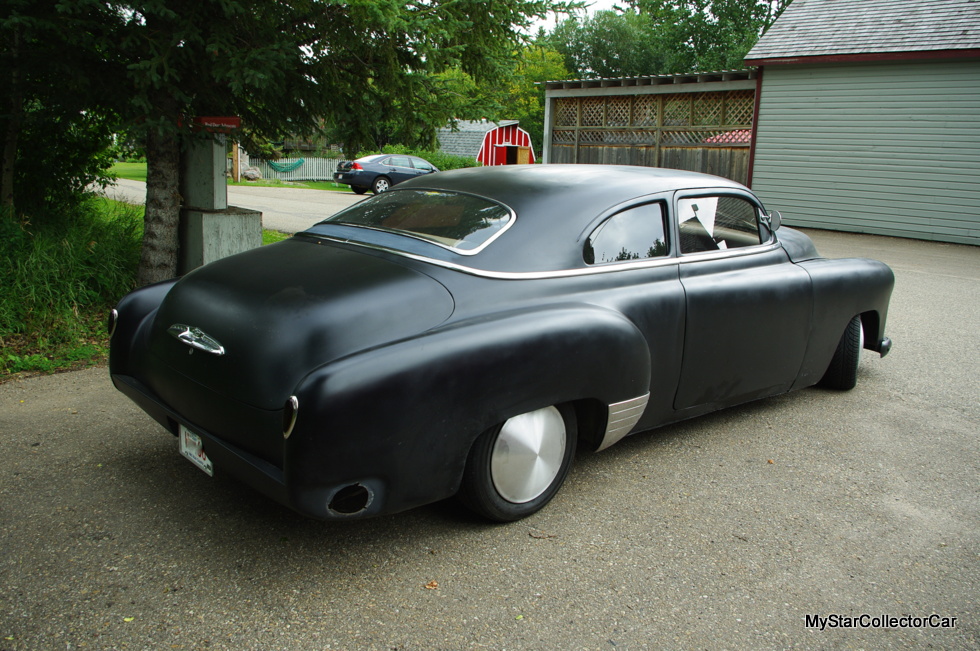 He thought the car was "kind of ugly" in its stock form and decided he could bring out its inner beauty by "cutting it up" in his words.

Frank was a carpenter during an earlier phase of his life so the idea of cutting stuff was not a new concept to him when he switched from plywood to metal. He cut the roof twice and shaved some metal out of the side of his Chevy on the second cut. The total result was a 7-inch drop in the roof after the dust (metal shavings) settled for Frank.

Frank was far from done with changes to his Chevy because he raised the back window about three inches after the roof chop. He also changed the Chevy from conventional to suicide doors and used hinges from a '56 Chevy in the process. Frank described the door alterations as "an awful lot of work for something nobody sees", but they now open a full 90 degrees and provide excellent ease of entry along with the cool factor.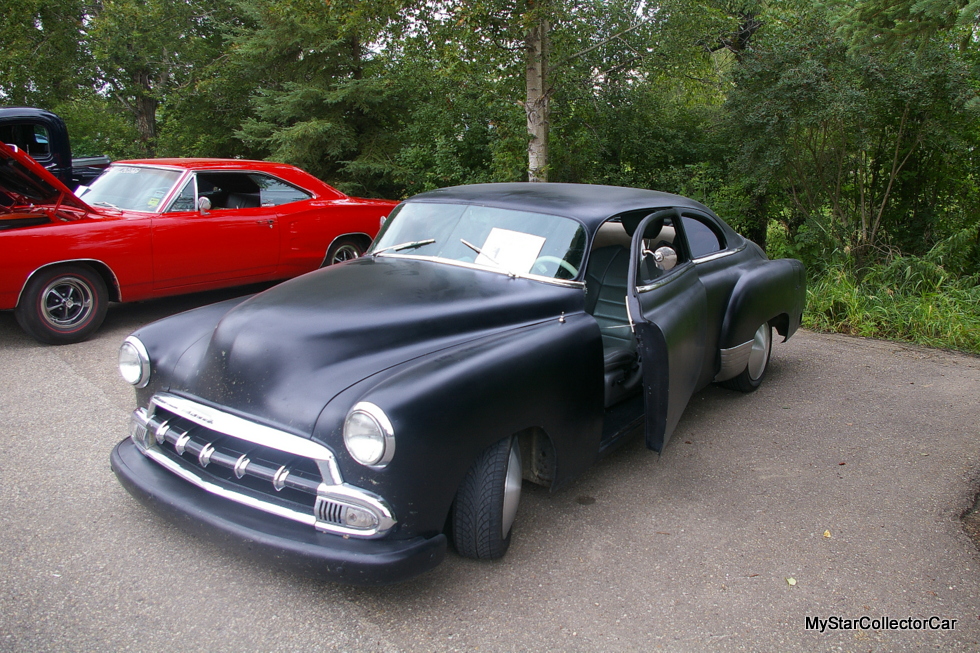 Frank built  custom floor pans for the Chevy–they were were needed so Frank could implement all of the other changes to the car.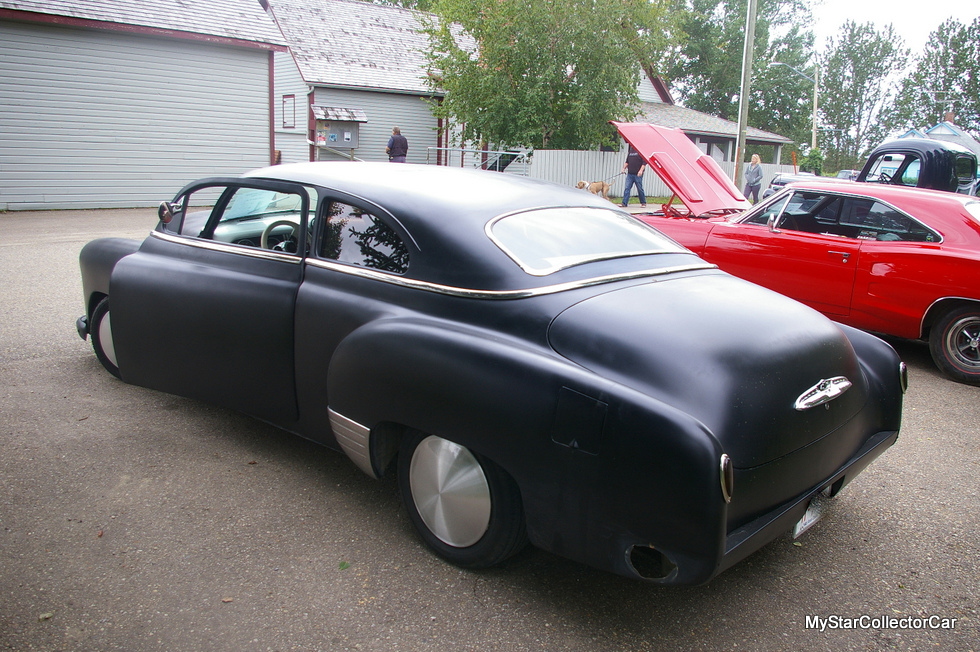 Frank put the Chevy on a 1980 Camaro sub-frame and added a 350 Chevy small block into the mix. The air cleaner is pure 1950 Caddy and the car now sports power brakes and steering. The tilt and telescopic steering were donated by an old Chrysler according to Frank.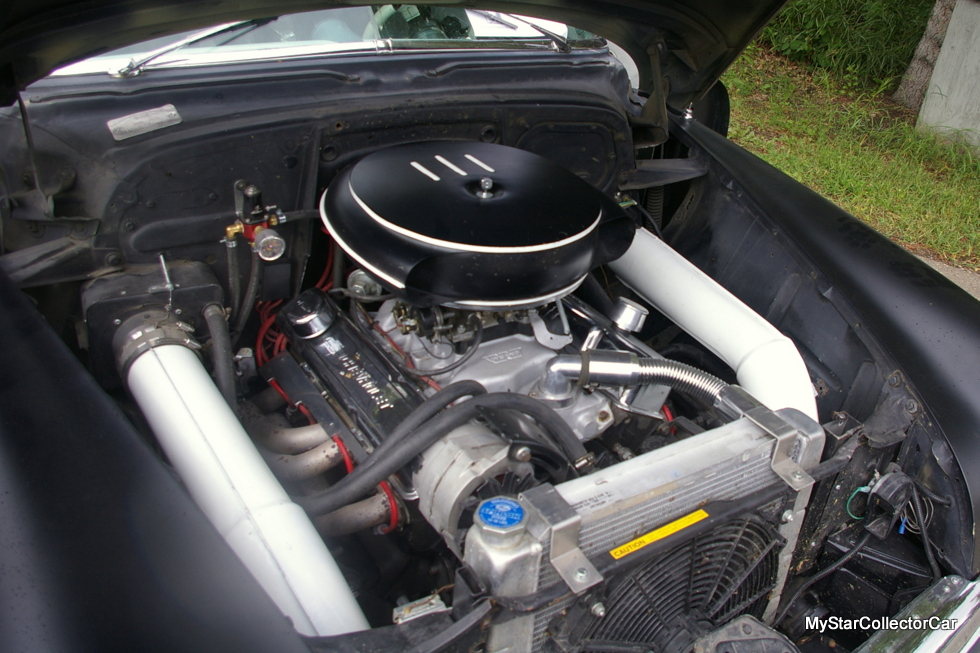 The Camaro donor car also provided front disc brakes and the rear end for the Chevy. It was clear Frank has embraced an old school hot-rod build where you mix and match along the way. Even the windshield has a story behind it because Frank custom-cut a Mack truck windshield to fit into his chopped roof.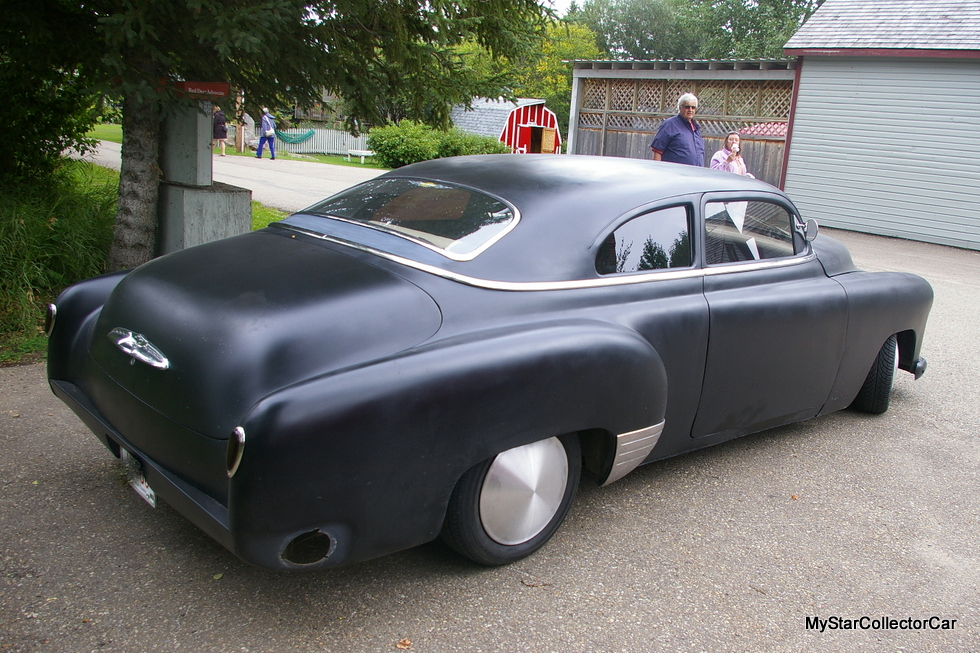 The Chevy has Jaguar mirrors and seats out of Ford pickup truck. The Chevy still has its original gauges and even uses the oil sending unit from the car's original engine to measure oil pressure.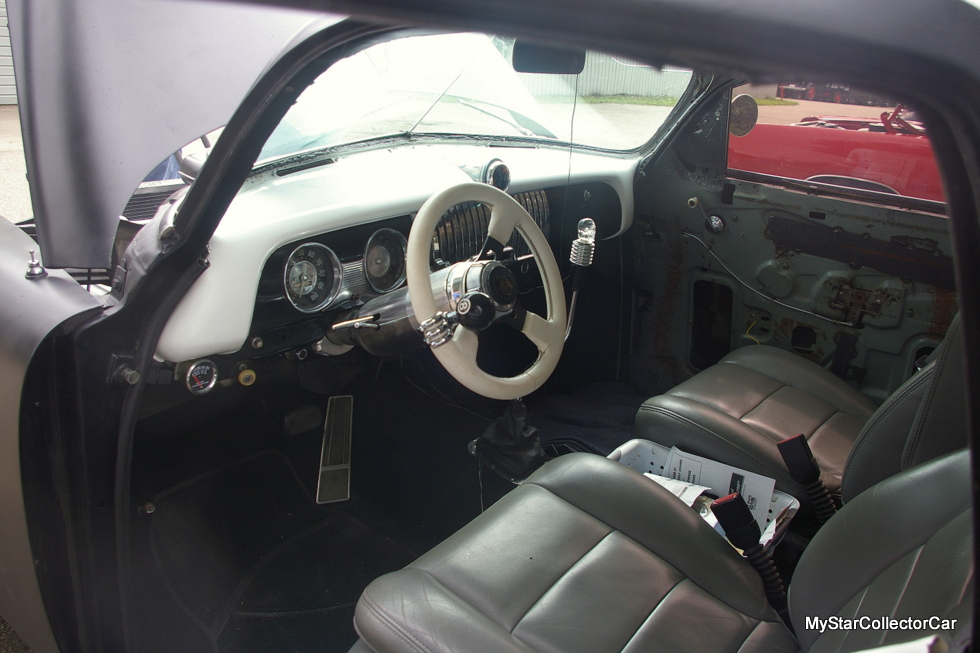 Frank said his build took about three years and is still an ongoing process because he wants to add a few other components like a headliner. However, Frank can now enjoy his time behind the wheel of his Chevy resto mod and likes to drive it during the summer show season. He describes the driving experience as "pretty nice with an 80s technology feel".
The car has a flat black paint job which he says "has been on the car long enough to be trendy". Frank has mixed feelings about a new paint job for the car and will simply mull over that idea for the foreseeable future.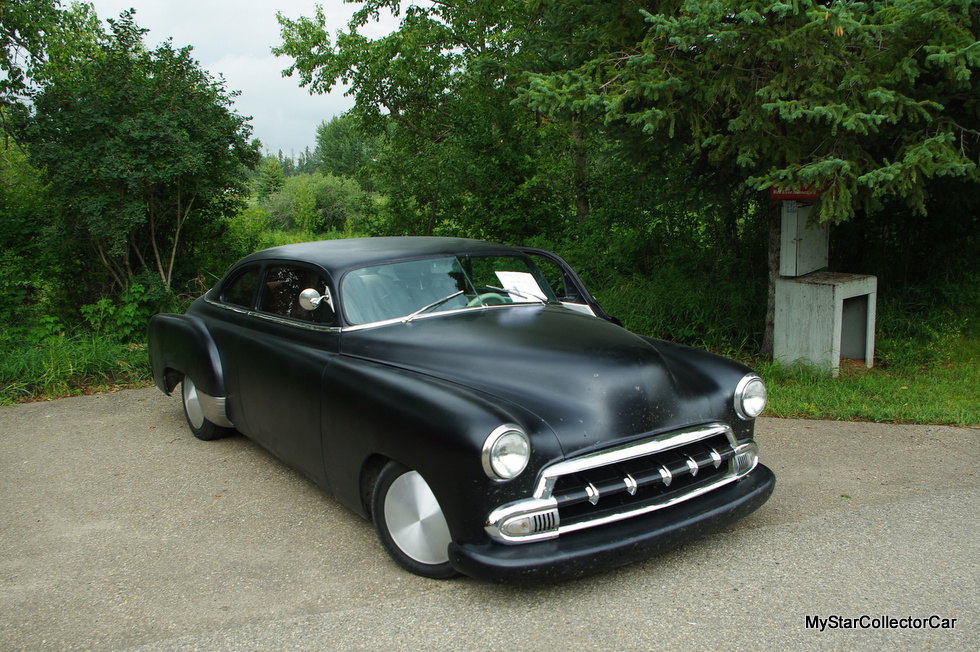 'We liked this custom build and believe Frank should just continue to have fun getting bug splats on his very cool '52 Chevy.'
Jim Sutherland
CLICK HERE to Like us on Facebook
CLICK HERE to Follow us on Twitter
CLICK HERE to Follow us on Pinterest
Please re-post this if you like this article.