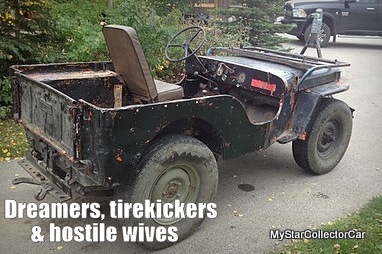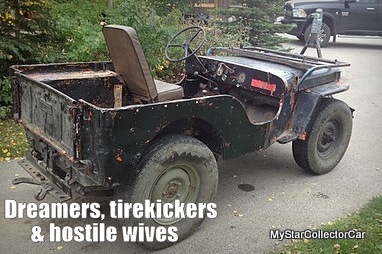 My nephew Todd has been involved the old car hobby for over twenty years.
His first foray into the world of dated automotive technology came in the form of a 1959 MGA.
Since then he's been immersed in several projects and the experience has been a huge learning curve but nothing prepared Todd for the nightmare behind the scenes of a '47 Willys Jeep sale.
Todd bought the Jeep because he's a military history buff and these little workhorses were a huge part of the war effort. He found this Jeep and got what I call "a smoking Todd deal" but a few months later, Todd acquired a '56 Dodge and that car made a lot more sense as a practical driver.
The Jeep became expendable because Todd's a practical guy with only so much wiggle room in his shop and from his wife so he listed it for sale.
That's when the circus came to town.
The interest spiked early, so Todd was answering several calls a day and he received two firm offers for the full asking price but they both came with the same conditions as he explained: "The guy told me he's coming to see it, let me know if anyone else is interested but I'll take it for sure-just have to sell my wife on it".
The phone rang the next day: "He calls me all dejected and told me it isn't going to happen because his wife hates the idea".
Then the other guy called: "He's all over me, tells me he's going to take it for sure and make sure I'm there at 10am because it's a done deal so I moved things around and set it up to meet him-then I get a text at 10:15 and said he can't do it because it's not about the money, it's about the wife".
Regular MSCC readers are well aware of the eternal enemies—"old car versus wife".This experience just drives the point home.
Those were the good guys because Todd faced an onslaught of what he called "low-ballers, dreamers and rednecks" over the week it was listed.
Todd was unimpressed because this was a relatively low-priced deal that was clearly defined in large letters as a PROJECT.The engine was displayed on a stand in the ad yet half the people who called asked if they could drive it away and half of them asked if Todd could get it running and safetied for them.
One guy offered to get it running and treated Todd like a moron by insulting his technical knowledge, asking him to buy parts and ultimately splitting the profit on the final sale of the completed Jeep. Todd is a veteran of three major car projects so this guy's "expertise" and plan were completely unwelcome.
Low-ballers came out of the woodwork but one guy was particularly aggressive because he sent Todd a $1500 take it or leave it offer so Todd sent a terse message back—"leave". He kept upping the offer but not enough so the "leave" response stayed in place. The guy finally bumped it up to asking price but by then the Jeep was gone.
Todd defined the core group of tire-kickers on his Jeep as "rednecks who wanted to rip out the stock stuff, slap a big block in it and turn it into a mudder". These guys were particularly flakey because, to a man, they consistently skipped promised appointments to see the Jeep, then called back to try and set up another one.
This experience didn't put Todd off the car hobby but it did make him more cynical because when it did sell to a guy he worked with the phone kept ringing. Both married guys had convinced their wives and several other guys (including the low-baller who kept upping the bid) came up to asking price.
Every one of them was disappointed but there were lessons to be learned for buyers.
1-Get your wife on board before you make an offer.
2-Read the ad in detail because a project is a project-not something you can turn the key and make a daily driver. Look for clues like the engine on a stand and not in the vehicle.
3-If you really want it and the price is realistic don't low-ball as a reflex and go up in increments because Jeeps are popular so other guys love them too and they'll beat you to the finish line…all for a few hundred dollars.
4-Don't be a tool. If you make an appointment to see the vehicle, keep it.
Happy ending part—the Jeep was bought by a classy guy and it's going to work on a ranch instead of a mud-bog.
Jerry Sutherland
CLICK HERE to Like us on Facebook
CLICK HERE to Follow us on Twitter
CLICK HERE to Follow us on Pinterest