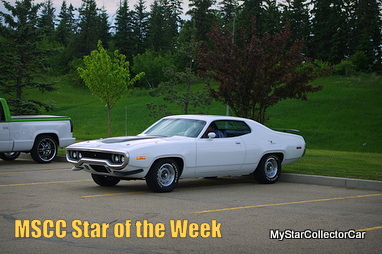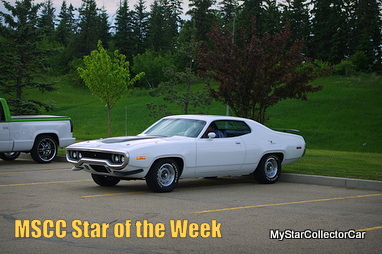 MSCC OCTOBER 12 STAR OF THE WEEK:'71 ROAD RUNNER – LIKE IT JUST CAME OUT OF THE SHOWROOM
There are definitely two camps in the old car hobby.
There are the guys who take a "sky's the limit" approach and modify a car to the point where it's a mere shell riding on hi-tech tricks that would humble James T. Kirk of the Star Ship Enterprise.
The other guys want a time capsule on four wheels so their cars are date coded and exact to the point where you could add period-correct factory dust to complete the project.
This MSCC Star of the Week '71 Road Runner is that car—it's so original if you sit behind the wheel, you'd swear Richard Nixon was still running the show in the White House.
MSCC OCTOBER 11 STAR OF THE DAY: '75 IHC— THIS ONE HAS THE HEART OF A WARRIOR
1970s era International Harvester pickups were built for the working guy.
They were boxy-looking and far from glamorous but they got the job done.
They came from a company that built small trucks, big rigs, farm machinery and construction equipment so building pickup trucks was a light workout for IHC.
This MSCC Star of the Day '75 IHC took the game up another level because now it's got a Cummins diesel heart transplant.
The story behind this truck was featured in a September 2012 MSCC article.
MSCC OCTOBER 10 STAR OF THE DAY: '64 IMPALA—RAINY DAYS DON'T GET THIS CLASSIC DOWN
There are two ways to take a successful car picture.
Take a picture of a yellow car or take a picture of a '64 Impala.
Yellow cars pop at midnight or noon on sunny or cloudy days at sunrise or sunset.
'64 Impalas are the same.
This MSCC Star of the Day yellow '64 Impala turned a rainy car show picture into a sunny day shot because that combination was unbeatable.
MSCC OCTOBER 9 STAR OF THE DAY: A BIG, BAD 1963 FORD R-CODE 427 – FACTORY TRACK STAR
1963 was the beginning of a major power war between the Big Three.
Chevy had the 409 cubic inch 425- horsepower RPO-L80, Dodge and Plymouth had the 426 cubic inch 425-horspower Stage II Max Wedge and Ford had the 427 cubic 425-horsepower R-code option.
None of these cars were designed to take the kids to baseball practice.
This MSCC Star of the Day 427 R-code 427 Galaxie 500 was built for the track and it campaigned there from Day One because kids would have had to go to the baseball practice ¼ mile at a time.
MSCC OCTOBER 8 STAR OF THE DAY: 1962 PONTIAC PARISIENNE CONVERTIBLE—TOPLESS CANADIAN
Pontiac Parisiennes are enigmas south of the border because they're so uniquely Canadian.
They were basically Chevys under the skin so Parisiennes were smaller than their American Poncho cousins.
Parisiennes were all Chevy under the hood too so they are definitely curiosities at any car shows in the States when a 327 shows up with Pontiac badges.
This MSCC Star of the Day '62 Pontiac Parisienne convertible was at a show back in 2010 on a sunny summer day when topless and Canadian made sense.
MSCC OCTOBER 7 STAR OF THE DAY: 1960 FORD GALAXIE STARLINER – CUSTOM RIGHT OUT OF THE FACTORY
The 1960 Ford Galaxie was a high point for style back in '60 because these cars looked like they jumped right off the pages of a custom car magazine.
They had a look that set the bar for how cool a factory ride could be in 1960 and you could buy them at your local Ford dealer.
Custom car builders have recently discovered the '60 Ford Galaxie and for some reason they force their own bizarre vision on a car that doesn't need any visual tweaks.
This MSCC Star of the Day '60 Ford Galaxie Starliner at a show two years ago defines how misguided these custom car guys are because you can't improve on perfection.
MSCC OCT 6 STAR OF THE DAY: '77 DODGE LITTLE GREEN EXPRESS–WHAT COULD BE
Mopar purists will jump in on the '77 Dodge Little Green Express debate and they will successfully argue that it never existed.
Historically, they are on the money because 1978 was the rookie year for the Little Red Express and the key word is "red".
Hypothetically they're wrong–this green '77 Dodge does exist because car guys aren't limited by "what was"…they are "what could be" guys.
This MSCC Star of the Day was at a show back in October 2013 (it was featured in a November 2013 MSCC article) and it was built by a "what could be" guy.
For past MSCC Stars of the Day please follow this link.
CLICK HERE to Like us on Facebook
CLICK HERE to Follow us on Twitter
CLICK HERE to Follow us on Pinterest
Star of the Day page sponsored by Southside Dodge