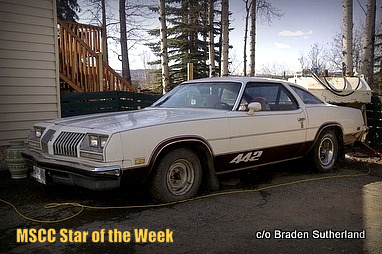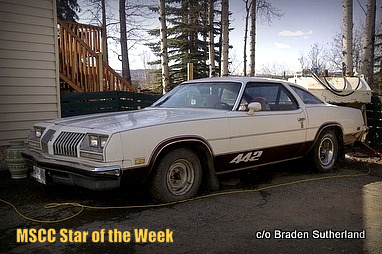 STAR OF THE WEEK: 1976 OLDSMOBILE 442- COOL IN A NON-COOL ERA
Not many people look back at the mid-to-late 1970s and say "what a cool era". There was a gaping hole in music called disco and the cars were choked-off pale imitations of former muscle cars.
Some might call it the dark ages.
But even in the dark ages there were sunny days…cars like this extremely cool 1976 Olds 442.
They only looked like this for two years and the 455 under the hood was only there for one year-1976.
In our haste to condemn the dark ages we tend to forget about cars like this 442.
Thanks to dedicated owners we get to see cars like this Star of the Week at the occasional car show or parked in some guy's driveway…like this one.
APRIL 27 STAR OF THE DAY: ANOTHER SIGN OF SPRING-A LINEUP AT THE GAS PUMPS
There was a strong signal yesterday that spring has finally arrived in the land of perpetual winter. There was a lineup at the gas pumps. This wasn't a typical 2013 lineup full of bland silver minivans or boring white SUVs packed with screaming toddlers.
This was a lineup that was actually interesting.
This AMC Javelin and built-up Chevy Nova weren't on their way to a show or traveling together. In fact, one turned right and one turned left after they pulled out of the gas station.
The bigger issue is that these two Stars of the Day were out on the street instead of under a tarp in a snow covered garage.
That's a sure sign of spring.
APRIL 26 STAR OF THE DAY: A 56 CHEVY WAGON IS A GOOD OMEN FOR CAR SHOW SEASON
Yesterday's Star of the Day was a look back but today's Star of the Day is a look ahead.
This '56 Chevy wagon was the last arrival for the first drop-in show of the new car show season.
It was actually a dry run for the first scheduled show of this weekly show that officially begins on May 9 because cars guys have a lot of pent-up cabin fever and a beautiful spring night beckoned…
The Star of the Day is this classic tri-five wagon but the supporting cast was a great night and a lot of anxious car guys with spring fever.
APRIL 25 STAR OF THE DAY: A LOOK BACK TO 2012 AND A LOOK FORWARD TO 2013
This picture was taken on October 18 2012 and it's significant because it was the last show of the season for the Red Deer Cruise Night.
This show typically runs to Halloween but it was crushed by a brutally early winter just after this show.
That same winter was still around a few days ago.
Happily enough the Red Deer Cruise Night starts up again on May 9th but a sudden burst of good weather inspired an impromptu car guy gathering on Thursday night.
Star of the Day-these car guys who came out for the last show of 2012 and everyone who comes out to every car show on the planet in 2013.
APRIL 24 MSCC STAR OF THE DAY:STUDEBAKERS CAME IN 2 FORMS-COOL AND COOLER
Studebaker's dependable reputation goes back to the days when they built wagons that went behind the horse…the horseless carriage came later.
That history of rugged reliability at Studebaker was a blessing and a curse because it obscured the built-in cool factor that is evident in this picture from 2011.
These two Studebakers defined where the company was in the 50s because the truck was a basic, functional work vehicle and the Hawk was a supercharged monster that stalked the Big Three at will.
In the end the real Star of the Day is the combination of function and form these two Studes represent…cool and cooler.
APRIL 23 STAR OF THE DAY: YOU CALL THAT 1 TON PICKUP A TRUCK? THIS M-135 DEUCE AND A HALF IS A TRUCK
There's no question that today's pickup trucks are inching toward the size of a '57 Kenworth.
Today's trucks are large and in charge sheer presence machines on the road so nobody wants to tangle with a 1 ton Ford 4×4.
Unless you're behind the wheel of a military issue M-135 deuce and a half.
These babies bring back that old line from Crocodile Dundee when he pulled out the machete on a would-be mugger, " you call that a knife, this is a knife".
This Star of the Day is in retirement on a farm but it's still intimidating even when it's peaking out of a grove of trees.
APRIL 22 STAR OF THE DAY: THIS OLD BUICK WAS BEST OF NO SHOW
We are in a very real and prolonged winter in certain areas of North America despite the relentless "science is settled on global warming" message.
The media shoves this down our throat but that doesn't make it believable when winter starts in the second week of October and is still around on April 21.
That's why the first car show yesterday was so important because it was called the 1st car show of the season…rain or shine.
Nobody said anything about a cold wind and occasional light flurries because that definitely shut down this Spring Thaw show.
Unfortunately it took a 180 mile round trip to discover that there was indeed fine print in the car show that precluded "uncomfortable" spring weather.
Car shows are a crap shoot at best but cabin fever set in…any kind of car show is better than no car show so a trip around the large parking lot produced two candidates for "best of no show".
This Mustang came in second and that Star of the Day big old Buick at the top of the page was best of no show.
For past Stars of the Day please follow this link.