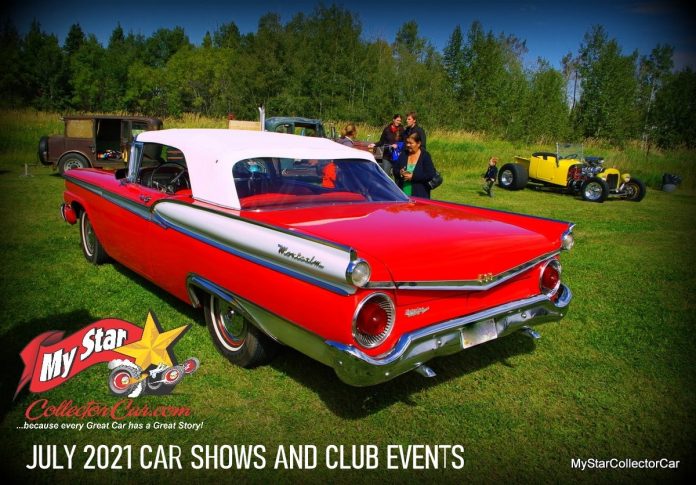 JULY 1: ROCKY MOUNTAIN HOUSE, AB Canada Day Car Show
JULY 1: HIGH RIVER, AB River City Classics Show and Shine
JULY 1: FALHER, AB Canada Day Show and Shine
JULY 1: RED DEER, AB Riders and Cruisers Show and Shine
JULY 3: CAMROSE, AB Cruisers Annual Car Show
JULY 3: ROLLYVIEW, AB Show and Shine
JULY 3: CALGARY, AB Car Show and Food Truck Rodeo
JULY 3: PICTURE BUTTE, AB Coyote Flats Pioneer Village Show and Shine
JULY 3-4: CONSUL SK Car Show 2021

JULY 8: RED DEER Cruise Night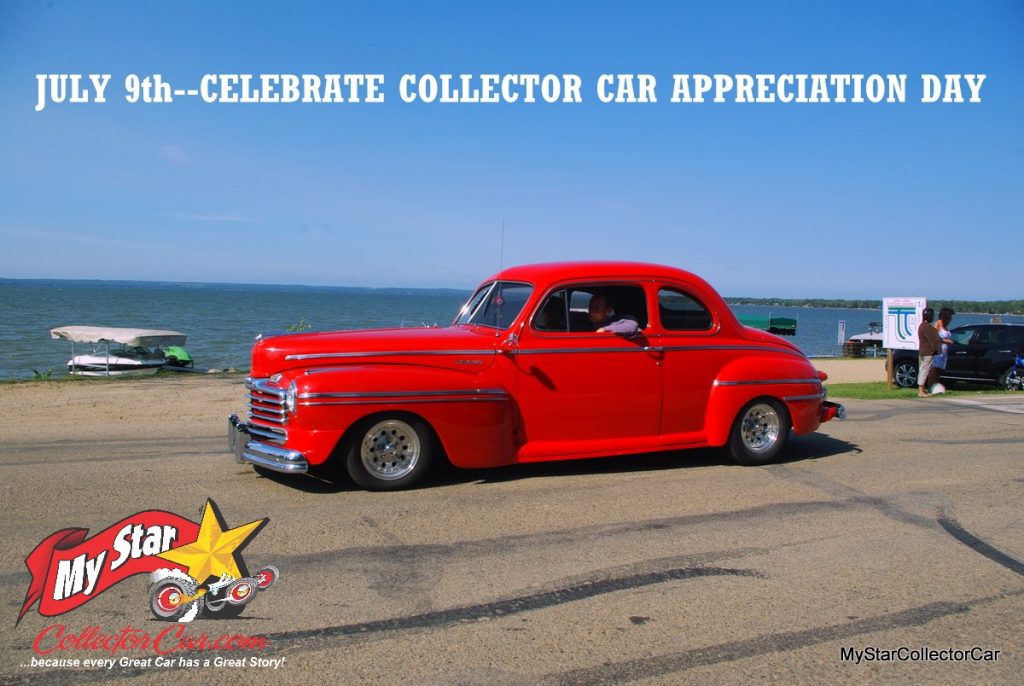 JULY 9: TEE PEE CREEK, AB Stampede Show and Shine
JULY 9-11: LETHBRIDGE, AB Street Wheelers Car Club Street Machine Weekend 2021
JULY 10: DESLISLE, SK Show and Shine
JULY 10: CARBON, AB 1st Annual Carbon Cruizers Cruise Day
JULY 10: CALGARY, AB Michener-Allen car auction

JULY 14: EDMONTON, AB Michener-Allen timed auction
JULY 16: CALGARY, AB 'Vintage Car Show' for the seniors at AgeCare Seton on July 16th 10-4pm. I know it's last minute but I've had a lot of trouble getting the right contacts to come in! If you have any interest in bringing your classic car in to spread some cheer to the seniors after this tough year, it would be greatly appreciated! Lunch will be provided. The car show will be hosted at Seton Seniors Community (next to the South Health Campus) 4963 Front St SE
JULY 16-18 PONOKA, AB Piston Poppers Hog Root Friday Saturday and Sunday July 16, 17, and 18 at the Calumet Curling Club, east of Ponoka. We do a Rod Run at 1100 Saturday, have a banquet of roasted whole pig and a big breakfast Sunday.
JULY 17: RED DEER, AB Northern Lights 27th Annual Oldsmobile Show
JULY 17: LLOYDMINSTER, AB Auto Club Show and Shine
JULY 17: EDMONTON, AB Emmaus Church Car Show
JULY 17: SHAUNAVON, SK Cruise, Beers and BBQ
JULY 17: ROCKY MTN HOUSE, AB Mustang Show in Support of Rocky Organization for Animal Rescue 4312-42 Ave.
JULY 17: OLDS, AB Mountain View Pistons Cars and Coffee
JULY 17: RED DEER COUNTY, AB Charity Show and Shine
JULY 17: CARSTAIRS, AB Big Rig Show and Shine
JULY 17: STETTLER, AB Stettler Car Club Pop-Up Car Show
JULY 18: SPRUCE GROVE, AB Classic Car Show
JULY 18: DRAYTON VALLEY, AB Northern Thunder Show and Shine

JULY 23-25: HEISLER, AB Heisler Dance Car Meet
JULY 24: ROCKY MOUNTAIN HOUSE, AB Western Wheels Car Club Show & Shine 9am-3:30pm Lower Main Street Rocky Mountain House Prizes for top 10,People's Choice,$10 entry per vehicle Possibly a Silent Auction
Contact Dick @ 403-846-3952. or Marvin @ 403-846-7324
JULY 24: FINDLATER, SK VW Air-cooled Show and Shine
JULY 24: CALGARY, AB Bearspaw Lions 1st Annual Classic Car Show and Shine
JULY 24: NANTON, AB American Motors Club of Alberta Show and Shine
JULY 24: LACOMBE, AB Show and Shine
JULY 24: THREE HILLS, AB GHL Show and Shine
JULY 24: IRRICANA AB Cars and Country Stars
JULY 24: CALGARY, AB Michener-Allen Collector Car Auction
JULY 25: STENEN SK 6th Annual Rawhide's Show and Shine
JULY 25: NISKU, AB One Show, Three Clubs
JULY 25: BRUNO, SK 15th Annual Show and Shine