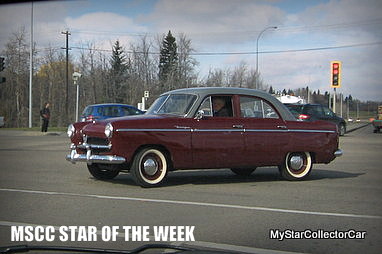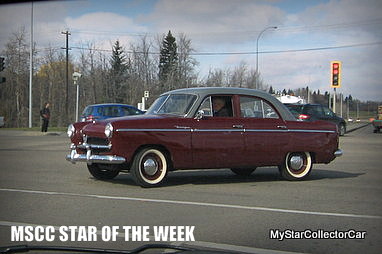 MSCC OCTOBER 20 STAR OF THE WEEK: WILLYS AERO—AHEAD OF ITS TIME AT THE WRONG TIME
The Willys Aero was built for an economy car market that was just taking flight in the 1950s.
The timing was slightly off because North American cars were just coming out of the post-war function over form styling.
They were headed into one of the biggest explosions of style in the history of Detroit so practical and economical cars were not on the radar.
This MSCC Star of the Week Willys Aero was on the street last week and it was surrounded by vehicles that are functional, get great mileage and have decent power…everything this Willys Aero has.
This car was 60 years ahead of its time.
MSCC OCTOBER 18 STAR OF THE DAY: ALL THE LEAVES ARE BROWN AND THE SKY IS GRAY
The Mamas and Papas had a classic song called 'California Dreamin' that was based on a dream Papa John Phillips had when he was living in New York.
Clearly he hated the cold weather.
Car guys aren't fond of it either because those 'brown leaves and gray skies' in the song mean another winter hibernation is pretty close for their old rides.
We're not quite there yet – this MSCC Star of the Day Mustang was on the street two days ago.
California Dreamin' can wait.
MSCC OCTOBER 17 STAR OF THE DAY: '60 IMPALA WITH OLD SCHOOL STANCE— OLD SCHOOL COOL
Cars used to have a defined rake.
This was a trend that extended over several decades, peaked in the 60s and exited sometime in the 1970s.
There was always something cool about a raked car because they always looked poised to strike even if that jacked up rear stance threw handling geometry out the window.
That extra room meant bigger tires and bigger tires always make a car look tougher.
Case in point—this MSCC Star of the Day '60 Impala on the street a few years ago.
MSCC OCTOBER 16 STAR OF THE DAY: 1960 RAMBLER – THE REAL FACE OF A SUMMER VACATION
If you examine the rides at a typical car show you'll get the misconception that Detroit only sold big block convertibles and hardtops in the old days.
Nothing could be further from the truth.
The Baby Boom was just what it sounds like – a population explosion, so sporty two-door cars weren't an option when the average family had at least 3 or 4 kids.
You needed humble, practical cars like this MSCC Star of the Day 1960 Rambler to pull off a successful mission.
This was the real face of a 1960s family vacation.
MSCC OCTOBER 15 STAR OF THE DAY: VINTAGE CHEVY PICKUP – ALL YOU NEED FOR A SUMMER DRIVER
Most car guys are fair weather friends with their beloved old rides.
They rarely, if ever expose their classics to the brutality of winter weather.
Summer is a different story.
This MSCC Star of the Day Chevy pickup is basically a summer driver in a resort town for one pretty basic reason.
It's the coolest thing you can drive in hot summer weather.
MSCC OCTOBER 14 STAR OF THE DAY:JAGUAR XKE – THE ROAD TO RESTORATION…NOT FOR THE WEAK
Jaguar XKEs are one of the hottest commodities in the old car hobby so their increase in value has been profound and rapid.
This spike in value means more and more project Jags are on the road to restoration.
This MSCC Star of the Day XKE was under construction four years ago and at this point it still is in project phase.
Nobody said the road to restoration was for the weak or impatient.
MSCC OCTOBER 13 STAR OF THE DAY: '68 FARGO–A CANADIAN TOUCH TO PICKUP TRUCKS
Canadians over the age of 50 are well aware of the Fargo pickup truck.
These Dodge trucks with a Canuck badge were on a lot of job sites, farms and campgrounds because they were built to haul everything from hogs to self-contained truck campers.
They are a bit of a mystery to Americans because they look exactly like Dodges but that Fargo nameplate throws them off the trail.
This MSCC Star of the Day '68 Fargo was at a late June car show where it didn't raise any questions.
The show was in Canada.
For past MSCC Stars of the Day please follow this link.
CLICK HERE to Like us on Facebook
CLICK HERE to Follow us on Twitter
CLICK HERE to Follow us on Pinterest
Star of the Day page sponsored by Southside Dodge