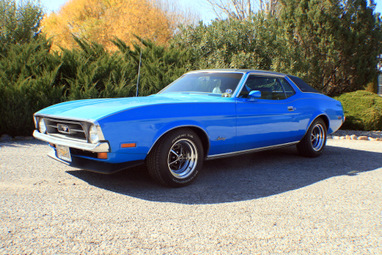 Otto Dusak is clearly a detail guy.
He bought his 1972 Mustang Grande brand new from his local Ford dealership and still has every bit of documentation from the original purchase date.
Otto has the original owner's card and window price sticker from that grand day when he forged a permanent relationship with his beloved 'Stang.
He has the original showroom brochures, plus the order and delivery receipts, as well as a dealership thank you card for the transaction that clearly was more than a mere car purchase. For Otto it has become a lifelong commitment. He even kept the original salesman's card as a memento of the man who presided over the purchase ceremony.
Now that is the beginning of a beautiful friendship.
Otto's Mustang was never meant to live a completely sheltered life because it was Otto's daily driver for his first twenty years of ownership. But the Grande was pampered by Otto during its working years and has spent 75% of its life in a comfortable and safe garage.
Now the Mustang enjoys a life of semi-retirement with Otto and the two of them are primarily found together for the sheer joy of driving this early 70s classic.
Otto decided to do a little cosmetic update on the Grande, so he repainted the car in its original shade of Grabber Blue and reupholstered the car with original Lambeth cloth and Corinthian vinyl material. It is important to Otto that his Mustang maintains all aspects of its originality because Otto would never change a thing about his Grande.
Actually the car is a bit of a rarity because only three Grande models were built with the options in Otto's Grande. The car has functional AC and its original 8-track option which also still works- no small feat when one considers that 8-tracks were notoriously finicky technology. The Marti report on his car confirmed the rarity of the car and, as usual, Otto has the documentation from Marti.
The car has 183,000 well-maintained miles on it and has served Otto well over the past 37 years.
'It is easy to guess that he plans to enjoy his Mustang for many more years.'
Jim Sutherland