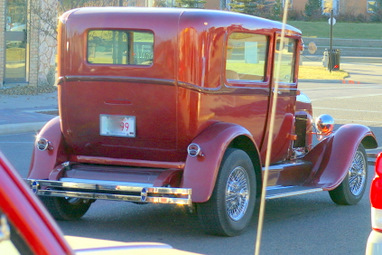 Lloyd Meadows is at comfortable point in life after years of hard work in the real estate business so he started looking for something from his past.
Lloyd comes from an era when guy built rods and dominated the street.
This 1928 Model A is a good example of what he was looking for.
That's why he owns it.
This car has all of the refinements that developed in the last few decades in the world of custom cars. Things like a Mustang II front end to help it handle significantly better than a stock Model A. That same front end can handle the extra weight of the bulletproof Chevy 350 and it stops much better with the disc brakes.
No more shifting because this Model A has a new 350 automatic and the power steering is light years ahead of the old Ford's late 20s era standards. The car also has a state of the art sound system great seats and air conditioning-these were all-important options to Lloyd because he bought this car to drive it and he's not twenty anymore.
That's why he likes all the creature comforts found in a new car packaged in this great 20's rod. The ear splitting sound of non-mufflered headers, the lack of floor pans and windburn from a window-less ride aren't things that Lloyd could sell to his wife or himself.

But this car has everything-that's why it was so easy to drive this car back thousands of miles from its former home in California.
'Lloyd didn't think the trip was long enough-that's what a comfortable old car will do for a guy at a comfortable stage in life.In fact,he's so comfortable in his "A" that he's still driving it in late November…'
Jim Sutherland