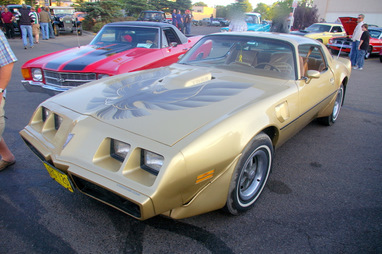 Edie Adams wasn't a typical Pontiac Trans Am buyer back in 1979-in fact she was barely aware of the "Smokey and the Bandit" blockbuster movie phenomena at the time.
But she did need a four-passenger car to carry some visitors around Montreal, Quebec in 1979.
'And she did want something sporty so she bought this very rare gold 1979 TA 400 four speed and over 100,000 miles and 30 years later she still owns this rare "taxicab".
She traded in a Datsun 510 for this rare bird and forked over an additional 9700 bucks for the privilege of owning this Bizaaro-world(Burt Reynolds made the reverse colored black ones more famous) "Bandit" Firebird.
Edie is just starting to realize how rare her car is-she's been told that the color was almost impossible to reproduce so none of these gold cars came out with the same look.
She found that out the hard way-there was a "falling snowboard in the garage" incident that compromised the paint on the front end and the color never did match up-they simply couldn't get it right, even with factory paint codes.

Other than that the car is bone stock-it was driven only one winter and apart from a little motor freshening the car is a museum piece from the Jimmy Carter era.
Edie is "still having fun" with the car and patiently talks to all the guys that offer her opinions and information on her rare Firebird. Her plans are simple- she's "not done with it" and the only concrete plans for the future are that her step son's going to inherit it-a long time down the road.
'Great save on a remarkable car.'
Jerry Sutherland