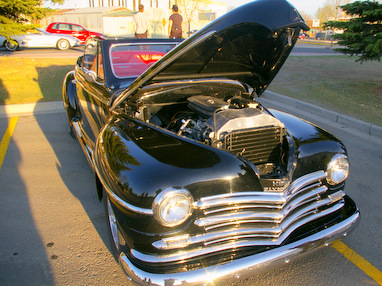 Chuck Grote is a true old school hot rodder.
He comes from a world where a group of guys could take a stock Anglia with a sewing machine motor on Friday night and have a hot rod with a big block Buick ready to drive to work on Monday morning.
If you couldn't do that then technically you failed the test.
Maybe it would have a throttle cable snaked through a hole in the firewall but you had to be able to drive that monster to work.
No excuses.
Chuck still lives that way so when he wanted to make the 1958 Imperial 392 hemi in his '48 Plymouth convertible work a little better in the 21st Century he enlisted the aid of a GM 700 R4 transmission as well as a Chevy fuel injection system. Now the computer thinks that the old hemi is actually a big block 454 Chevy motor.
It's really convinced that Mopar is Chevy because the '48 Plymouth (3300 pounds with aerodynamics like a muddy brick) pulls down an incredible 23 miles per gallon.
Chuck likes a car to drive well so the post war Mopar has rack and pinion steering and equalizer bars for pulling a trailer but it retains stock upper and lower control arms. Chuck is a firm believer in the old hot rodder "ain't broke don't fix it" philosophy. Old school guys like Chuck always made do with what was available at the local auto wreckers for a simple reason-it was cost effective and it worked.
Chuck is at an age where he losing friends from the "build it on the weekend drive it on Monday" era so he celebrates their mutual past by driving the wheels off this classic post war convertible. He has no problem driving the car thousands of miles throughout the United States and has covered the distance from to and from Louisville Kentucky's giant NSRA show to Spokane Washington in a few days.
Chuck's biggest fears on trips? Endless stops to pay 17 cent tolls on highways and the scary view from behind large semis when you're trying to switch over six lanes on a freeway to make an exit.
Chuck is very matter of fact about this '48 Plymouth but the reality is that while a project like that is easy for him it's a huge accomplishment for us mere mortals.

 
Jerry Sutherland