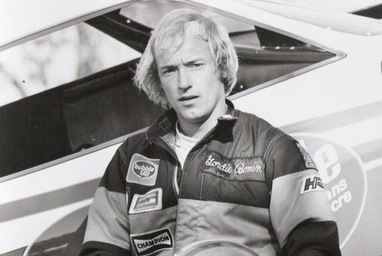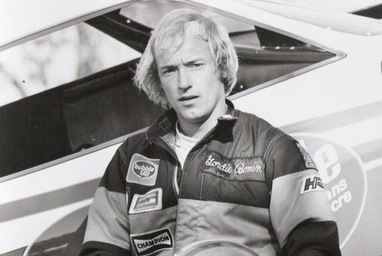 The 70s were considered a fast decade.
The lifestyle was much faster and the rules were a little more relaxed during this era.
It was also a decade in which 240 Gordie Bonin went much faster than anybody not strapped into a jet airplane cockpit.
Gordie began his career as a funny car driver in 1972 behind the wheel of a monster Vega funny car in California. It was a moment that Gordie reflected; " He knew he was in love". He ran a 7:02 205 mph quarter mile in the car.
Incidentally, funny cars are not four-wheeled comedians equipped with an optional Robin Williams or Chris Rock microchip. They are stretched fiber-glassed body versions of street cars that are engineered for brute force and raw speed-1/4 mile at a time.
They are not designed for the faint of heart or weak of will. Fortunately 240 Gordie was neither. By the end of the 70s, Gordie Bonin was a regular visitor to 240 miles per hour on the track. And 240 rhymes very well with Gordie. The metric equivalent is 400 km/hr, but that doesn't rhyme with Gordie, and hot-rodders are old school guys where miles reign supreme.
Gordie is quick to give credit to his engine man, the legendary Jerry Verheul, for his success during their time together as a team. "Jerry made me a way better driver than I ever was", to quote 240.
But Gordie also gives some credit to his hometown of Red Deer where winter's ice and snow gave him a racer's edge when he encountered slippery conditions on a drag strip. The strong hot rod culture in Red Deer meant that 240 cut his racer teeth among like-minded speed demons.
However Gordie turned out to be in a league of his own when it came to horsepower and ¼ mile shootouts. He is one of Red Deer's most famous race names and he earned his way into the Canadian Motorsports Hall of Fame- also a ¼ mile at a time.
His first muscle purchase was a 1968 Chevelle SS 396 that put him on the track as a C/stock force. His father co-signed on the loan and had a few reservations about Gordie's new wheels.
Eventually his mother and father became loyal fans and proud parents as Gordie pursued his dream to become a world- class funny car driver. 240 Gordie's on track success included races against legends like Don (the Snake) Prudhomme and John Force.
Fortunately, I got a chance to meet Gordie for the first time in 2009. I had followed his career over the years when he was one of our fastest celebrities. He lives stateside, but 240 has never forgotten his roots and makes regular trips back to Red Deer to spend time with his family and visit with his hot rod brethren.
Gordie is one of the most upbeat guys you could ever meet; a fact illustrated when he was instructed not to smile for his passport photo. Gordie's response? "Then nobody will know who I am". That pretty much explains 240 and his life in the fast lane.
240 Gordie Bonin may still rub elbows with drag racing's royalty, but he has never forgotten his roots and his sense of small town friendliness.
Jim Sutherland @mystarcollectorcar.com
More of Jim Sutherland at https://www.mystarcollectorcar.com/
COMMENTS
GORDIE:"you guys truly are the best…….
I AM a home body; for life.
"who says you can't go home again..?"
Love what you do…."
240″
OLLE:"
As the kind and friendly person 240 is he have got fans and friends all over the world.
During his European tour driving the ProLong fueler for Norwegian Rune Fjeld when he also became the first American driver to achive the FIA European Drag Racing Top Fuel Champion I learned to know this fantastic person that 240 is.
Since drag racing was born over in USA I guess that the majority of the drag racing fans over in USA and Canada dont really understand how big it was when 240 got this titel back in -99. You have to have in mind the NHRA is a member of ACCUS and ACCUS is a member of FIA. FIA is shortned for FEDERATION INTERNATIONAL AUTOMOBILE and they (FIA) are the top organisation for automobile motorsport. Ok he didn't became the World Champion but he for sure became the European Champion and his name will forever be in the FIA yearbook from -99 as the first driver from outside Europe to became the FIA European Drag Racing Top Fuel Champion.
I just wanted to mention this anyway.
Thanks again for the link and the story about 240 and
best regards from Sweden
GERRY:"
Good story on that home boy, he's always a pleasure to have around, I might of done 150mph but never 240″