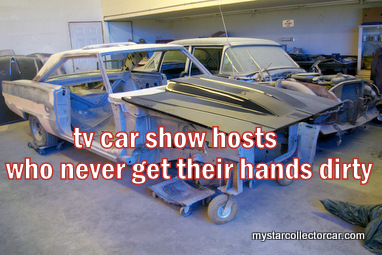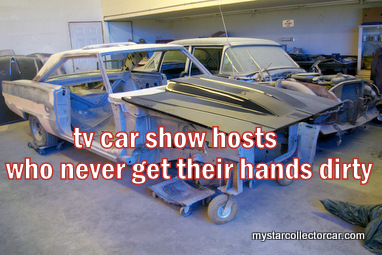 This is a horse race between Courtney Hansen and Dan Woods.
Both are familiar figures in the collector and hot rod hobby because of their ability to host TV shows.
They point us in the direction of the actual talent behind the wrenches on the half hour car shows.
Neither have any actual training or discernible talent for mechanical (or body) work.
So we are left with the simple question: why are these people hosting anything remotely associated with vehicle restoration or modification?
It's pretty simple why Courtney factors into the equation. She is a flat-out hottie and nothing makes a great–looking ride look better than a babe around the car. Car calendars figured out this basic law of nature eons ago.
But I always found it a little grating on 'Overhaulin' when Courtney and the equally untalented male host dove into a project and did about ten seconds work on the car.
Real tradesmen with serious talent were busting their butt to meet insanely tight deadlines and complete the project. Then Courtney and the dude would vacuum the trunk as a part of the "build team".
An incredibly good gene pool gave Courtney some fairly obvious talent. That talent is unlikely to be expert use of a Tig welder and English wheel.
Dan Woods should be applauded for his development of 'Chop Cut Rebuild'. But his weekly intervention into an incredibly complicated build seems like an annoying add-on to the show. Plus he seems to scare the living hell out of the tradesmen who baby-sit him on the tasks.
Dan's real talent is showcasing the incredible array of vintage iron that he drives up to the shop during every visit. That is the eye candy in 'Chop Cut Rebuild'.
So it boils down to a choice between an incredibly hot-looking babe and a middle-aged guy who drives incredibly hot-looking cars for the coveted no-talent TV car show host of the year award. Sorry Dan, Courtney will beat you every time in this race…it wasn't even close.
But we might give you some consideration if you take a lesson from the late TV host Ed Sullivan. Ed never sang onstage with the Beatles and you should stay away from the build.
At least Courtney has finally given up her pretend trade with 'Powerblock'.
Jim Sutherland @mystarcollectorcar.com
Much more to see and read at  https://www.mystarcollectorcar.com/