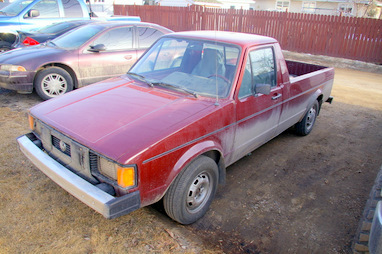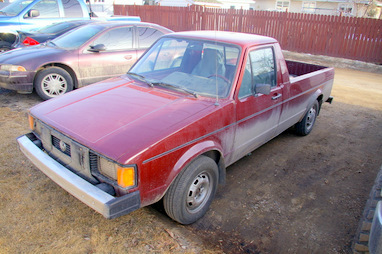 This is a remarkable story about a vehicle that isn't typical in old car world -not many car shows showcase 1982 VW Rabbit trucks.
That's the beauty of MSCC-we live for these stories.
'Dennis Zimmer was a young guy working for a telephone company in the early 80s when he decided to buy a dependable, affordable vehicle for his job-he needed something that would start and go every day. '

Another huge factor was buying a vehicle that wouldn't beat him up on fuel because Dennis was paid by the mile.
The "Tonka"as he called it from Day 1, was the answer for many reasons…
His son Joel, the current owner of the family heirloom, explained it best –" My Dad always had a vision for quality. My father used to be a silent partner when they opened the Progress VW dealership in North Red Deer in the 1980s.
"When that happened, they drove nothing but VW's up until a few years ago when my father purchased a Ford truck that we've all begun to hate One thing is certain, that truck owes my Dad nothing. He spent his years supporting our family driving it around the province". 
The VW was more than a work truck for Dennis as Joel recalls, "I was born in 1981, so that truck has been in memories my entire life. I was actually taught how to drive a standard in the little Rabbit truck by my Mother in the early 1990's. When I was in grade school that truck was my taxi everywhere, soccer tournaments, ski racing events, and family outings".
This little workhorse has gone far above and beyond the life expectancy of its much bigger North American cousins in the truck world as Joel explained "I recently passed 1,250,000 km on the frame, and it is on its second engine. This engine has over 700,000km. On -40'C days in the dead of January, it is parked outside and has no troubles starting as long as the block heater is plugged in with the winter-front snapped on".
There may have been a method to Dennis's madness when the time came to hand the Tonka's keys to Joel –this little VW isn't even close to a dangerous top speed "We used to laugh driving up and down the QE2 Highway between Red Deer and Calgary, near the bluffs around Crossfield. The truck would totally max itself out going down the hills and we'd be lucky to hit 120km/h, but going up my Dad would have to gear down from the 5th (or VW = E gear) to 4th in order to make it".
Clearly Dennis had no fears  Joel would be the lead TV story after a tragic high-speed crash.
The truck is still in the Zimmer family due entirely to its bulletproof drive train and Joel clearly acquired his dad's respect for the VW that won't die "The VW truck is a gem. Everything continues to work, lights, annunciator panel, radio, heater, electronics.. Reverse is a funny gear, up to the left, but had to be depressed straight down in order to engage as a safety feature."
"I guess in the early 1980s it wasn't such a goofy looking truck as some might think now, but once its been driven for so long I can't hold back my appreciation for its dependability. I fuel it once a month, drive back and forth to the airport every day, its great on fuel, I've had over 900 km on a 50 L tank its best month.I finally had a chance to write in about my Dad's 1982 Volkswagen Diesel Rabbit Truck".
Growing up with the "Tonka" was a great experience for Joel.
One that he can live every day simply by turning the key on the "little truck that could".
Jerry Sutherland @mystarcollectorcar.com