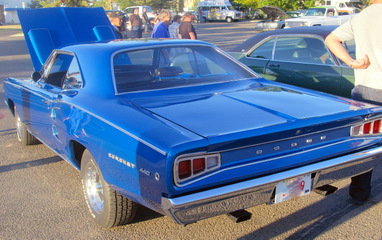 'NOVEMBER 11 IS SIGNIFICANT BECAUSE IT IS VETERANS DAY IN THE UNITED STATES AND REMEMBRANCE DAY IN CANADA. WE DID THIS STORY A FEW MONTHS AGO BUT WE FELT THAT IT WAS VERY APPROPRIATE THAT WE BRING IT BACK TO ACKNOWLEDGE YESTERDAY,TODAY AND TOMORROW.

ON THE SURFACE IT'S A CAR STORY-BUT IN REALITY IT'S MUCH MORE.'
CORPORAL MARK FALT HAS SERVED IN AFGHANISTAN AS A MEMBER OF 1ST BATTALION PRINCESS PATRICIA'S LIGHT INFANTRY.HE HAS BEEN AWARDED THE CAMPAIGN STAR.
HE IS ONE OF MANY WHO ARE CURRENTLY FACING ADVERSITY IN THE PURSUIT OF FREEDOM- AMERICAN, BRITISH AND CANADIAN SOLDIERS ALL WITH A COMMON GOAL.
TO MAKE A BETTER WORLD.
THIS IS A SALUTE TO THOSE SERVING NOW IN HARM'S WAY AND THOSE WHO HAVE GONE BEFORE-WE WILL REMEMBER…
 Ron Falt's son Mark was doing a tour in Afghanistan with the Canadian military and like every parent in the same situation; he was worried 24-7. That worry went off the chart when Mark saw his friend killed in an ambush just before his return home.
Ron was already working on a surprise welcome home present in the form of this 1968 Coronet.
Ron had a local shop secretly working on the car to surprise Mark when he got home but he had to unveil some of the package after the ambush-he emailed pictures of the hood scoops on the car to take Mark's mind off the fate of his friend. It helped. Suddenly Mark had something to focus on other than incredibly dangerous, potentially lethal days in Afghanistan combat zones where, as he saw it, there's a culture of "no respect for life"… Fortunately he became really curious about the change in the car's hood and he assumed that Ron had done other things to the '68 Dodge.
Mark was there from Day One when his dad bought this 60s Mopar classic and the game plan was always to have a father-son collaboration on the project. Originally, father and son wanted a project 68-70 Road Runner (Mark leaned towards a Super Bird) to work on together but this '68 Coronet was just too good to pass up so they grabbed it at an acreage sale. Ron had it pegged-the car had to be for sale because everything else was.
But Mark's military career and deployment to the mission in Afghanistan took precedence so Ron sped up the process as a tribute to his son. The car (like most) was a lot rougher under the surface but Ron persevered and had the car ready (with the exception of the interior) for Mark's welcome home last October.
.
He was stunned by the improvement in the car even with the broad hint about the hood scoops that now read 440. The ones that covered up the massive freshly built bored out 400 ( 450) cubic inch motor that Stew Edey built.
Mark took the Dodge out for its first run in the spring of 2009 and it turned out to be the best welcome home present his dad could have given him.He's had the car out a lot and is just learning how to control the brute power and hook up for traction. Ron's one nod toward safety will be the addition of 4-wheel disc brakes.
He reasoned that maybe he can't control his son's safety in a combat zone but in modern traffic…
Mark is back home on training until the fall-he might return to Afghanistan but this summer he's enjoying the freedom of life behind the wheel of a muscled-out '68 Coronet.
He's definitely earned that.
Jerry Sutherland @mystarcollectorcar.com

.