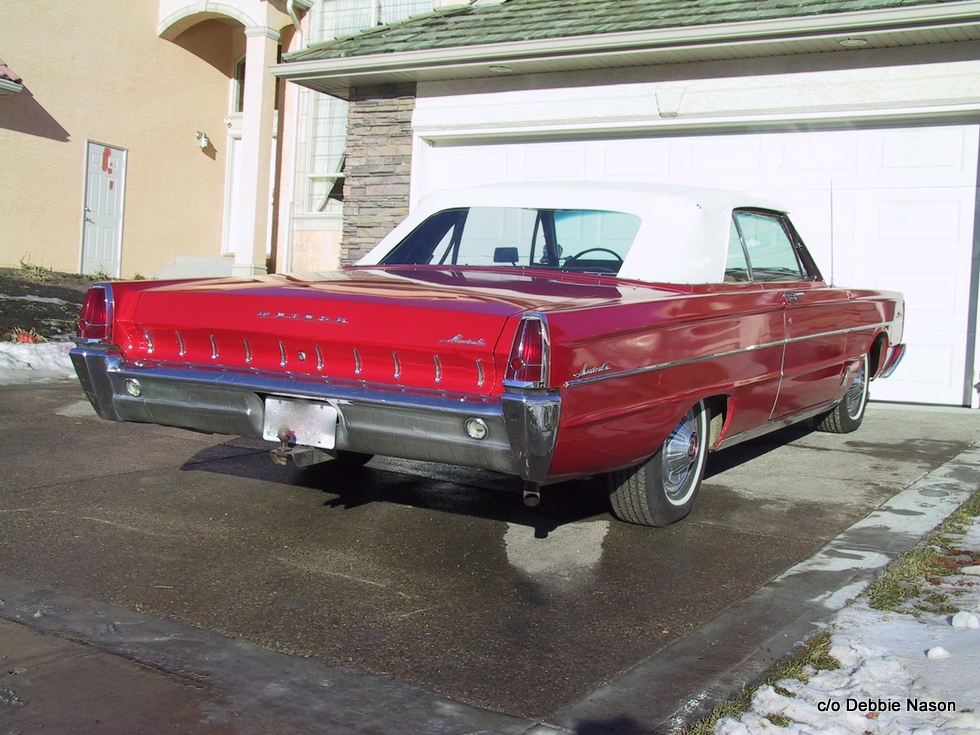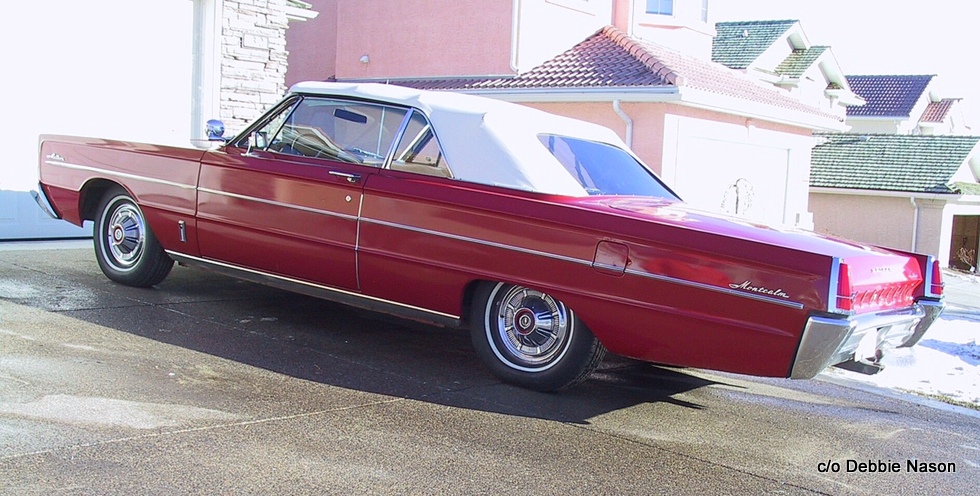 There's always that one car in your life.
The most ardent non–car people will admit to missing a long- lost car or truck that really meant something at a certain point in their lives.
99.9% of the time the beloved ride fades into memory because it's long gone but life will occasionally provide a long shot happy ending.
Debbie Nason faced those odds and won with her 1966 Meteor Montcalm convertible. She explained how things unfolded: "It starts by introducing me and my family. I have found a gift that could only have come from my father."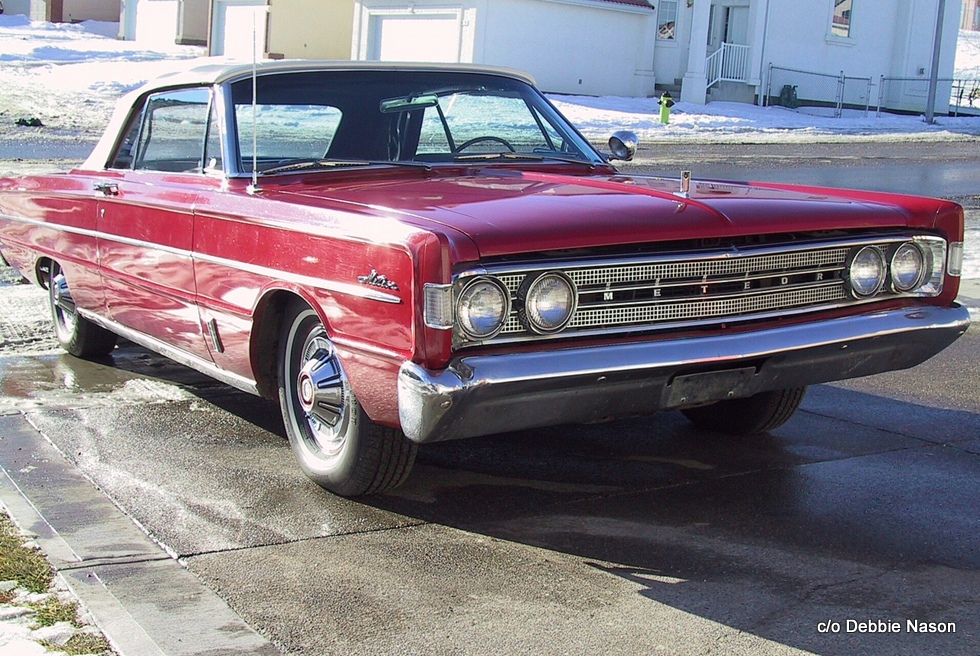 Debbie has quite a personal history with this '66 Meteor: "This story adds an element of "keeping a car in the family" that is unbelievable. I was 10 years old at the time and our family driving from Calgary to Vancouver for Easter holidays and he wanted to treat us to a trip through the Rocky Mountains in a convertible.  He installed an altimeter to show us how we would go through all the different elevations while driving and end up with driving at sea level in Vancouver. Dad was always looking of ways to educate us whenever we traveled."
"He had also installed a police style spotlight in the driver's side post between the windshield and driver's door. I don't recall why dad added this unusual feature but when I had driven the car in high school, my boyfriend and I would drive slowly by the "lovers lanes" in our neighborhoods and shine the light at the cars.  It was a funny reaction because only police had these spotlights.  It was funny to do and we got a real kick out of it. Silly teenagers!"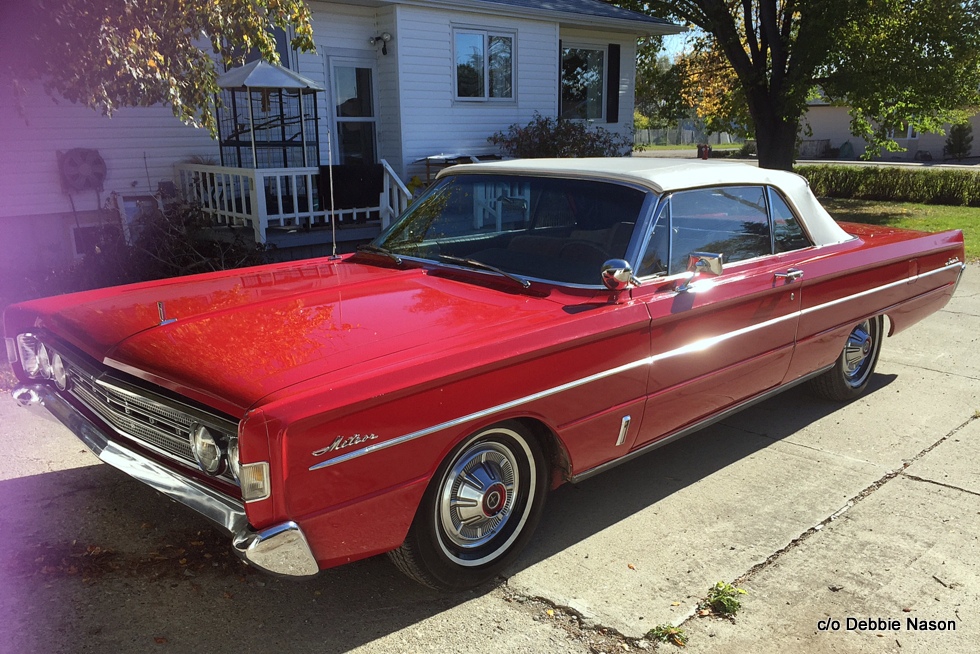 Time marched on and eventually the classic convertible moved into a different phase in the family's life: "Later in the 70s, dad drove the car less and moved it up to his large garage at his property at Sylvan Lake AB. It was driven very little and always was garaged. Around 1996 my dad was trying to reduce the number of registered vehicles he owned and sold the car.  I had always regretted that I had not stepped up and bought the car from Dad to keep it in the family.  That car was such a treasure for my dad while he owned it. It was sad when he sold it."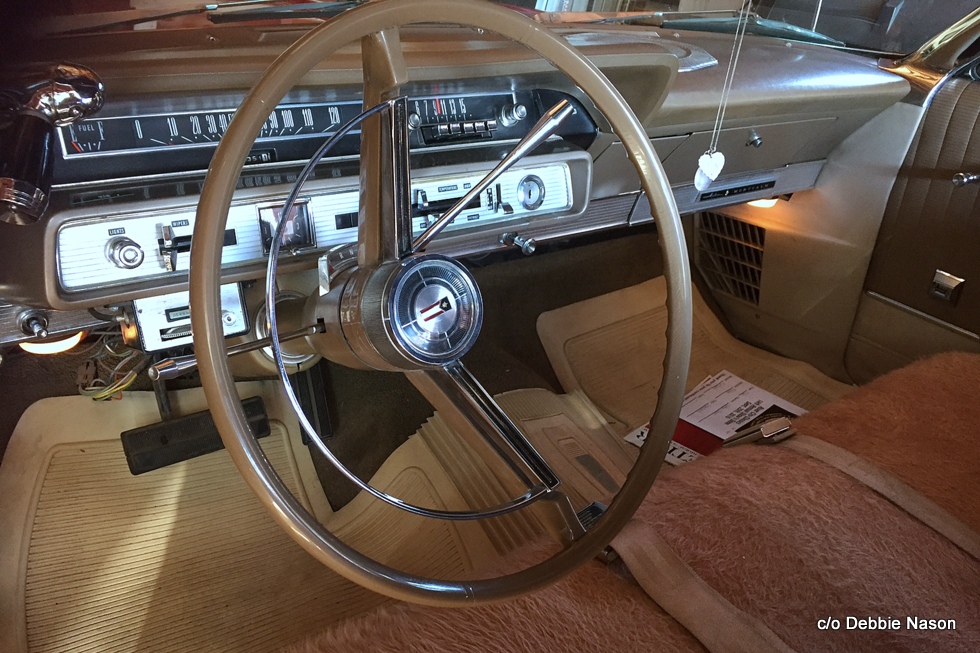 Debbie formed her own plan based on her experience with her father's car: "Years passed and I owned my own cabin in Sylvan Lake, AB & I often thought of how cool that car was and how I would have loved to keep it at my cabin garage to use around town as my dad had done."
Life added another twist to the plot as Debbie explained: "Jump ahead to December 2008 when my dad passed away. In my grief I started looking for a classic car to purchase for myself as a symbol of my love of classics and in honour of my dad.  I could use money that came to me from my dad to make this purchase.  I looked for any 1966 Meteor Montcalm convertibles that were still on the road.  In my search I learned at how really rare that car was.  Only 514 of these Canadian cars were built in 1966!  Most were the S33 which has bucket seats.  My dad purchased his with a bench seat.  I had looked for a car like dad owned and had resigned to the fact that years ago the car would have been taken off the road and I began searching for other cars my dad had driven.  I always had a dream of driving a car that was the same model or similar to the different cars he drove and treasured."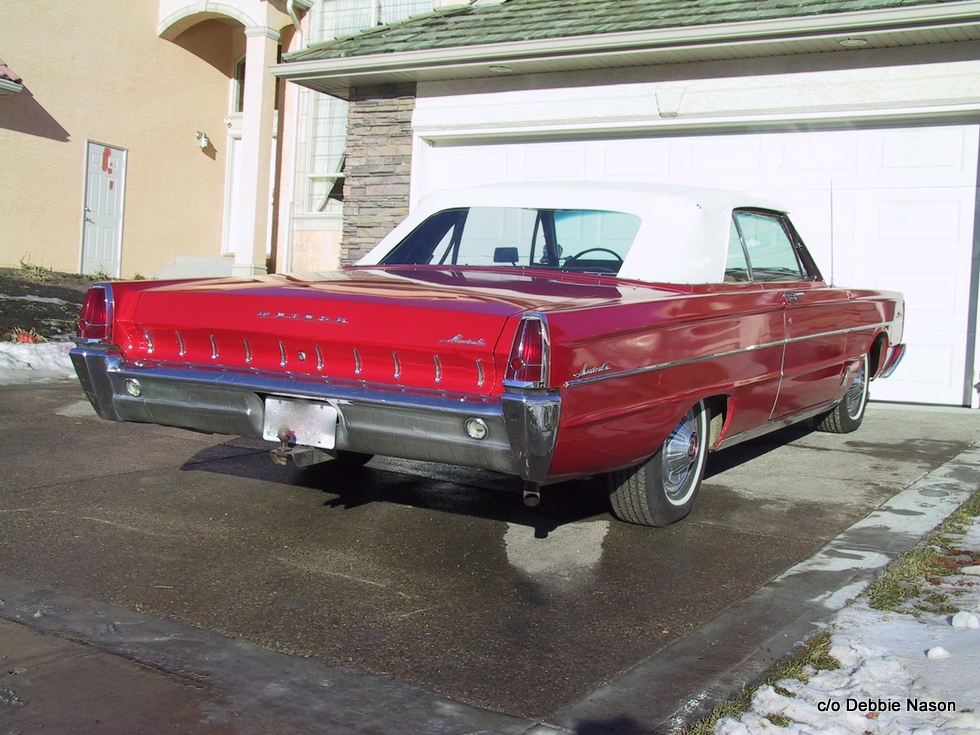 The search went on for years: "Jump ahead to August 19, 2016. I hadn't browsed classic cars in some time but was looking for an old farm truck to haul garbage from my new home in Standard AB. It is a small town of under 400 residents in rural Alberta. That initial search led me to something that can only be described as a miracle!  For some unknown reason I moved to browse classic cars and added my usual "convertible" keyword to the search."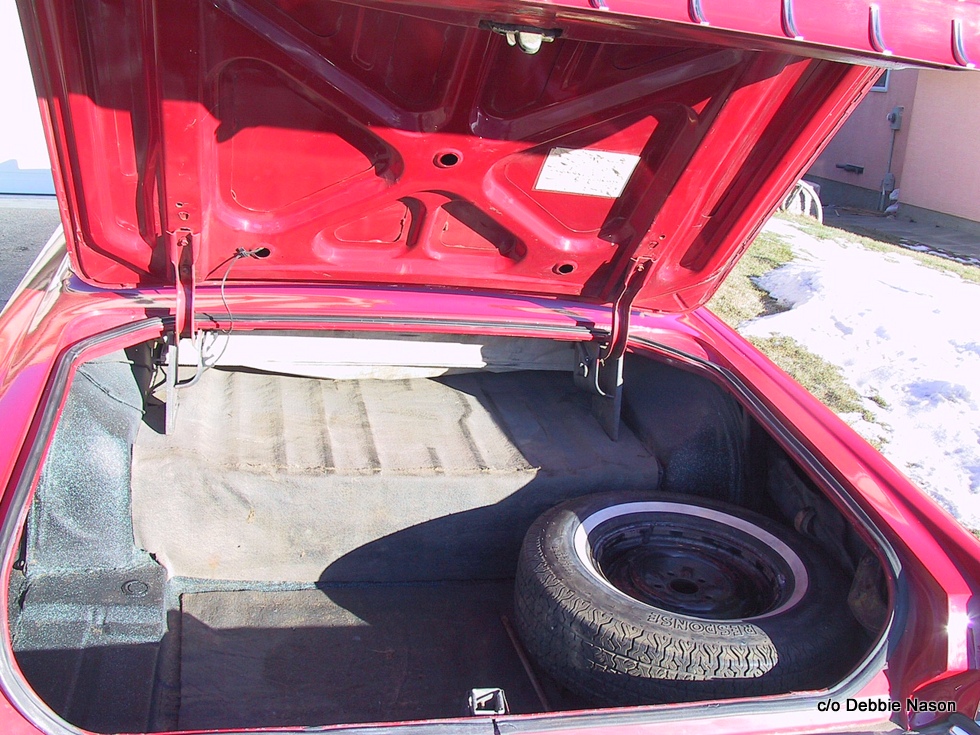 "Within minutes I spotted the ad for a 1966 Meteor Montcalm convertible in Calgary!  I clicked on the ad and looked at this amazing car. I zoomed into the picture and saw what I had looked for all these years, THE SPOTLIGHT, my dad added to his car!  In disbelief I sent an email to the owner to ask if he knew who the previous owners had been and did he know anything about the spotlight? I didn't even know what I should ask but I was convinced that this was indeed my father's car!"
"It was late that evening and I received the reply the next morning. My heart stopped when the reply stated my dad as the original owner and this was the man who had purchased the car from him! He had the insurance pink card with all my dad's information.  I not only found a convertible like my dad had owned , I HAD FOUND MY DADS CAR!!  I told him the story of the police style spotlight. He had not done anything major to the car except replace the convertible roof. It was black and he replaced it with a white roof. All the paint is original too. It has been garaged and had never been winter driven."
"He had only put 1500 miles on the car in the 20 years he has owned it!  When he built his last home he needed to alter the garage to fit the almost 18-foot car!  They don't make garages like they used to."

"Since I have connected with the seller we have shared many stories about the car.  I went to see the car and seal the deal and Lawrence Jenson took me for a ride.  It was the most emotional car ride of my life!  I knew my dad was there for the ride. We both agreed that there had to be some Divine intervention for that car to find its way to me.  I have been on cloud nine every since I saw my dad's name on the insurance slip the seller found in the car glove box. The car has its original owner's manual with the inside cover having all the purchase details of the car as well as my dad's signature. It's like this car was suspended in time waiting for me to get it "back in the family!"  I was so anxious to pick it up and drive it home I could hardly wait."
This was a turnkey purchase because she simply "Got in and drove it!" and the future plans are pretty basic because the plan is simple: "Keeping it original. Only will replace worn out window seals as well as the fuel sender gasket. That's all it needs at this point".
Debbie is a big fan of the driving experience: "It floats down the road just like I remember. I drive the speed limit. No special treatment. Yes. It definitely turns heads!"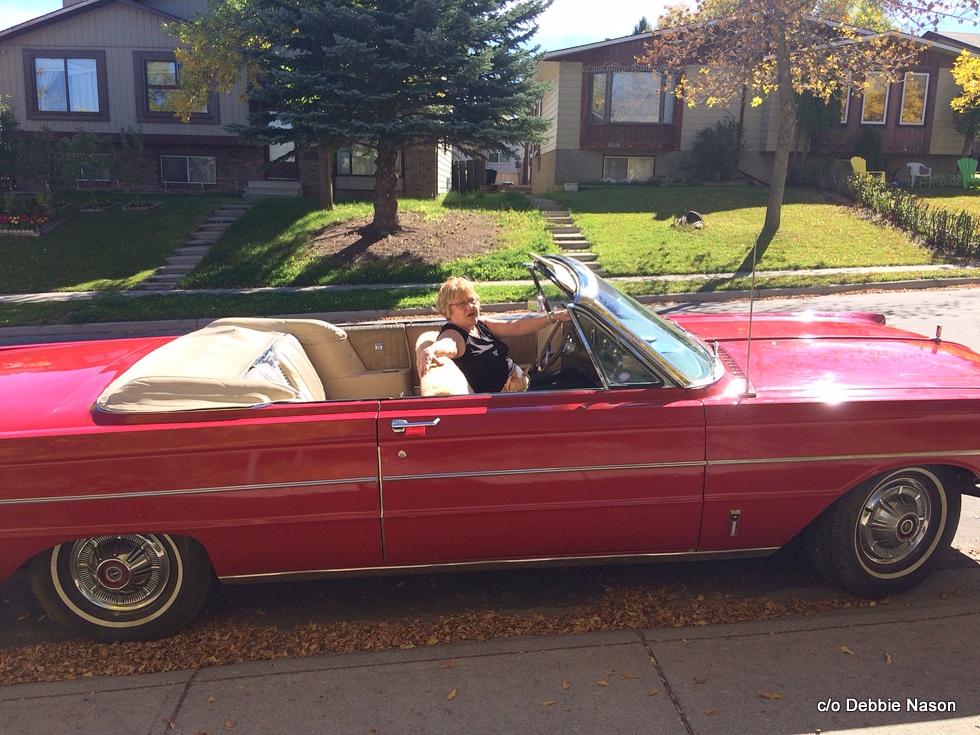 Debbie said "It will be staying in the family for sure" and there's an obvious reason:
"The song "Riding with Private Malone" plays in my head. I just substitute "My Dad" to the song. I have no doubt he will be driving everywhere with me and he will still be enjoying his sexy red convertible!  It makes me lose my breath."
Jerry Sutherland
CLICK HERE to Like us on Facebook
CLICK HERE to Follow us on Twitter
CLICK HERE to Follow us on Pinterest
Please re-post this if you like this article.