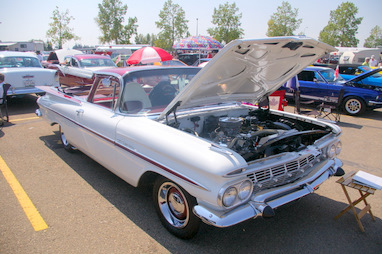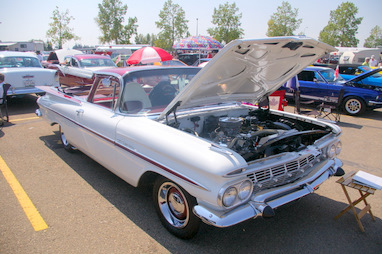 The 1959 Chevrolet El Camino was the GM response to the Ford Ranchero-both were considered a gentlemen's truck so you rarely saw these vehicles taking a giant hog to market in the late 50s.
 The '59 Chevy was a unique looking vehicle on its own so turning it into a part time truck took the El Camino up a big notch in the "we sure noticed what you're driving" wars back in 1959.
 Al has always been a huge fan of these iconic Chevy car-trucks so when he had the opportunity to own one-he jumped at the chance.
This particular 1959 El Camino isn't exactly like the one that was built during the late stages of the Eisenhower era. In fact, this El Camino lies solidly in resto-mod territory. It's been upgraded with 4-wheel slotted discs–just in case somebody does slam on the brakes in front of you when you're hauling a ton of grain to the farm.
It has a 350 that a 1974 Monte Carlo donated to the cause and the suspension is nothing like the stock configuration.
The El Camino is built to stop and go in today's world and the interior is an interesting mix–with updated gauges and a '64 Chevy console. The seats are far from stock as well because Al likes to drive the El Camino several hundred miles at a time.
This El Camino "runs like a top" in Al's opinion.
That bulletproof drive train and added creature comforts like better seats and air conditioning ensure that the ride is lot better than the 'GI Elvis' era version of the same vehicle.
'For now Al and his wife are really happy on the summer car show circuit in their Chevy car-truck-and if Al farmed, he's pretty sure this baby could get that pig to the market in style.'
Jim Sutherland