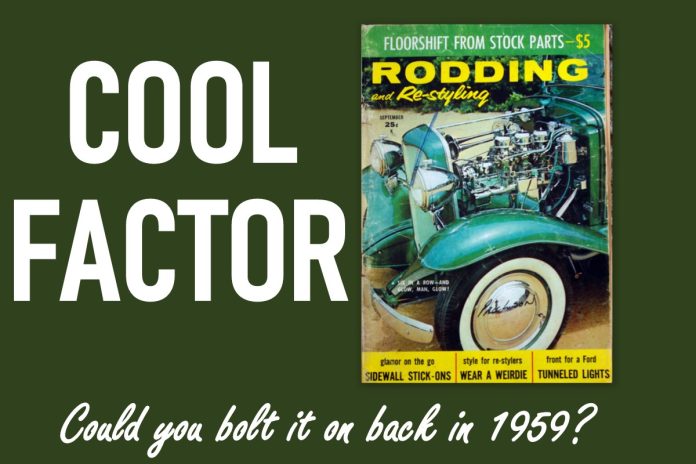 The car hobby is like everything else because it's constantly evolving.
People don't wear the same clothes that were stylish over 60 years ago—the same principle applies to customizing cars—but it's still interesting to see what was cool back in 1959.
The September 1959 edition was a typical example of this publication because it showcased what was cool to custom car guys at that point in the 1950s.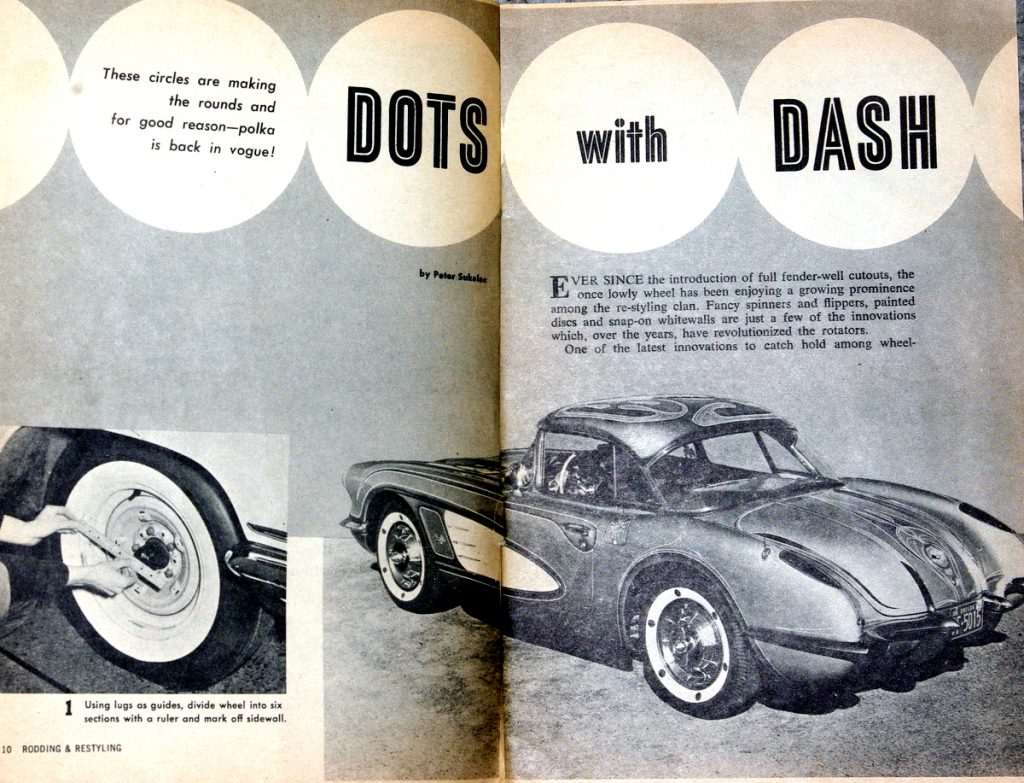 Polka-dotted wide whitewalls were something that rocked the custom world back in 1959. Polka dots in general were a big deal in late 50s fashion, so the progression to tires on customized cars made sense.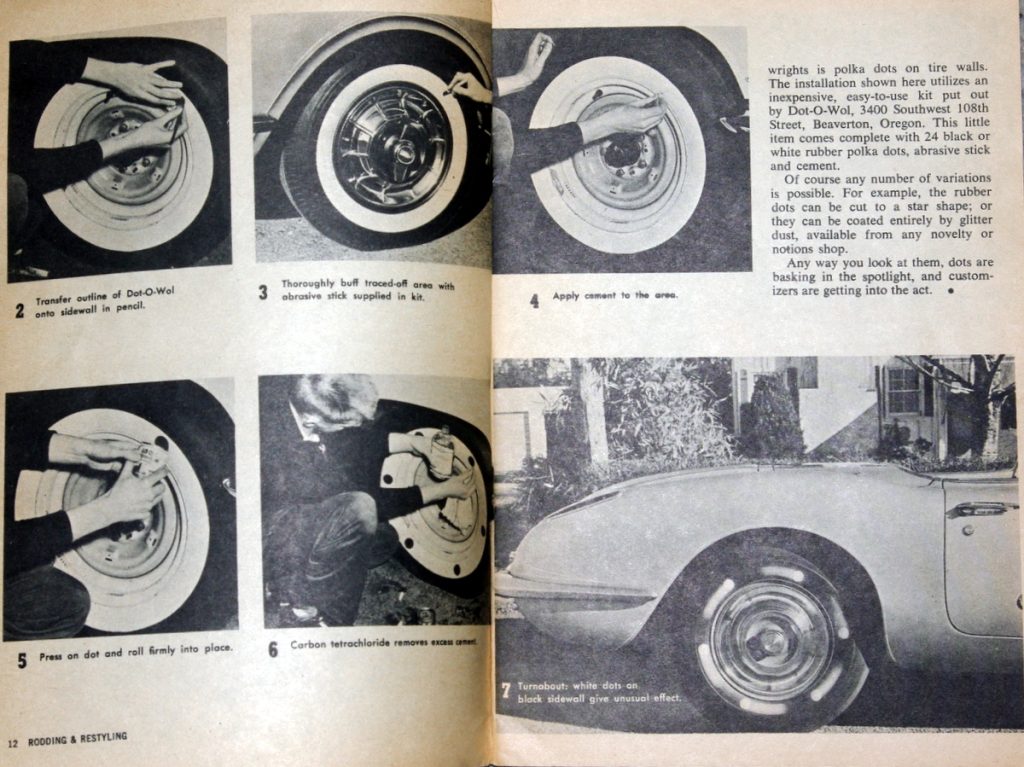 The polka dot tires were cool in 1959—probably not as much in 2023, but if you're building a period-correct custom—make sure you connect the dots.
'Rodding and Re-styling 'also did a feature on custom taillights.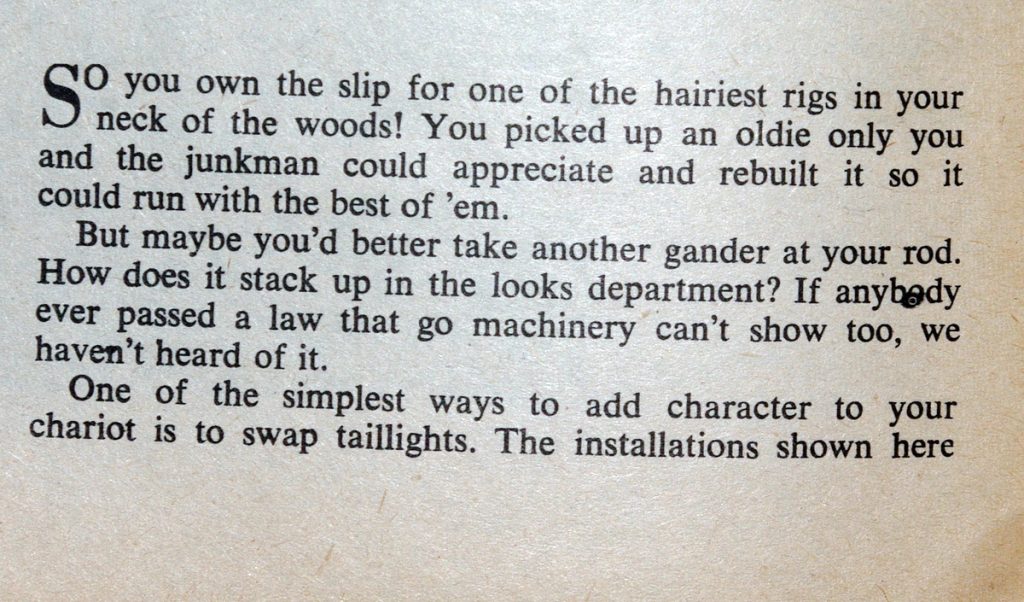 They followed the same program seen today–or back to the first time a guy said, "I'm pretty sure I can find cooler taillights for my old Model T". Many of them used the quad taillight trick to really drive home that custom touch.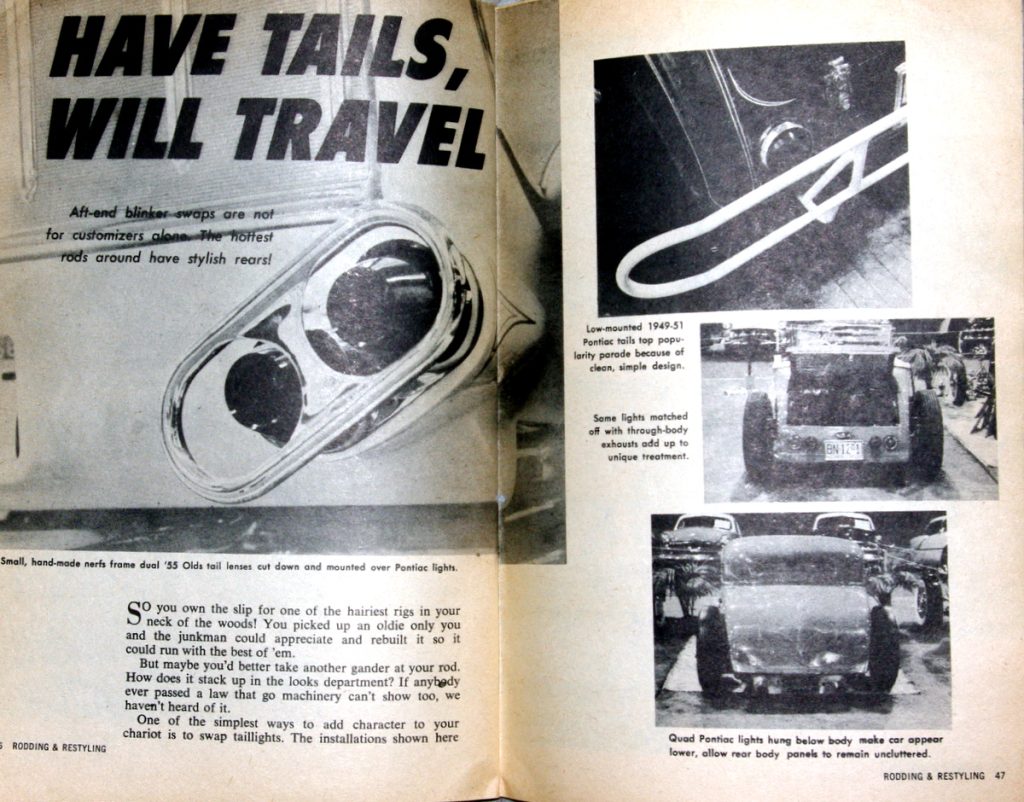 Guys used to scavenge wrecking yards to get their custom taillights—this was evident because the lights were off late 40s-mid 50s Pontiacs, Chevys, and Fords.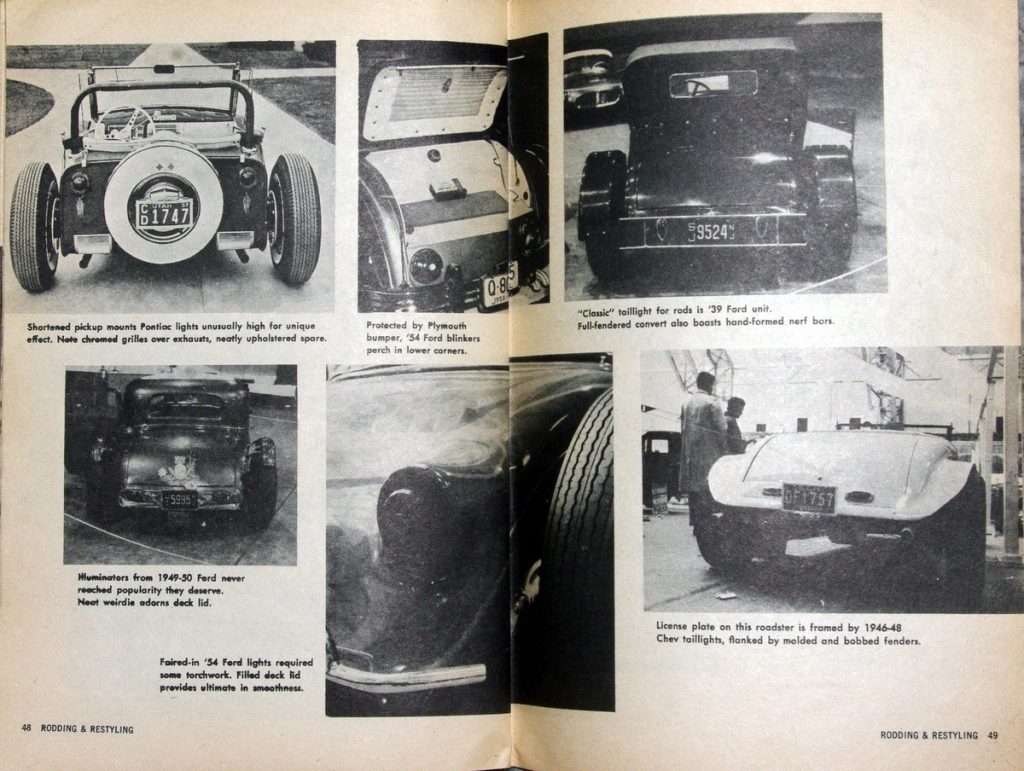 This makes sense because in 1959 a hot rod punk would have seen yards full of parts cars from that era.
There was a 1957 Plymouth convertible with a distinctly late 50-ish custom look.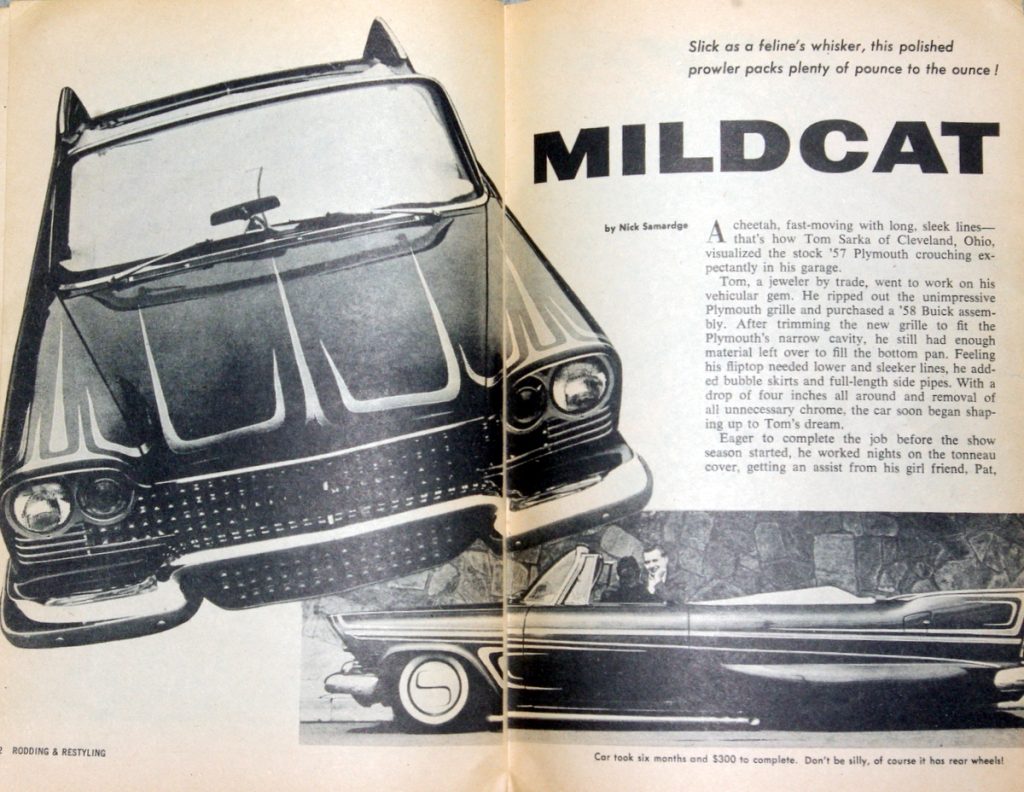 Forward Look guys would see this as a rolling nightmare because these cars are so rare, but back then it was simply a two-year-old used car.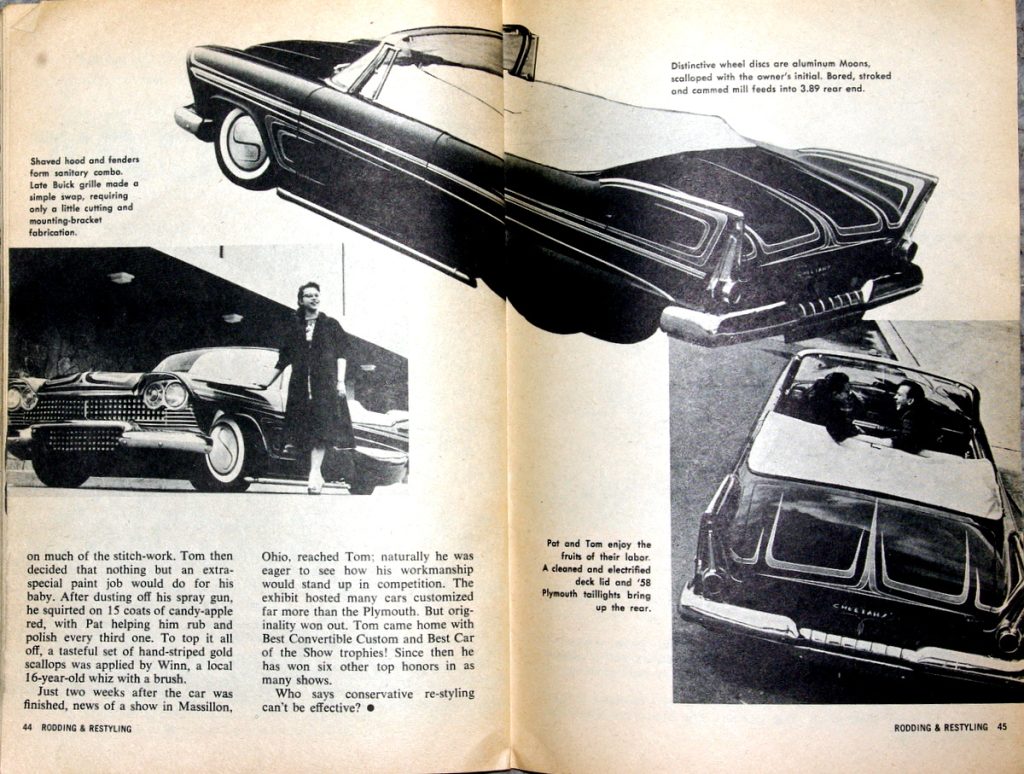 The guy who owned it probably wanted to be a hipster in 1959, so he made sure his '57 Plymouth stood out from the other 3 guys who drove '57 Plymouth convertibles back in '59.
The 1957 Ford was another classic that didn't quite generate enough cool factor for the guys at 'Rodding and Re-styling' so they had a solution. They thought the '57 frog-eye headlights were a flaw in the overall design.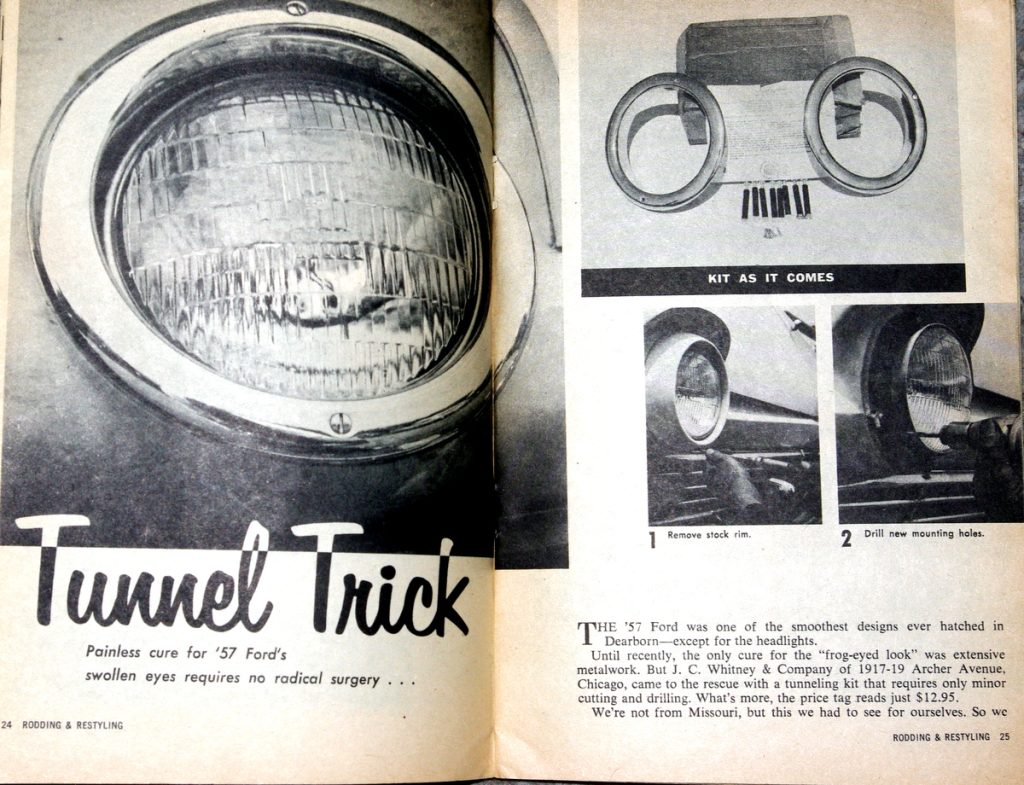 J.C Whitney was the bible for all things custom back in '59. They were the kings of bolt-on parts for the guys who had just enough skill and ambition to add a whip antenna or fender skirts to their beloved cars.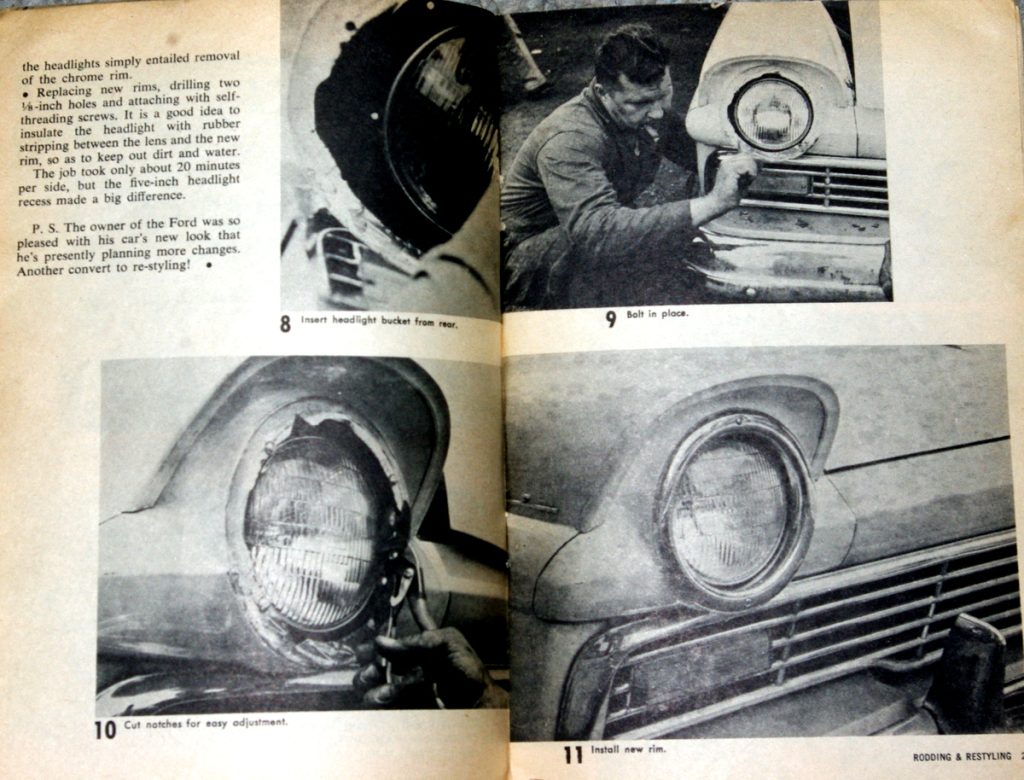 The '57 Ford headlight makeover involved some cutting and fitting, but the end result was a flush-mounted headlight that looked a little crude. Hopefully the car guys back in '59 had the skills to smooth out the wrinkles.
Rodding and Re-styling magazine had a section called 'the RoadMap' where readers could share pictures of their rides.
They had the usual suspects like '35 Fords and '55 Buicks, but one reader sent in a picture of his '57 Ford Anglia.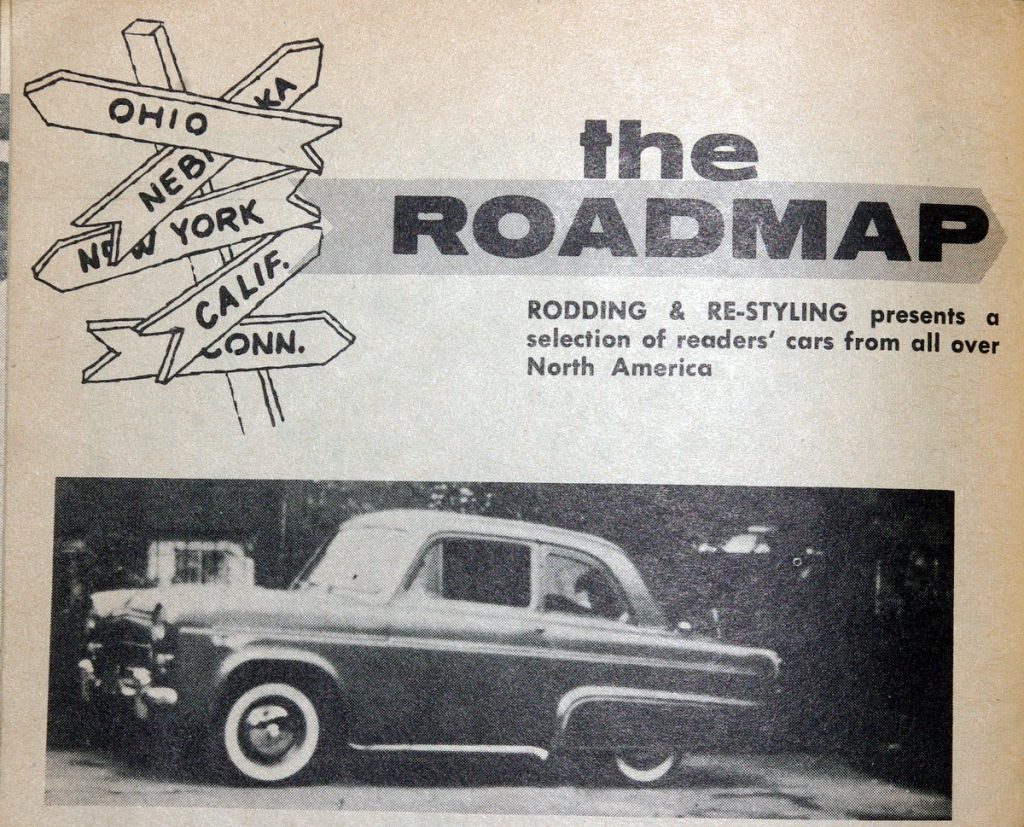 This wasn't a typical custom—then or now—but the owner had added some nice touches to this little Ford. It had a custom grille from a Prefect and there was talk of upgrading to a Triumph TR3 motor. Tuner cars may seem like a new concept, but this guy was cutting-edge 63 years ago.