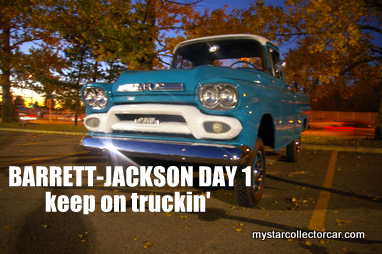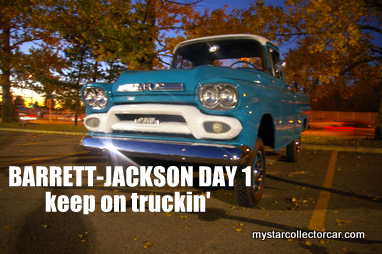 The late Eddie Kendricks was a pop/soul singer with a modest solo career after a stint in the Temptations.
He hit number one on the pop charts in 1973 with his hit 'Keep on Truckin'.
The song title was a 30s jazz expression made popular in 60s flower children circles by Robert Crumb with his famous poster of a row of guys walking in casual confidence.
The expression died a natural death in the mid-70s when disco made it difficult to keep on trucking- or from laughing-for that matter.
Anyhow, the spirit of Eddie Kendricks was alive and well during Day One at Barrett-Jackson because trucks were in the spotlight.
Pickup trucks have enjoyed a heightened popularity over the past few years. Trucks are the flavor of the week in collector world, but they have always been near and dear to our hearts at mystarcollectorcar.com. In fact, we give them their own section and they always move toward our front page at some point during their feature month.
The heart of the pickup truck market is higher value in complete restorations and slick resto-mods. Restorations are very common for trucks because pickup trucks were working class heroes. They weren't hired for their looks and they got beaten up every day with back-breaking labor. Few of them were pampered and stuck in a garage.
So the menu on Day One was truck-heavy as owners try to cash in on the pick up gold rush. Our pick for the buy of the day was a beaten up 1973 Chevy El Camino with a mismatched door and paint scheme. It sold for $9900.00- even though it looked late for the crusher.
But this beater was a TV star because it was Earl's from 'My Name is Earl', and it will definitely rise in value. Never underestimate the value of a vehicle from a hillbilly comedy because the Clampett-mobile from the 'Beverly Hillbillies' is worth enough to even get Jethro laid these days.
The inexplicable buy of the day was a 1948 Chevy pickup that was all muscle under the hood. The truck sold for around 70 grand, even though it had a rough-looking exterior that may or may not have been on purpose. The truck was a labor of love for a man and his two daughters, but these days money can buy you love, because it was sold after their father's death. We assume that there was a bigger story to this truck's high price.
Two other final notes on the first day: The 1969 AMX was an amazing looking ride. And gentlemen, please refrain from using that shiny tire crap that makes your ride look cheaper than a hooker on a payday weekend.
Check back tomorrow for Day Two.
Jim Sutherland