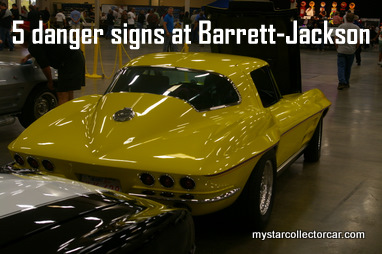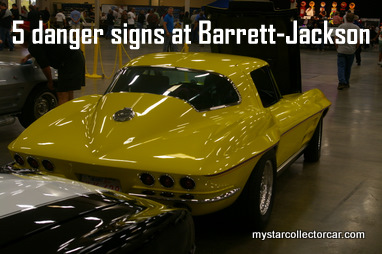 January is a month with very few redeeming features for car guys.
The collector car auction season makes the cabin fever go away for a little while, so we all look forward to the Barrett-Jackson for a week long giant televised car show.
The best and brightest in collector car world are reputed to pass through its doors at some point over Barrett-Jackson's 40-year history.
That point is probably highly debatable, but the Barrett-Jackson does provide some great TV coverage.
Let's have a look at the perils and pitfalls of the auction.
Amy Sparks-Lassiter. The hot bid assistant with the best mane of hair since Farrah Fawcett is very familiar to her giant army of male admirers. But she is a dangerous woman if you are a qualified bidder who is five hours into a generous cocktail budget at Barrett-Jackson. A drunk Friday night bidder stands little chance if he wants to show off to Amy and take on another aggressive bidder. Pre-historic caveman hunter-gatherer instincts kick in as the guy tries to win Amy's favor with a rare Corvette purchase (instead of a dead mastodon) and the price goes up.
Strange geeky cars. The crazy money for oddball rides is a fundamental part of the Barrett-Jackson mystique. Volkswagen Beetle convertibles and BMW Isettas are always a crowd pleaser. A nerd-mobile from high school is worth its weight in gold to bidders as they go nuts for cars that they wouldn't drive on a bet in high school. Surprisingly, the guy might be out-bid by a former very unpopular high school nerd- turned- computer- software- billionaire. He who laughs last can often write bigger checks.
Faded rock stars. How many times are we treated to a custom ride owned by somebody like Alice Cooper? Alice would do himself a big favor if he actually worked on his own cars instead of contracting out the project. Incidentally Alice (and others of your ilk), the obligatory custom guitar throw-in and backstage passes don't exactly sweeten the deal.
Patina and provenance. These two words will get trotted out a lot during Barrett-Jackson. We believe that the pompous English guy that used to be on the viewing floor at Barrett-Jackson invented these two words and he used them to describe his thinly veiled contempt for North American cars. We also believe that "patina" and "provenance" were the Brit's over the top way to describe "Prince of darkness" British electrical systems and his glorification of underpowered European vehicles and their overrated and sub-standard assembly.
Reggie Jackson. The guy was a World Series force in the 70s. But he is a world-class collector car force in his retirement years. If you are up against Mr. October in a bidding war, you are in trouble my friend. The guy knows his iron and he will drop out of a bid when the car goes past any reasonable expectation for a solid investment.
You, on the other hand, should wrap your head around the idea that you just bought the car for love-not profit.
Jim Sutherland @mystarcollectorcar.com 

We will be following Barrett-Jackson like it is a religious experience, so look for a daily blog on our sitehttps://www.mystarcollectorcar.com/ … home of the world's best collector car features and photos.
COMMENTS
MARK:"I love it.  Being from Tempe (just south of Scottsdale) I live for this week.  You forgot to mention that Amy is married to that geeky OLD auctioneer, Spanky!!Thought you might enjoy seeing not just one but two Bugatti's, (both versions) at one time!  Geez only in Scottsdale  Sorry the pics came from a cell phone. Can't wait to see your daily blog and view of the scene".