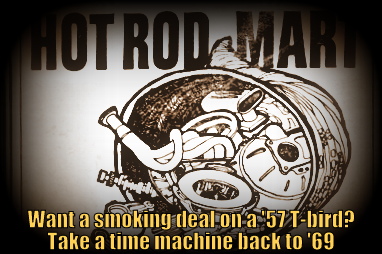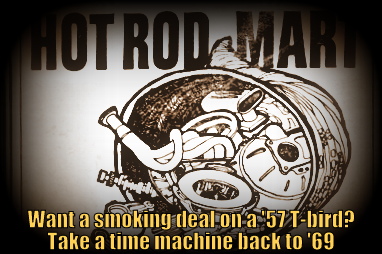 A lot of things happened in the Summer of '69.
June 1969 was the month when the Beatles landed number one on the Billboard charts with 'Get Back'.
July 1969 was the month when we landed on the moon-"we" being thinking apes also known as human beings.
August 1969 was the month when we landed in upstate New York at a little music event known as Woodstock–"we" being thinking apes also known as damn, stinking hippy apes, given the lack of sanitation at that concert.
Through it all we had car guys in '69.They were the same then as now because gearheads never really changed over the years. They had hot rod hearts in the 60s and they still have hot rods hearts in 2014.
In between is wealth of knowledge and experience that allowed them to out run everything but old age.
But what a fast and beautiful trip between then and now for them. We took a long hard look at the June 1969 issue of Hot Rod magazine and focused on their want ads. We looked at the prices and wept openly at the prices but, as in most things, everything is relative. Most people made an annual income that was a fraction of an average 2014 income, so the incredibly low prices of 1969 vehicles were not incredibly low for 1969 wage-earners.
Still, the look back at hot rods and muscle cars offered for sale in the back pages of the June '69 Hot Rod magazine is the stuff of 2014 dreams for today's car guys. We picked a few of the rides for sale to look back and wonder what could have been for most of us if we had used our hard-earned paper route money as a down payment on these beauties.
There was a 1957 T-Bird with 68,000 miles offered for sale at the rock bottom price of $2550 obo. The car had new paint, new 312 engine, factory dual quads, manual shift, two tops, original fender skirts and hub caps. Two questions arise: what did the owner get for his Bird and is it still around? The only certainty is the price for a '57 T-Bird is nowhere near this price.
Think the T-Bird was a tad pricey? Maybe you would have more interest in a mint 1956 Corvette with 48,000 miles offered for sale at $1950 obo. The ad called it original but a 283 was not an option until 1957 for Chevys, so the owner was not completely accurate in his or her ad. Regardless, this 'Vette is a smoking deal by any measurement in 2014.
Anglias were a huge part of the hot rod scene in the 60s. These mild-mannered little British imports became fire-breathing drag strip monsters when a big American V-8 was shoe-horned into its engine compartment. These babies were lightweight and scary fast.
This Anglia for sale sported a big block 427 Chevy and was track ready with 12.50×60 M&H slicks to melt on the drag strip. The owner was firm at 3 grand for the Anglia in '69. It is doubtful this car still exists because that big bad Chevy mill likely got somebody into serious high speed trouble at some point over the past 45 years.
Last on today's look back into the rear view mirror is an almost incomprehensible car. An original 1966 AC 427 Cobra was available for 7800 bucks in the June 1969 Hot Rod want ads. This car was the real deal and now commands an average of 1.1 million dollars in today's market.
Take inflation into account, plus the fact 7800 dollars was a sizable chunk of change in '69 for the average car guy, and this car was still a steal back in the Age of Aquarius.
Now you see why we were brought to tears with this old Hot Rod magazine's want ads.
Jim Sutherland
CLICK HERE to Like us on Facebook
CLICK HERE to Follow us on Twitter
CLICK HERE to Follow us on Pinterest
Re-post this article if you like it…thanks.