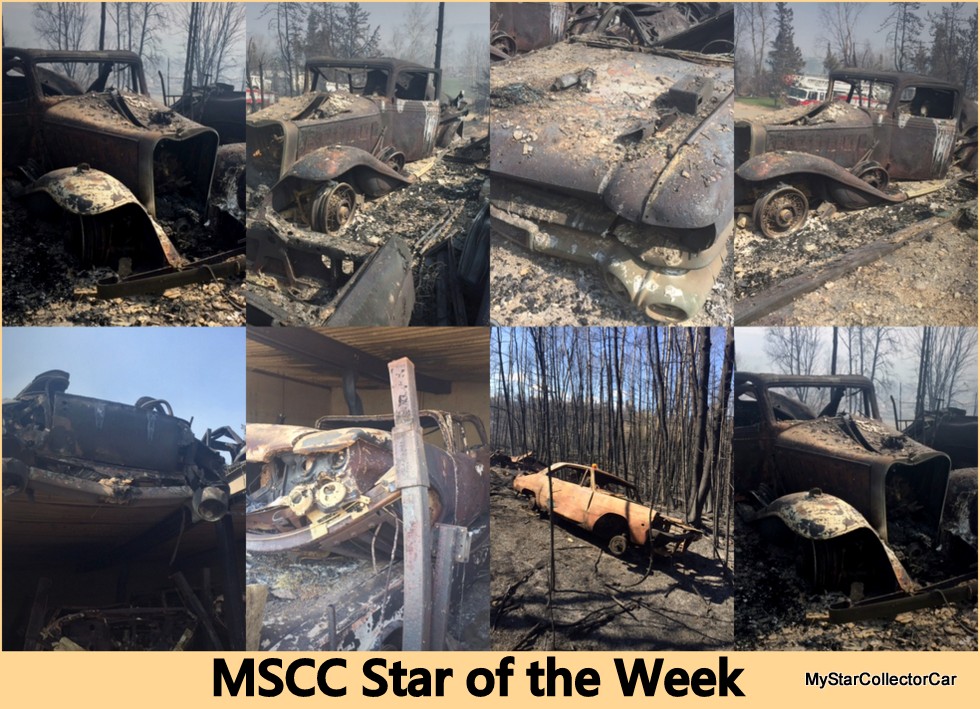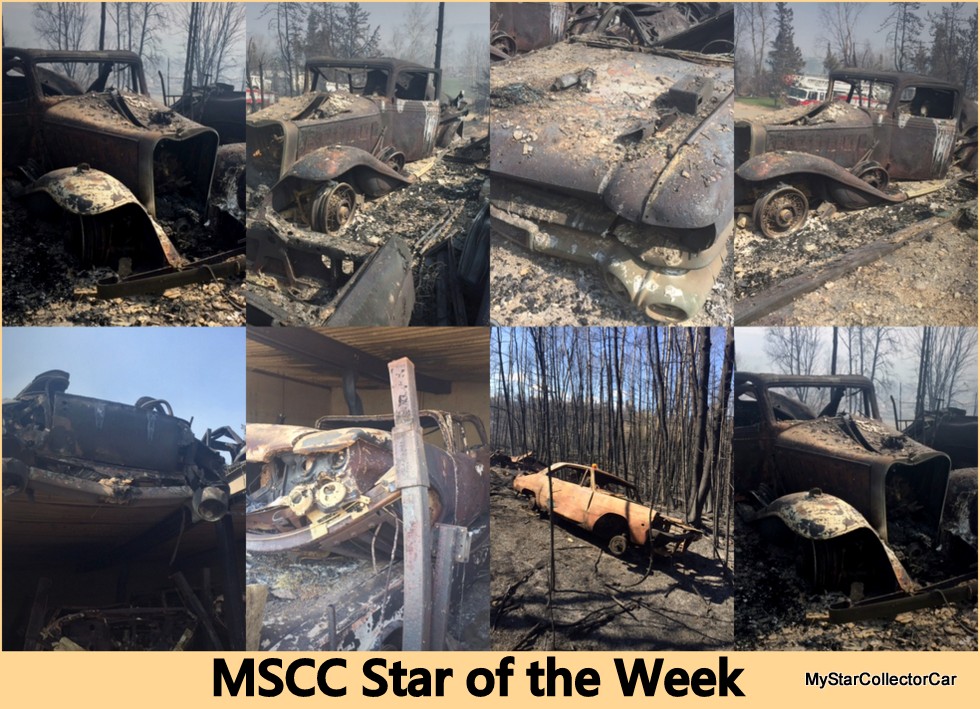 MSCC JUNE 5 STAR OF THE WEEK: THE CAR GUYS WHO LOST THEIR CLASSIC IRON IN FORT MCMURRAY
There was a major fire in early May that threatened the city of Fort McMurray in northern Alberta, Canada.
The city and surrounding area faced an instant evacuation so that meant 100,000 people left town in a matter of hours.  
'They left behind everything and in some cases they

lost

everything in Fort McMurray so when they started to return this past week some residents found devastation instead of a home.'
This MSCC Star of the Week is a collective salute to the Fort McMurray car guys who lost their classic iron to this disaster.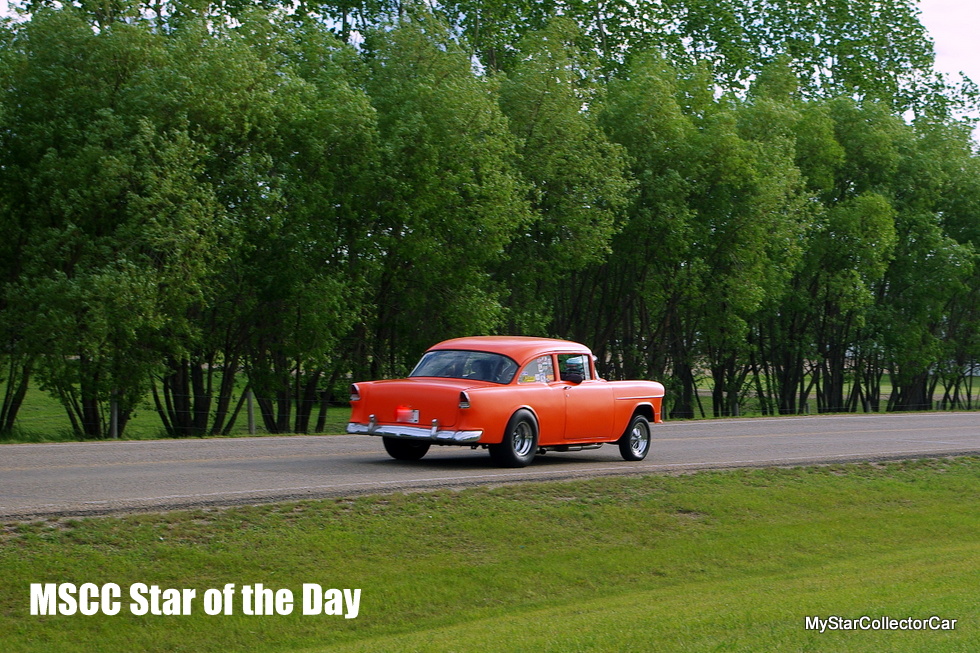 MSCC JUNE 4 STAR OF THE DAY: '55 CHEVY GASSER 2-DOOR POST—EXIT IN STYLE
There are few things cooler than a '55 Chevy post.
These cars are so cool they starred in two movies—American Graffiti and Two Lane Blacktop.
'Gassers are super cool too so if you combine a '55 Chevy post with a Gasser you have a hybrid that's rock star cool.'
This MSCC Star of the Day '55 Chevy Gasser was leaving a show last night—this is how you exit in style.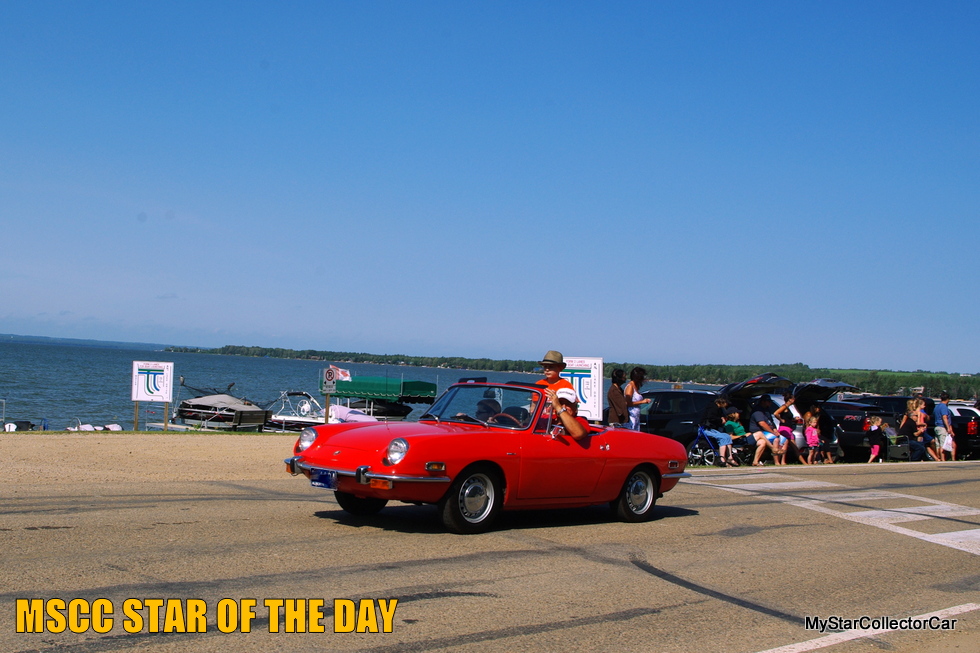 MSCC JUNE 3 STAR OF THE DAY: '70 FIAT 850 SPIDER—THE PERFECT RESORT TOWN RIDE
The best thing about the resort town is the weather.
That's why you won't see resort towns on the banks of the Arctic Ocean.
'If you do time in a resort town the key is fun and sun so the natural consequence is a car that matches a fun and sun philosophy.'
This MSCC Star of the Day 1970 Fiat 850 Spider was doing a summer tour back in 2014—it was the perfect resort town ride.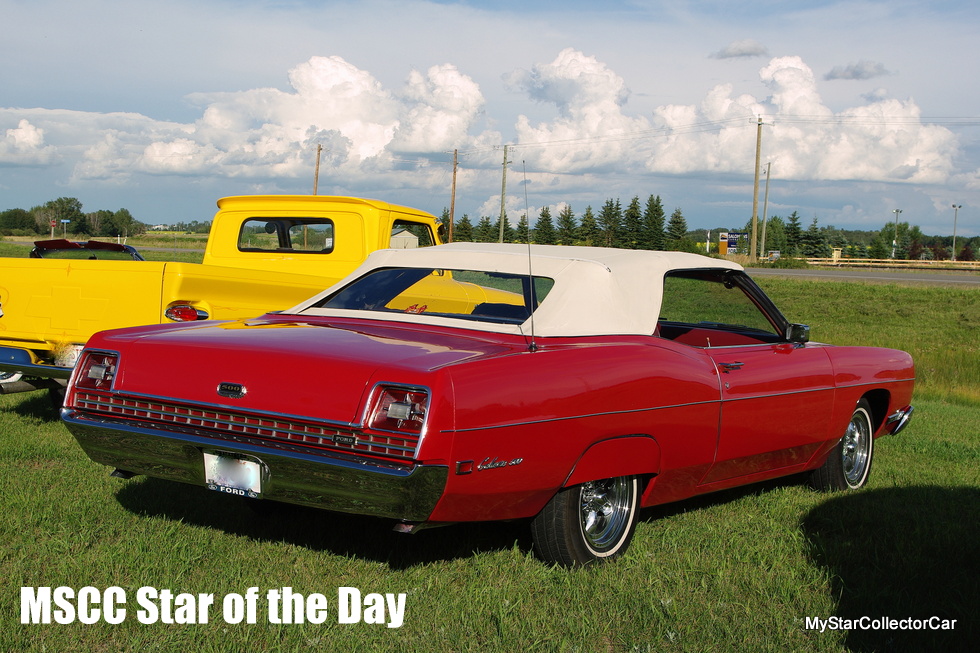 MSCC JUNE 2 STAR OF THE DAY: '69 FORD GALAXIE CONVERTIBLE—FROM THE "WHERE HAVE THEY ALL GONE?" FILES
We tend to take a lot of things for granted and then we're mystified when they're gone.
Cars definitely fall into that category.
'You never have to wonder where all the Mustangs went because any car show (large or small) will lead you to a fleet of them, but there were lesser lights at Ford and many of them are on the endangered species list.'
Cars like this MSCC Star of the Day '69 Ford Galaxie convertible definitely belong in the "where have they all gone?" files.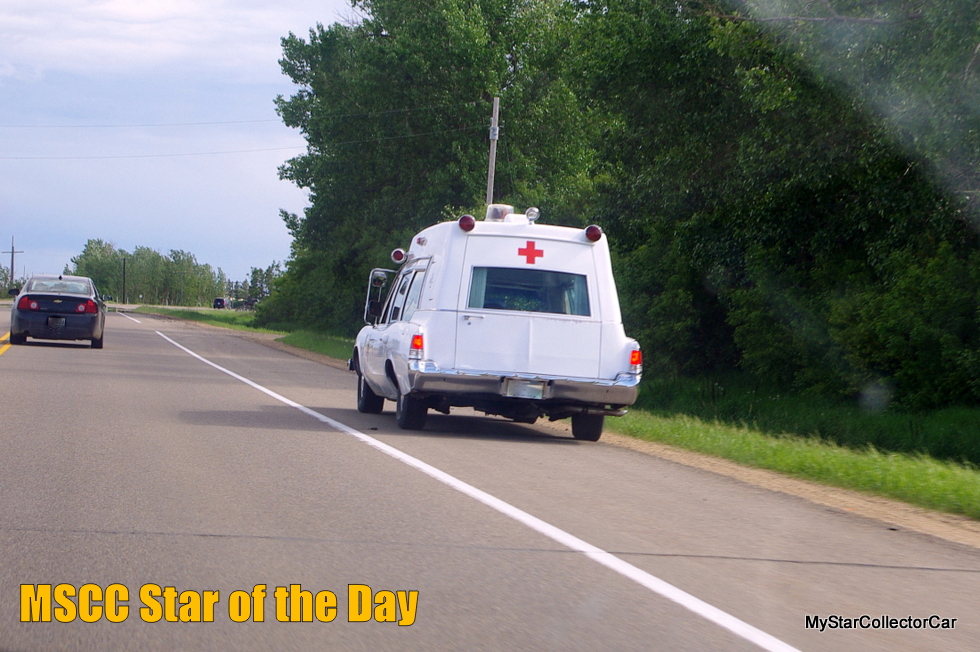 MSCC JUNE 1 STAR OF THE DAY: '73 PONTIAC SUPERIOR COACH—A DIFFERENT ERA
The old days in emergency equipment basically required one thing—a lot of speed.
Emergency people had basic training and basic equipment, but they relied on grab and go more than anything else to save lives.    
'Grab and go and a big block under the hood were often all that separated a patient from life or death so they used ambulances that could handle a sustained high speed run under adverse circumstances.'
This MSCC Star of the Day '73 Pontiac Superior Coach is a classic example of an emergency ride from a different era.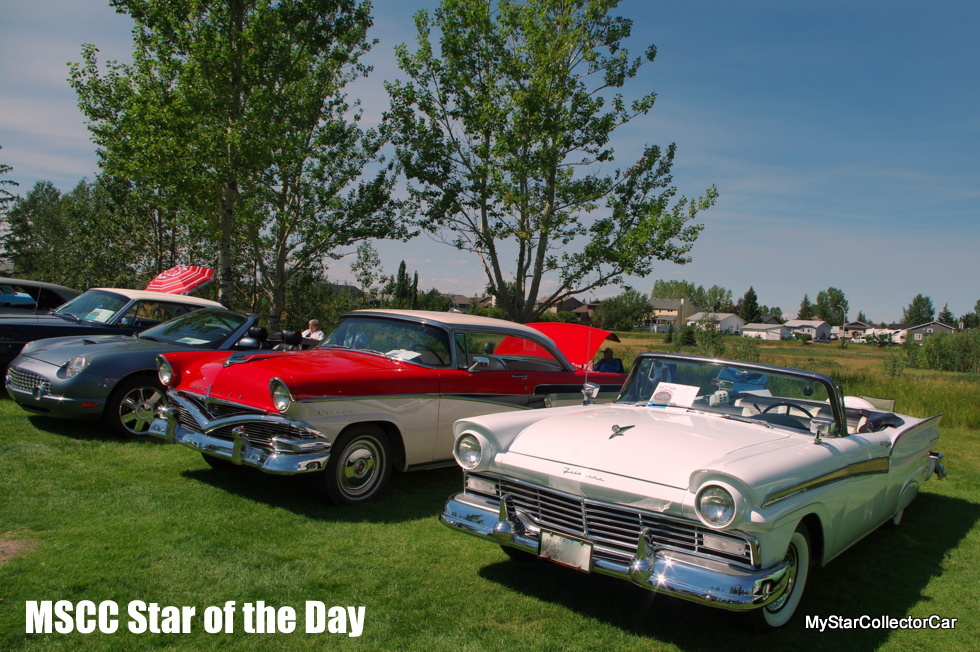 MSCC MAY 31 STAR OF THE DAY: FORD CONVERTIBLES DECADES APART BUT STILL FUN
The convertible phenomenon was at a high point in the 1950s.
'The time was right for these open roof rides because people had come through some bad times (a Depression and a World War) and a convertible was just the tonic for some carefree times.'
They weren't practical but a convertible was the perfect ride to celebrate better times.
This MSCC Star of the Day is a look at two Ford convertibles-decades apart but still fun.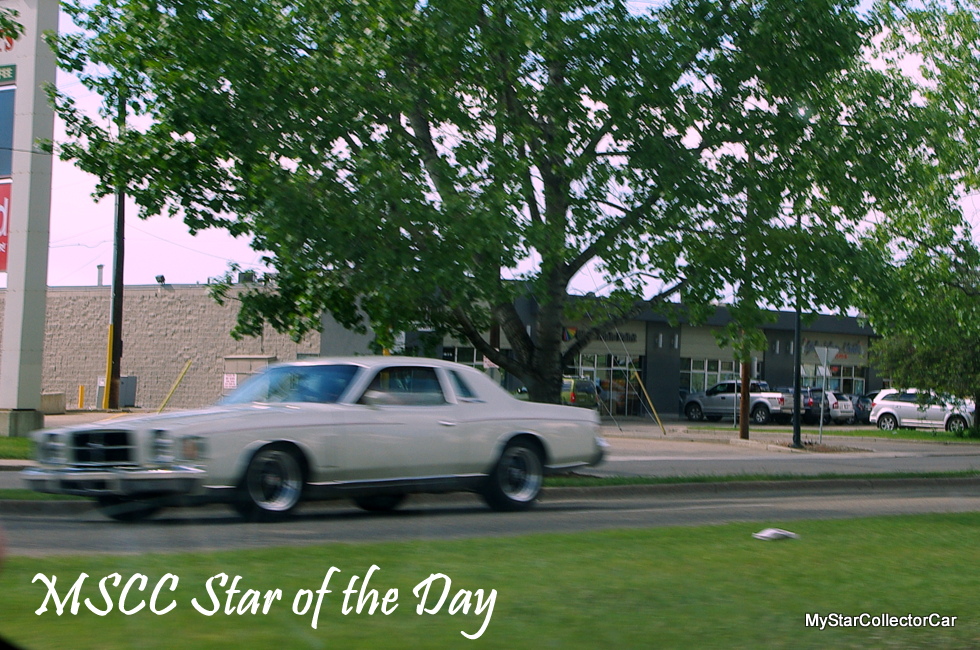 MSCC MAY 30 STAR OF THE DAY:  '79 CHRYSLER 300—THE NAME CARRIED ON WITH A 70S VIBE

The Chrysler 300 was a monster from the day it hit the showrooms in 1955.
They took that bad attitude to the track and dominated in NASCAR with the Carl Kiekhaefer team.
'Chrysler 300s never let up through the 50s  because they dominated the time trials at Daytona Beach and through the years the 300 name came and went over the decades but in every form it carried the tradition—if not the performance of these early muscle car legends.'
This MSCC Star of the Day '79 Chrysler 300 carried the legendary name with 70s style in traffic this past weekend .
CLICK HERE to Like us on Facebook
CLICK HERE to Follow us on Twitter
CLICK HERE to Follow us on Pinterest