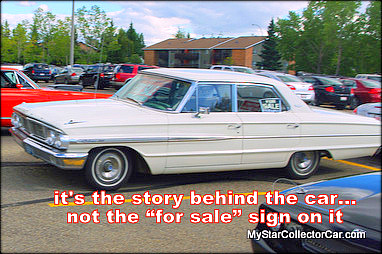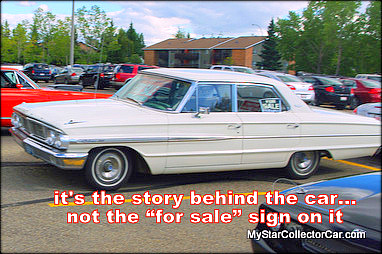 Our motto from the git-go has always been the owner's story and why they have their particular set of wheels.
We try to avoid the soulless speculators who have little or no attachment to the vehicles, beyond the investment potential.
To us, these kind of temporary owners are simply conscience-free predators who have contributed to an accelerated rise in the cost of vintage iron that began in the late 80s when price glass ceilings for Detroit big block muscle cars were shattered beyond repair.
The prices of old vehicles has fluctuated since that era, but the old standards of car prices have disappeared forever to join the pre-1973 price per gallon gas as a footnote to a kinder and gentler time for consumers of giant horsepower engines ignited by cheap leaded high test fuel.
So we walk right on by the cars with the 'For Sale' signs in the window.
This is a shining example of a non-story to everybody but our good friend Grumpy from Grumpy's buy/sell online vintage vehicle ads. Grumpy can most certainly help you, but we want that connection between the car and current owner-not the car and the next owner.
We want to know why the owners have that special connection to their cars and trucks. We want to know why an old grain truck has been rejuvenated into showroom condition after so many years of hard labor as a working stiff.
We also see a lot of vehicles that still wear the battle scars of long years on the road. They have owners that have a big grin on their faces for one simple reason: they love their cars and trucks.
The happy owners have a story worth sharing with the world about their vehicles and we are there for them to tell the story. We want to write about that emotional connection that has bound the old rides and their owners together in a special way.
We just cannot get enough of the story behind the vehicles. As long as there isn't a 'For Sale' sign in the window and the car is old enough to remember the 80s, we want the story. For us it is much more than just another car story at mscc, it's a people story.
And that is why our car and truck back stories are what makes us different from most car and truck stories.
Jim Sutherland
Follow us on Facebook at-http://www.facebook.com/MyStarCollectorCar
Follow us on Twitter at- https://twitter.com/#!/MyStarCollecto1