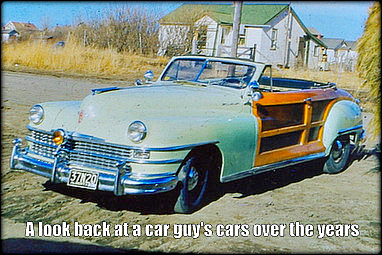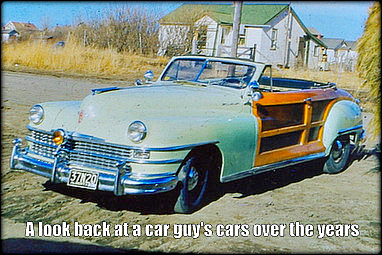 Most car guys have no trouble identifying the one or "ones" that got away.
There is nothing that's more permanently imbedded in a car guy's mental hard drive than a beloved old ride from those youthful, carefree days.
In most cases, these automotive icons are confined to mental memories because most people skipped the part where you took a picture of your car.
Don Durand is the exception to the "no photograph" rule.
Don's been a car guy since he was a kid but he's also been a camera guy over the same period of time so when he talks about cars that really meant something over the years, he produces a scrapbook of great pictures.
His first car was a 1933 Ford Coupe. The line forms on the right for these cars because hot rodders embraced these early Fords from the first day they rolled off the factory line. Part of the reason was the V-8 and the biggest reason was the incredibly high cool factor.
Don was 19 when he bought this '33 Ford and he had some great memories of his first car. He recalled, "I liked it because it had that V-8. I paid 400 bucks for it and had to borrow that from my Dad and I can't remember if I ever paid him back. I wasn't crazy about the brakes in the Ford but I sure liked that V-8″.
Despite its iconic status, a '33 Ford was somewhat outdated in 1951 so Don looked for a car that represented more new tech as he explained, "I traded it in on a '34 Plymouth for 50 bucks plus the Ford. I liked the hydraulic brakes and the sealed beam headlights. That Plymouth was pretty rare even then and I've never seen one with dual fender tire mounts like that one had."
There was only one real problem with the Plymouth, "I drove the wheels off it and I guess I over-revved that flathead 6 so I ended up blowing it to pieces. I put a new motor in but I couldn't get the starter to fit so after that I had to hand crank it with a 6 foot crank every time it stalled. That was pretty embarrassing when it happened on a busy street but that old Plymouth drove like a dream. The only thing I did to it besides that was add a strut across the grill to stabilize it and because I thought it looked good".
Don upped the blood in the game with his next car. He recalled, "It was a beautiful 1948 Chrysler Town and Country convertible. I paid $1600 for it and it was the first time I'd ever financed anything. This was in 1954 and I remember my Mom wasn't too impressed because she always told me if you don't have the money saved then don't buy it. Dad was pretty quiet about it but I don't think he was too happy either".
Don, on the other hand was thrilled with his classy new ride and he didn't waste any time before embarking on a big road trip, "I drove it south to Las Vegas and then headed to Los Angeles in it. The straight 8 was pretty tough on gas but it was a beautiful ride. I blew a tire and it had safety rims so you couldn't break the bead. I had to talk a guy into working on it because it was after hours and he wasn't too happy about how hard that job was. Its tires were about the same size as a ¾ ton truck so it rode pretty harsh".
The trip wasn't without pitfalls, "It started knocking on the way down so when I got to Southern California. I had it fixed but it started knocking again in San Francisco on the way back".
That was the famous final scene for the '48 Town and Country as Don explained, "I traded it on a 1950 Buick when I got home but I know I should have kept it because those things are worth crazy money now".
The 1950 Buick was a brief relationship; "I needed to haul a trailer so the Buick had to go. I didn't keep it that long but it was a pretty nice car".
The next car was a 1956 Mercury Meteor Niagara. Don has a special fondness for that car, " There was a movie back then called The Long, Long Trailer and we lived that adventure. We hauled a 45-foot trailer with the '56 Meteor. It had a huge equalizer hitch mounted right to the the axle housing. We hauled that trailer over some of the worst roads imaginable because I was in the oil patch and we went to some pretty remote places. It was rough because the stress bent a 10″ frame but we got it there in one piece".
The Meteor did its job but Don became more realistic as he explained, "I got a truck to haul the trailer and traded the Meteor on a VW Beetle".
Don became a huge disciple of the VW Beetle in that period. He admitted, "They could go through muskeg to job sites because they rode high. I could get to jobs in the bush 3 times faster than a 4×4 truck and if they got stuck they were easy to pull out. I had them rigged with tow points to yank them out of trouble. I lent one to a survey crew and they couldn't believe how they could get around on the roads because the Beetles were so narrow".
Eventually Don went to the VW Type 3 Squareback because of the extra space but the results were the same as he explained, " We went over a big hump in the road and got 8′ feet of air time before it landed but the car never quit. We could pound them down roads so bad the floors buckled but I'd just stop and pound them back down. You couldn't kill these things. Guys used to laugh at me until they saw how these VWs did on a job site. They'd power out before they'd quit climbing any hill".
Don's last nostalgic "gone but not forgotten" car was a 1961 Lincoln Continental. He was working in Calgary Alberta in the early 1970s, "Because the Viet Nam war was on good pickup trucks were kind of scarce so I went to an auction to bid on some trucks".
There weren't any good buys on trucks but this '61 Lincoln came up so I threw a frivolous bid on it. I got it for 600 bucks but I only had 50 bucks in my pocket so I went home to get more money. I phoned my wife and she wasn't too happy but I put a little money in it and broke even at 800 bucks. It was a beautiful car, red vinyl roof and red leather interior but I couldn't keep it".
Don's trip down Memory Lane is one that was well documented plus he still has a passion for old iron. Have a look at three of Don's cars in these links because he didn't just photograph his cars…
He kept a few.
Jerry Sutherland
Follow us on Facebook at-http://www.facebook.com/MyStarCollectorCar
Follow us on Twitter at- https://twitter.com/#!/MyStarCollecto1