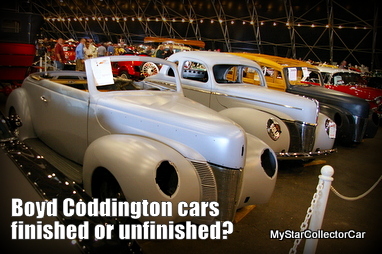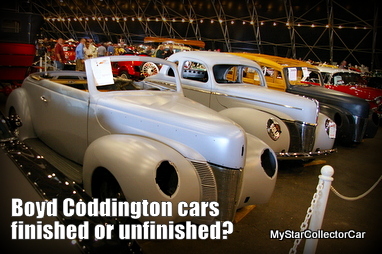 Boyd Coddington was a famous custom builder even before his lamentable American Hot Rod TV show.
It was hard to warm up to many of his shop guys and TV viewers grew to actively dislike them.
For example, who will ever forget Dwight's smirk when he saw the destroyed 1957 time capsule Plymouth, or Blue Bear and his weekly antics on the show?
The one major strength of the show was the high level of build quality and creativity in a Boyd Coddington custom.
The rides that came out of Coddington's shop almost made us forget the obnoxious cartoon characters in the shop. American Hot Rod was an early pioneer in TV's hellish vision of the car hobby where the producers do not understand car guys.
Instead the TV people invent ridiculous conflict plots and ignore the only real stars for car guys: the rides themselves. TV uses automotive tradesmen as bad actors and ignore their actual talents in the fabrication and mechanical field.
Most of us just wear out the fast-forward button during these TV shows and search for the small nuggets of information found in them. We also looked for the completion stage of the build during our desperate search for something more substantial in these misguided car shows.
Boyd Coddington, his custom build business, and his TV show are no longer among the living, but they behind left some unfinished business in the form of custom cars in the early stages of completion.
Three incomplete Coddington 1940 Ford customs were offered for sale at the Scottsdale auction and they presented a critical question: should they be completed by another builder?
The question really boils down to value for most car guys. Coddington was a customizer legend and his completed projects will only increase in value because Boyd has left the building- and so has his business.
The auction was a good litmus test for the Coddington brand because the unfinished rides were essentially rolling stock in three configurations: coupe, convertible and station wagon.
They were a long way from road-ready, but the general direction of the Coddington build was very obvious to most car guys.
The 1940 Coddington Ford coupe was well on its way to its new life in terms of mechanical and fabrication upgrades.
It had a custom frame, upgraded front steering and brakes, modified panels for a modern power train, and was in the midst of a rear end fabrication upgrade. It sold for $57,200.
There was a 1940 Coddington Ford convertible offered for sale at Barrett-Jackson and it was also a rolling chassis sitting on a custom frame with roughly the same completion level as the coupe. The 'vert sold for $49,500.
The final Coddington unfinished masterpiece was a 1940 Ford Woody wagon. The wagon was in the ball park of the two other Fords in terms of completion and also sat on a custom frame. The fact it was a wagon likely explains why it sold for $81,400, well above the other two Coddington Fords.
The prices for all three were pretty high, given how much was yet to be done, so it was clear the Coddington name drove up their value. A safe bet would be to leave them alone and let them reflect the end of an era in custom builders.
However, a 1940 Coddington Ford pickup was taken from its early mockup stages of the custom process to a show winner by an Arizona custom builder. Final sale price: $374,000. The truck was sold directly after the uncompleted Coddington project Fords.
The answer to the question of whether or not to finish what Boyd Coddington started is pretty self-evident when you look at that last sticker price.
Just find a shop with a good reputation (and no TV cameras to distract the employees from their real talents) and jump the value by a huge margin when they complete Boyd's unfinished business.
Jim Sutherland
CLICK HERE to Like us on Facebook
CLICK HERE to Follow us on Twitter
CLICK HERE to Follow us on Pinterest
*Re-post if you like this MSCC article…thanks.