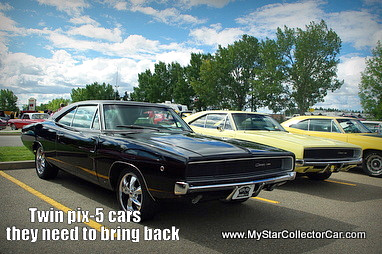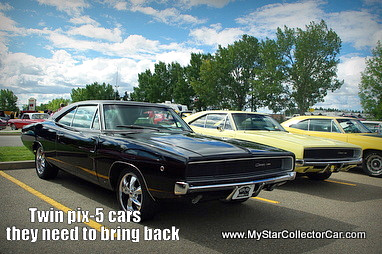 Some of you may not be aware that MSCC is produced by identical twins named Jim and Jerry Sutherland–refugees from the Baby Boomer generation.
We do all of the heavy lifting for our e-zine, right from the interviews to the photos and stories behind the old car hobby.
It is a lot of work but, more importantly, it is even more fun to chronicle the reasons people own cars and trucks from the past.
The other day we started to list our choices for cars that we would like to see get the same treatment as the Challenger, Mustang and VW Beetle: a resurrection from their parent companies.
Both of us have our own differing opinions about the vehicles we would like to see back on the street as a new model in an old familiar skin.
Today I will pick five of my choices for resurrection.
Number five in ascending order would be a 1949-51 Ford. These cars have always caught my eye, even though I was not yet even born during their short run. The cars look best as a two door post in my opinion because this body style brings out the best in them.
Imagine these babies hooked up with Ford's new small block powerhouses under the hood, plus all of the handling advantages of 21st century engineering. This would be a huge winner for me-as long as they did not tamper with this car's classic look in the new reincarnation.
Number four in ascending order would be a Volvo 544 model. These little Swedish imports spent a lot of time in a cloud of confusion with the Volkswagen Beetle, but they were faster and better looking than the Bugs. They were front-engine, water-cooled, rear drive and they were capable of real highway speeds.
I can only imagine what these 544s would do with today's wild horsepower from four-bangers. A marriage between the ultra-cool body style of a 544 and the high performance of a multi-port fuel injected twin turbo DOHC monster under the hood would be the stuff of dreams for me.
Number three would be a 1965 Buick Riviera because this was the year Buick designed the perfect 'Riv in my opinion. The car had everything right in the style department, from hidden headlight stem to stylish stern.
These cars had plenty of power in 1965, but they would have even more power in 2013, along with incredible handling and braking thrown into the mix.
Number two would be a 1964 Chrysler. These big boys were not common, even in 1964, but they had a unique style that was unmistakably their own look.
I can imagine one of these babies fitted up with all of the engineering upgrades found on a 2013 Chrysler 300 and I start to smile because it would be a stunning car.
Number one would be a 1968 Charger in my world of cars that need resurrection. I have always loved these cars because they were the ultimate Charger in my opinion. You cannot improve on perfection and the '68 Charger was the perfect car in terms of style.
Take the best of 2013 Hemi options, add the ultimate 2013 Charger engineering, braking and handling features, then put a 1968 Charger body on the platform.
It would be impossible to do better than this combination in Charger world.
Jim Sutherland