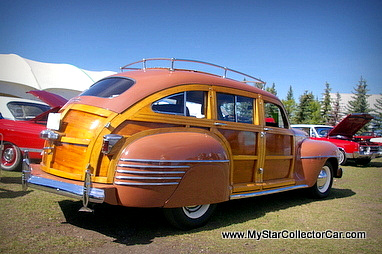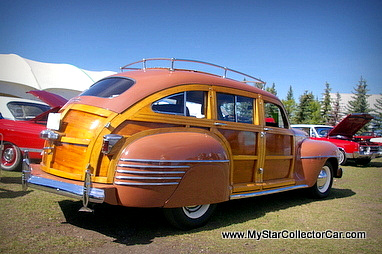 The 1942 Chrysler Town and Country is known for its extremely low production numbers, but it has another unique bookmark in its biography.
These cars were among the last civilian vehicles produced on the assembly line because World War II took over every form of mass production in North America
These '41-42 Town and Countrys were also the first steel roofed Woodies ever produced.
Tim Burton is the proud owner of this incredibly rare vehicle and he is well aware of the history behind his classic.
Tim reported that the car is one of seventeen '42 Chrysler Town and Countrys left in existence and it came out of Mannheim PA in '68. This Town and Country ended up in Detroit back in '75 and it was trailered to Cleveland in the mid-90s. Tim has owned the car for several years.
These were the ultimate high-end cars and they came with fluid drive transmissions. In layman terms, that was a semi-automatic transmission that required a minimum of clutch work.
Tim's Town and Country has a few features wouldn't be seen on your average car as he explained, " It's got factory fog lights and factory turn signals".
Chrysler advertised the steel roof as a big asset in the safety department but there was still a lot of wood in the structure of these luxury barges so any kind of maintenance still required a heavily-skilled finishing carpenter.
They were designed to move the upper end of society in the comfort and style that they were accustomed to so these cars were extremely well built and well appointed. You couldn't send a driver out to pick up society's upper crust and bring them back to the country estate in a stripped down Plymouth sedan.
These car had a style that was a cross between a sedan and a station wagon so they had a "clam shell" door configuration in the trunk area that allowed access to the cargo area without the boxy look of a typical station wagon. This is also called the barrel-back Town and Country because the upper end wanted the convenience of a wagon without the utilitarian look.
Chrysler Town and Countrys came in two versions-six and nine passenger. There is little doubt that some of these wagons were used by upper end resorts to ferry clients to and from the airport or the train station so the extra space made economic sense.
That rear seat had a feature that would surface decades later in another 21st century minivan version of the Town and Country because they could be folded down for extra storage or out of the way for more legroom.
Luxury cars like this carried a huge presence back in the early 1940s because there was little doubt that this car was connected with the rich and famous. That hasn't changed because one sold at auction in 2009 for 440,000 so the big old brutes are still well out of the range of the average guy. That presence is eternal becase this big wagon was a huge hit at a very large Mopar show back in 2011.
Tim is the kind of guy who knows what he has but he's also a grassroots guy who recognizes that he is privileged to own this automotive legend.
Jerry Sutherland