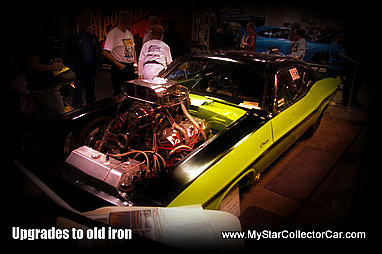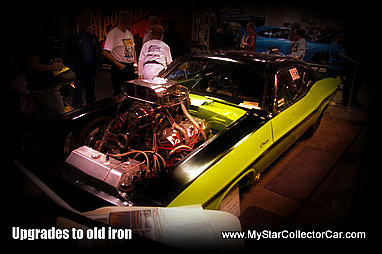 There are many reasons why car guys take an old car and make it perform new tricks.
The biggest trick sought by car guys is pretty basic and has been for a long time.
How do I get this bucket of bolts to go faster?
Limited resources and choices were the crucial elements during the early years of hot-rodding so the earlier generation of car guys took an old pre-war car or truck, then stripped away as much of the car as they could for less weight and worked up a flathead engine into a lean, mean and fast street machine.
Other guys took post war sedans, chopped and dropped them, then wedged in a OHV Caddy V-8 or an early Mopar Hemi into the car. Customized style also entered into the equation when these cars were on the street in the Elvis era.
These days there are even more upgrades available to the car guy when he takes the imperfect engineering from Detroit's past and rewrites the personal history of his ride.
The road to a better all-round vehicle can start in places that are not easy to spot. The old drum brakes can be replaced by giant discs that will stop on half a dime if necessary. The wandering ways of an old steering system can be replaced by rack and pinion that will go in the exact direction you pick with your steering wheel.
You can coil-over your front suspension and you can multi-link your rear suspension if you decide that you want your car to be able to handle the brute force from the insane torque of the giant new engine under the hood.
Some guys want to keep the original engine under the hood but want to make sure it runs better than factory, so they may throw on a fuel injection system on the car. Other guys buy an after-market overdrive tranny or an overdrive unit to help prolong the life of the engine.
Other guys may simply add electric wipers and signal lights to their old vehicles to feel better about life on the road. Creature comforts like great replacement seats, air conditioning, exotic sound systems and state-of-the-art sound deadening insulation may also get thrown into the mix for car guys.
The sky is the limit for car guys these days when it comes to their idea of four wheel perfection. They can take Detroit's finest from yesteryear and build their personal idea of an even finer vehicle.
Tinkering with old rides has always been part of the game for car guys and these days they have a lot of new ways to tinker with the old warriors.
Jim Sutherland
Follow us on Facebook at-http://www.facebook.com/MyStarCollectorCar
Follow us on Twitter at- https://twitter.com/#!/MyStarCollecto1 
Follow us on Pinterest at- http://pinterest.com/jerrysutherland/classic-iron/