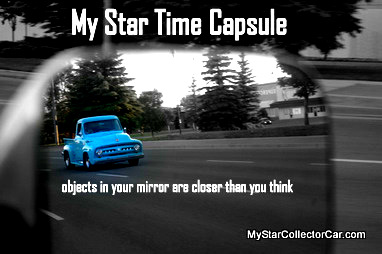 I thumbed through the cars for sale section of a 1971 Hot Rod magazine and it was enough to bring crocodile tears to my eyes.
The prices were insane by 2012 collector car markets and about average in August 1971.
So I decided to share some of the used cars that were available to a 1971 car buyer and you can decide for yourself whether they were a good deal.
I think I know the answer if you owned them in today's market.
The first vehicle that caught my eye was a 1961 Chrysler 300G that was available for 3000 bucks. It had only 38,000 original miles and it was advertised as a showroom condition car. It was a full load A/C and leather car that was only ten years old at the time.
This C was one of the last fin cars of its time so it looked pretty dated in the 1971 car market. 3 grand was probably an optimistic seller price for the letter car in '71, but it would be a lottery win in 2012.
How about a 1929 Ford Model A Woody with a very small block 215 cubic inch turbo-boosted Olds engine under the hood? Would you pay $2000 OBO for this ultra-stylish refugee from the surf punk era in 1971? Maybe in '71- in a heartbeat in 2012.
A 1957 Ford Thunderbird was included in the Hot Rod want ads of the era. It was a 61,000-mile car that came with a hardtop, soft-top and tonneau cover to protect the T-Bird from the elements. It was also a three-speed factory overdrive car that listed factory accessories and power in the advertisement. It was listed at 4000 bucks in 1971 and would have been a huge hedge against inflation if it was kept until 2012.
But the best investment vehicle from the 1971 car market had to be a 1970 Plymouth Superbird. These wild-looking Mopar legends were part of a short model run that kept Chrysler competitive in NASCAR at the time.
The car was a 440 equipped automatic with factory disc brakes, power steering and (perhaps its best feature) never raced. A 'Bird in 1971 would provide an irresistible urge to drive the wheels off it-and who could resist that call of the street?
It would be impossible to fight the urge to buy this instant collectible for the listed price of $2770 OBO then or now. I wonder if the former Superbird owner still weeps into his pillow at night thinking about the one that got away in 1971.
I would.
Jim Sutherland
Follow us on Facebook-http://www.facebook.com/MyStarCollectorCar
Follow us on Twitter at- https://twitter.com/#!/MyStarCollecto1