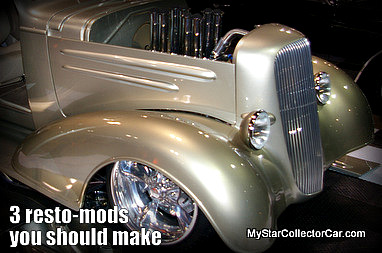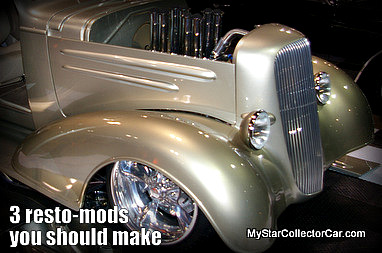 Somewhere between a bone stock blast from the past and a wild resto-mod are a few choices that will make your beloved old ride a better and safer street machine.
The upgrades will likely not be any more visible to the naked eye than the craters on Mars, but the owner will know the add-ons are on the vehicle.
All three of these after-market products have plenty of suppliers that should be able to provide your ride with a suitable choice but, since none of them advertise with us, I suggest that you consult with other car guys or one of our MSCC advertisers for the right choices.
The first after-market product will not actually make your car any faster, however it will slow you down faster because they are disc brakes. The price has gone down and availability has gone up for retro-fit discs.
Disc brakes are now available for many front and back brake applications, so it is easier to add a very sound safety choice to your vintage ride, one that may ensure that you do not have to un-bend vintage fenders from a crash.
After-market fuel injection is another good choice for car guys. Anybody who has experienced vapor lock or flooding from a carb system on an old engine will know why fuel injection makes sense. Drivers will get better performance and less cylinder wear from excessive gasoline wash-down.
The new fuelies are available for many major engine choices from the past decades and can be dialed in by a computer setting. There are even custom fuel injection systems available for rarer engines, but they will cost more for car guys.
Another of the smarter choices for car guys who want to put a lot of road miles on their rides is our 3rd addition to the retro-fit market: overdrive units. Many car guys are happy when their factory gear ratios can be adjusted to highway speeds and produce lower rpms, less stress on the engine and better gas mileage in an era where very high gas prices are a concern to many car guys.
We at MSCC believe any or all of the three choices are great additions to an old ride because they are bolt-on changes that will not compromise the originality of the vehicle because they can be unbolted from the vehicle.
Most of these post-factory changes involve no cutting or major alterations to the original vehicle so the owners can sleep at night with an assurance that their 4-wheeled Humpty Dumpties can be put back together again in stock form-no harm, no foul in the long run.
We hate clichés as much as anybody, but these resto-choices really seem like a win-win to us at MSCC.
Jim Sutherland
Follow us on Facebook at-http://www.facebook.com/MyStarCollectorCar
Follow us on Twitter at- https://twitter.com/#!/MyStarCollecto1