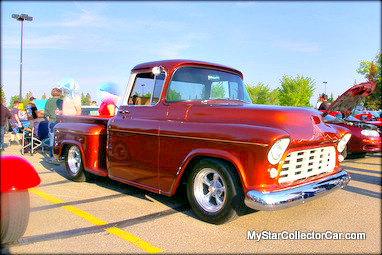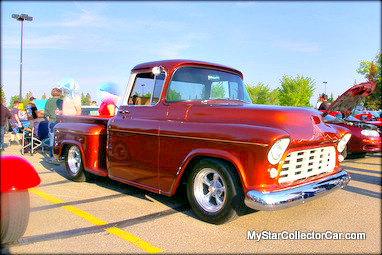 There isn't a car guy around who doesn't dream of the ultimate barn find – the kind where you swing open a door and you find a dusty classic car or truck in mint condition.
That's the Holy Grail of barn find scenarios but what do you call a barn find that finds you in the form of a classic 1956 Chevy pickup?
The story begins a few years ago when Craig Phillips met a local farmer who kept asking him, "When are you going to come out and buy my old truck? I didn't know what it was but he kept bugging me." Craig is a busy guy so the question went unanswered for a long time until the old guy finally convinced him to come out and look at it.
Craig has quite a reputation in the restoration world and his experience told him that this old farmer's truck was probably a rolling parts donor. He wasn't even sure what kind of truck it was but fortunately the old boy's persistence paid off in the form of a very solid and desirable tri-five Chevy short box Stepside truck.
This old bowtie pickup was far beyond okay – it was a well-stored, well-maintained, very dry, solid one owner 56 Chevy truck. Craig admitted, "this was the best barn find I've ever found and I had to be talked into looking at it". He owes his luck to one thing – the farmer told him, "I knew what I had but I wanted it go to the right owner".
Craig's response was instant and impulsive as he recalled, "I told him I'd take it on the spot and asked him how much so he told me 5600 – that's 100 bucks a year". Married car guys will recognize the only condition Craig added to the transaction as he recalled, "I had to add, hold on, I have to talk to my wife".
She bought into the purchase and Craig had another project on his hands. He drove it into the shop and 3 years later, this classic Chevy truck was on the road. The truck was solid but this was a full resto-mod project and it took up his wife's stall in the garage so this '56 Chevy pickup was always on the front burners at the Phillips house.
This truck was built the old fashioned way because Craig used parts that he had from other projects. The M-22 rock crusher was donated from his 69 Camaro because he'd upgraded the transmission on the pony car. The front clip is pure 1979 Pontiac TA and the seats are "a custom made generic". Craig had a solid crate 350 at the shop so that currently resides under the hood but he did add aftermarket discs on the front.
Craig doesn't have much spare time but when he does, he likes to drive his old rides. One of his concerns was ride height because he admits, "I like to drop them a bit but not too low because I don't need to scrape speed bumps when I'm driving in parking lots".
He believes that he hit the perfect combination for ride height because the Chevy is dropped and he admits, "it drives like a dream, straight as an arrow and comfortably but it never bottoms out". Craig's an autobody tech so he knows that you don't create problems like caved in lower body panels from belly-crawling rides.
Craig has added one option in 2012 – now this 56 Chevy is supercharged. He was reluctant to open the hood in 2011 but in 2012 that's the first thing he does when he gets out of the truck.
Craig said that's not the biggest accomplishment.
That one was simple…"my wife got her parking stall back".
Jerry Sutherland
Follow us on Facebook at-http://www.facebook.com/MyStarCollectorCar
Follow us on Twitter at- https://twitter.com/#!/MyStarCollecto1