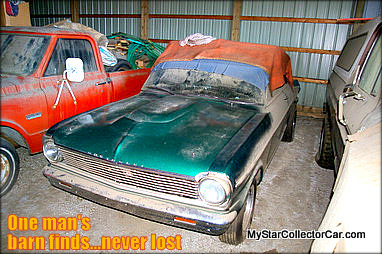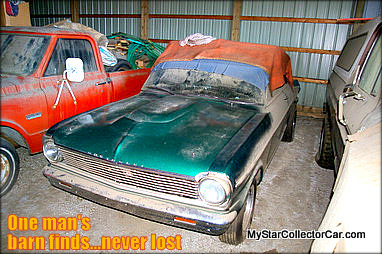 Rick Hartley is a hard-working owner/operator of a trucking operation who is also a heart and soul car guy.
The trouble for Rick is that the car season is also the busy season for his trucks as they help build the roads where his fellow car guys get to test out their rides.
For Rick there has been little time to enjoy the time behind the wheel of a vehicle for the sheer pleasure of a drive. He has been forced to pick work over play when he gets behind the wheel so his fleet of pleasure vehicles has sat idle at the back of his shop.
The vehicles are gone but not forgotten by Rick.
He knows the complete history of every one of them because he has owned three of them since he purchased them brand new out of the box. The oldest vehicle is a 1965 Chevy II Nova, but it was not purchased brand new by Rick for one simple reason: he was in elementary school at the time.
But the little Chevy is Rick's favorite car because it was the car of his misspent youth when he bought it forty years ago. The Chevy was an award winner at a big car show in the late 70s and finished second and third in two other years during its run in the show circuit.
A beefed-up 350 heart transplant meant that the extra wide rear tires on the little street assassin were designed to put some needed traction during the smoke show portion of the Chevy's performance. That was a world ago for Rick and his Chevy II and now it patiently awaits another chance to beat up the street competition with Rick behind the wheel.
Resting at the end of the line in Rick's shop sits a 1977 Camaro Z-28 purchased by him in January 1978. It only has 19,000 miles (33,000 km) since Rick bought the Z and is an all original low mileage vehicle.
Two early 90s Chevy pickups are parked beside the Camaro and they are Rick's "future Barrett-Jackson stars" in his words. The 1991 truck has only 44 miles (70 km) on it and was bought and driven home by Rick from his local dealership, then tucked away for future posterity.
The 1992 is a little more worldly-it has 120 miles (200 km) on it, probably because Rick drove it to get it refitted with a few extra touches by the dealer.
The '92 has a sport suspension and a custom bumper package that color- matched the bumpers and got rid of the chrome. These were dealer-installed alterations that give the truck a unique General Motors identity.
The oldest of Rick's one owner vehicles is a 1979 Ford 4×4 truck on which he has put 55,000 miles (91,000 km) since he drove it over a Village People cassette several times before he first left the Ford dealership in '79.
Last but certainly not least in the lineup is an old 1970 GMC pickup truck that has been a workhorse for Rick since he bought it for chores around his place. It is a simple three-on-the-tree six cylinder truck that will never win a beauty contest, but is still a big part of Rick's unusual and very interesting collection.
We want to close out this story with a simple message:
Rick's barn finds were never really lost-he always knew their location.
Jim Sutherland
Follow us on Facebook-http://www.facebook.com/MyStarCollectorCar
Follow us on Twitter at- https://twitter.com/#!/MyStarCollecto1