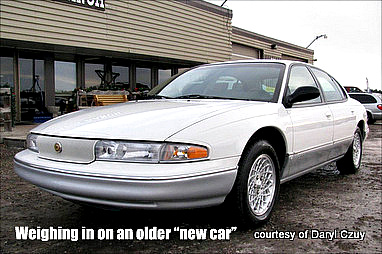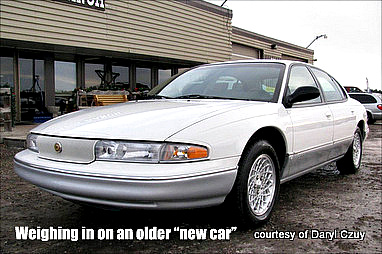 Most MSCC readers are well aware of the classic car song "Little Old Lady from Pasadena" because it's become the stuff of legends.
Most of the time the car in question isn't a "brand new shiny red Super Stock Dodge".
It's more like this car…a 12,000 (20,000 k) original miles, 1997 Chrysler LHS.
This isn't a typical MSCC car because at 15 years and climbing, it's about 2 decades away from notoriety on the car show circuit.
But it does open up a discussion about future collectibles.
Daryl Czuy owns a retail car and truck dealership and he's one of those guys who isn't afraid of an "off the beaten path" car deals.
]
He's been a go-to guy for MSCC on several occasions because he likes to add unusual iron to his inventory.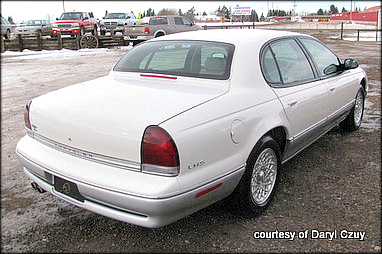 Over the years he's taken in Harleys, Cobra replicars, extremely low mileage mid 70s Chevy pickups…the list is endless. He listens to his "inner car guy" and he ends up with cars like this LHS.
The question is pretty basic. What do you do with a 12,000-mile car like this? You're looking at adding (at most) 100 miles per year to hold the value on the car. In 2037 this old late 90s Chrysler is going to turn some heads at car shows…if car shows haven't been outlawed. This car will be an outstanding historical example of the direction that Chrysler took during the Bill Clinton era.
But will it be collectible?
You're going to need a decent place to store this car-climate controlled, if possible. That rules out Uncle Zeke's old barn as a possibility.
That's if you want to keep this LHS in pristine, showroom condition but bear in mind that it's not a COPO Camaro.
It's a big, solid, comfortable, late 90s era luxury car with just over 12,000 miles on the odometer and an impeccable history. The little old lady traded it in for a new European luxury car after 15 years so clearly she was used to a nice ride.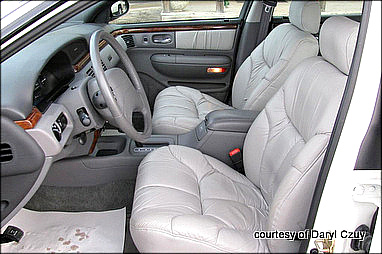 The mathematical reality behind this car is simple. It listed at over 40 K in Canada back in 1997 and 15 years later, it's just barely broken in when measured by conventional standards.
Hypothetically, that makes this LHS the kind of car you would have found in early-mid 1998 on a Chrysler dealership lot after the little old lady in question traded it in for a high-end '98 Chrysler.
That, in essence is how this car should be approached – like a time capsule. The reality is that this LHS will never achieve the collector car status that a buyer might hope for in his waning years.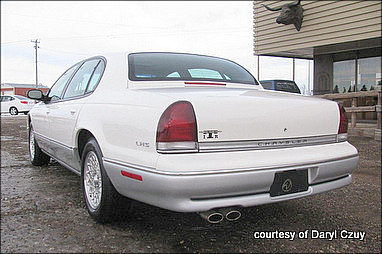 If you're over 45 you can make that a certainty…
The best way to look at this car is to pretend that it's 1998 and you're looking for a low mileage family car with a great maintenance history. Buy it and look after it like the old lady did and you'll probably run it into 6-digit odometer territory with little or no personal trauma.
Collector status might be a little harder to achieve.
Jerry Sutherland
Follow us on Facebook at-http://www.facebook.com/MyStarCollectorCar
Follow us on Twitter at- https://twitter.com/#!/MyStarCollecto1