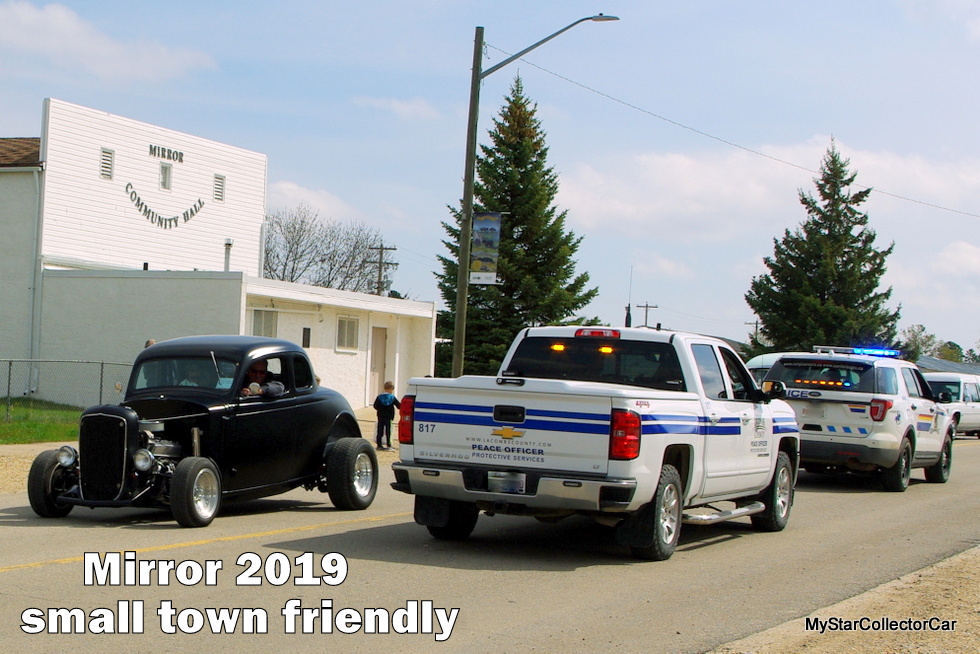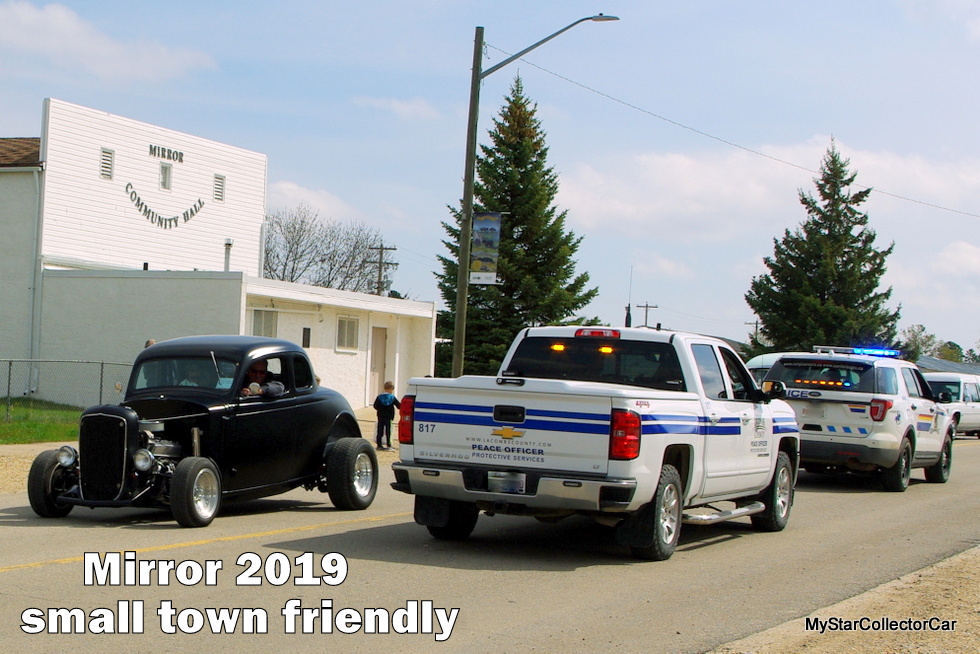 Mirror is a hamlet located in east Central Alberta and it has every molecule of the small town charm associated with every rural community.
Mirror is a friendly place where all of the residents welcome visitors every time they come to town.
Mirror hosts an annual event that showcases their community with a parade/car show and it takes place on the Victoria Day long weekend in Canada.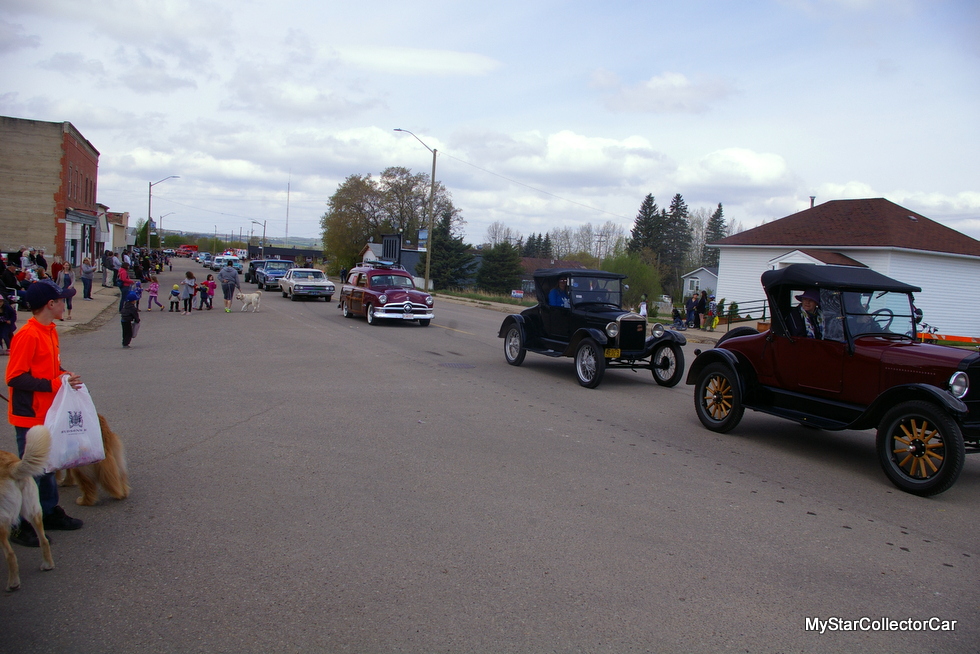 The entire hamlet gets excited about the event and MyStarCollectorCar is happy to attend their show every spring.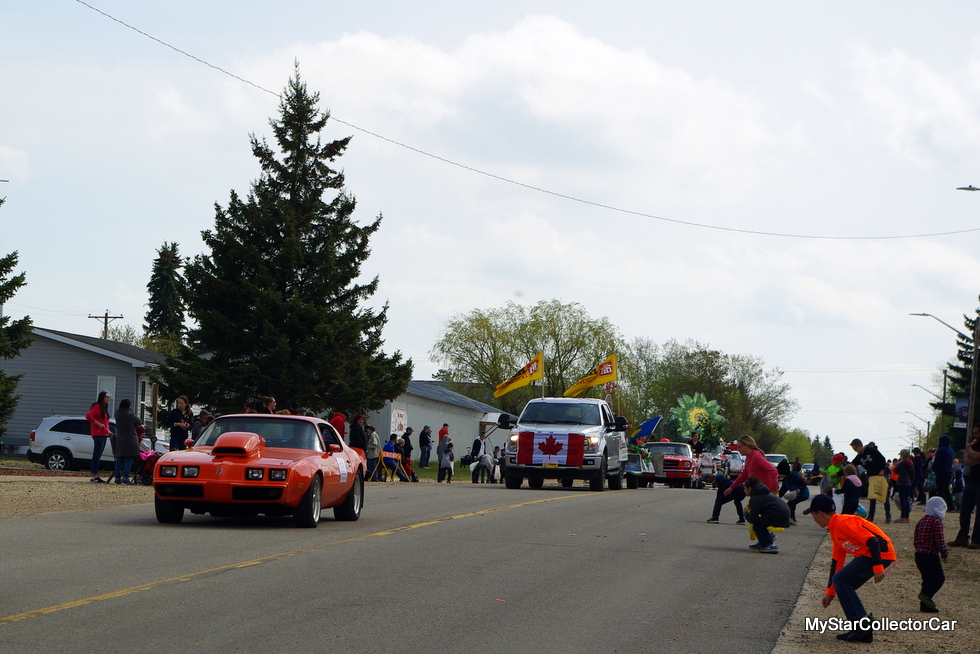 The allure of the community of Mirror itself, along with its car show, brings MyStar back to their event and we are always able to harvest some interesting stories from their show-along with that small town brand of hospitality. This year was another banner year for us because we managed to gather some very cool stories for future MyStarCollectorCar articles.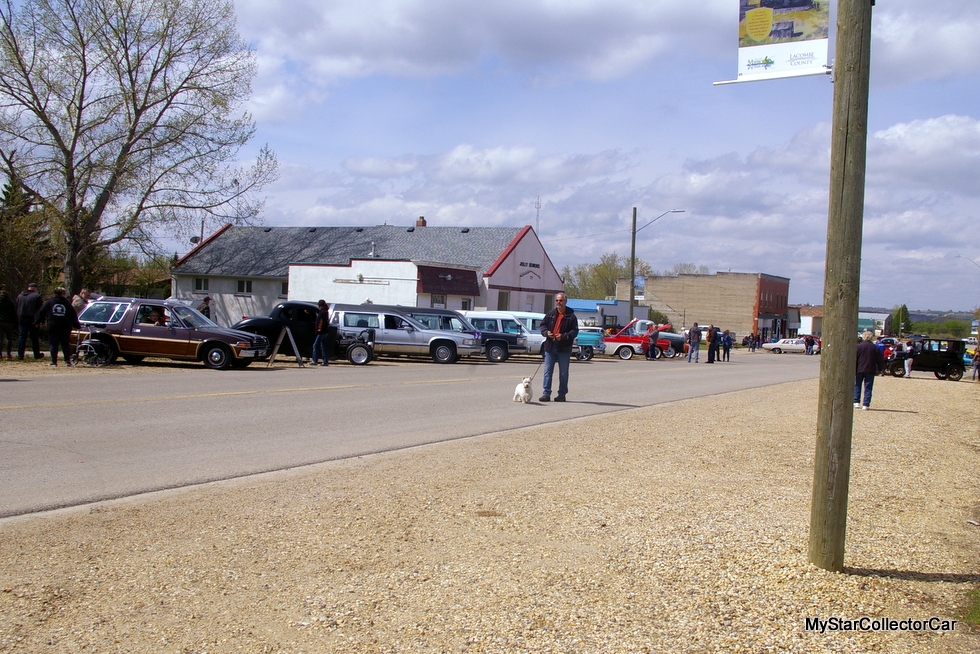 A rare 1957 Dodge D-500 two-door hardtop with a 1958 392 Hemi was difficult to miss at the Mirror show. Its owner is a dyed-in-the-wool Forward Look Mopar fan and he was willing to tell the story behind the stylish Dodge fin car.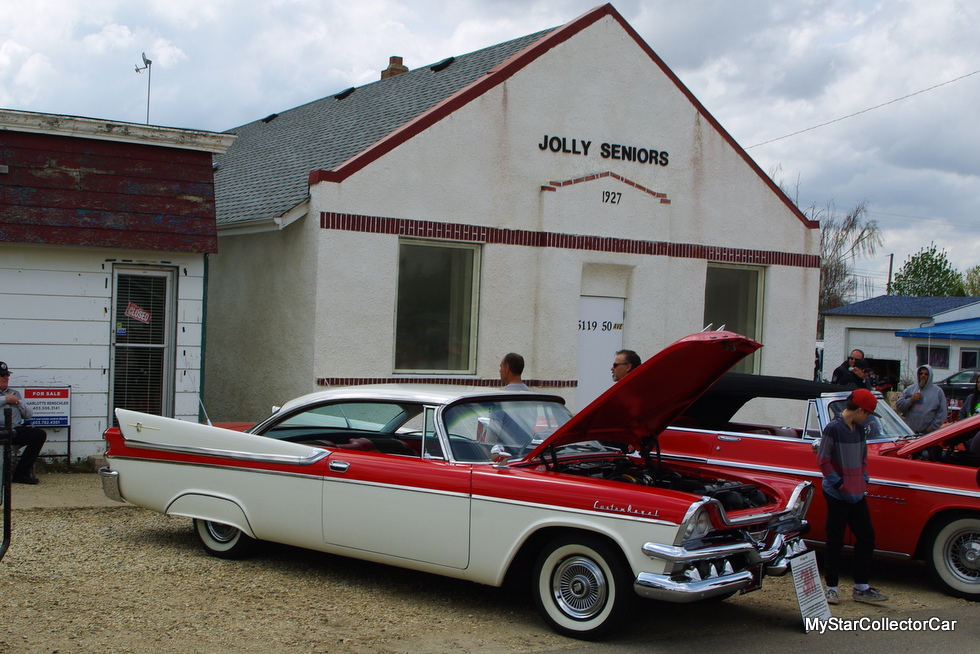 "Forward Look" is a term applied to the famous Chrysler family of fin cars built from the mid-1950s until the early 1960s and these wild rides were the brainchild of famous Mopar designer Virgil Exner during that time frame.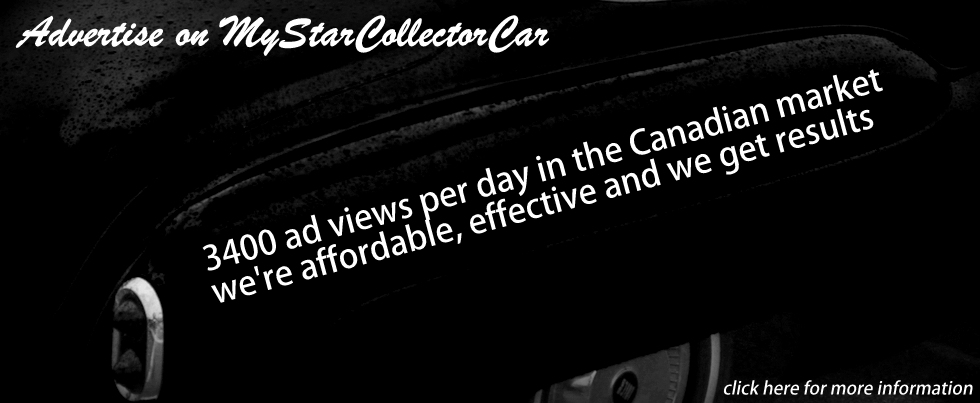 The 1957 Dodge was an excellent example of the Forward Look Mopars–but so was a 1955 Chrysler Windsor convertible that was also at the Mirror show.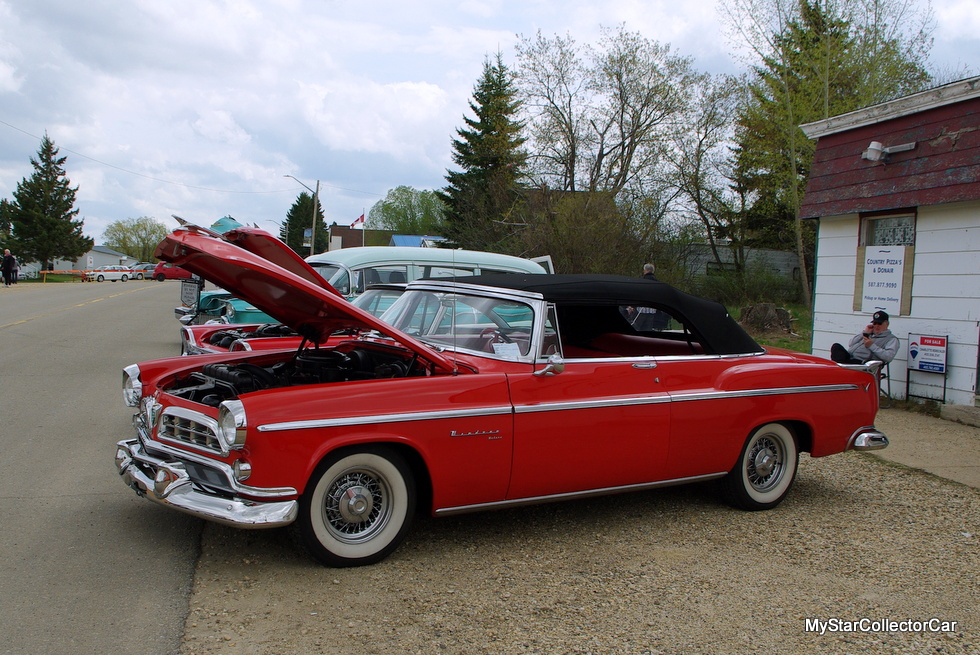 The '55 Chrysler drop top is a rare addition to any car show and was a part of the Mirror show. Look for the full story behind these two scarce finned beasts in a couple of future MyStarCollectorCar articles.
A 1956 Cadillac hearse was at the Mirror show and it was morphed by the car's owner into a brand new role as a people-who-still-have-a pulse hauler. The owner also breathed life back into his Caddy with a modern power train and other upgrades, along with his own custom Frankenstein theme that ran throughout the vehicle.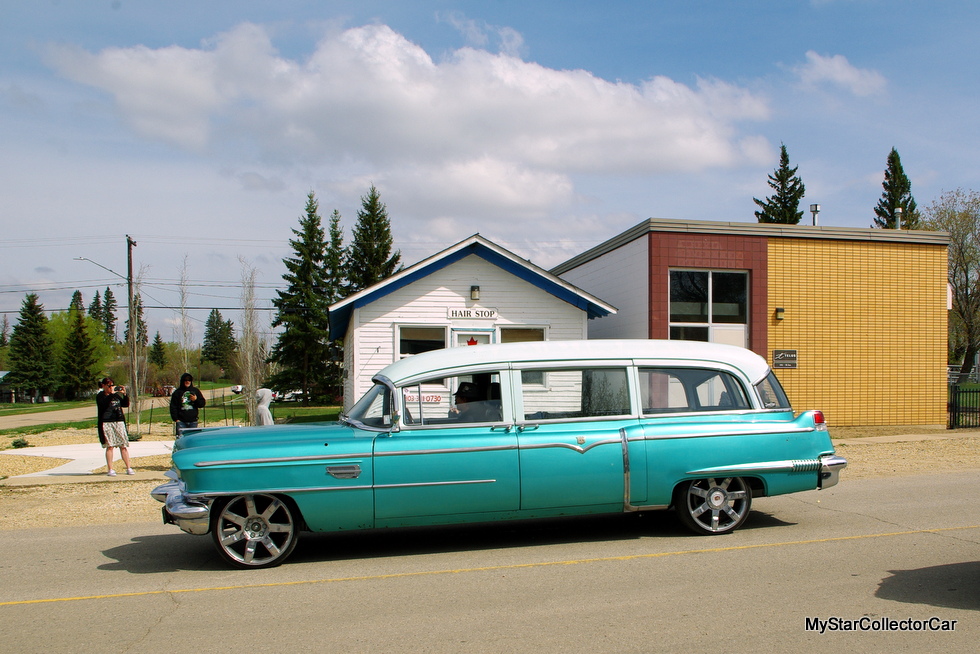 The old hearse is now a very reliable attention-getter with a story that its outgoing owner was happy to share with MyStarCollectorCar for a future article–possibly on Halloween for the right effect.
A 1926 Model T two-door sedan had a long history with one family and MyStarCollectorCar was able to track down the current owner (and nephew of the former owner) of the famous Henry Ford product.  The Model T's newest owner definitely respected its legacy as the first mass-produced automobile and this car's history within his own family.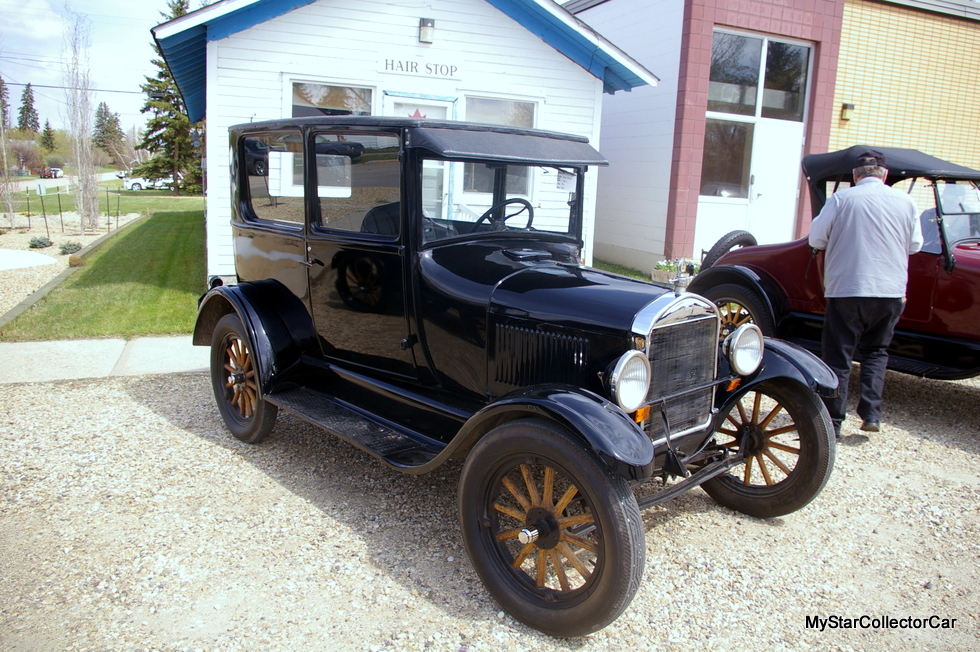 A Model T is a fairly complicated car to drive and that angle will be explained by its owner in a future MyStarCollector article that will also include some of the changes made to his '26 T.
The owner of a 1967 Beaumont SD 396 was able to explain why his Canadian-only muscle car becomes a conversation piece every time he brings it to a show or on the road.  Read the entire story behind this very rare crazy Canuck car in a future MyStarCollectorCar piece and learn why "it's not a Chevy Beaumont" for him.
MyStarCollectorCar would like to thank the Mirror show organizers and the locals for welcoming us their show and community. Take a big bow for another cool small town show.  

BY: Jim Sutherland

Jim Sutherland is a veteran automotive writer whose work has been published by many major print and online publications. The list includes Calgary Herald, The Truth About Cars, Red Deer Advocate, RPM Magazine, Edmonton Journal, Montreal Gazette, Windsor Star, Vancouver Province, and Post Media Wheels Section.